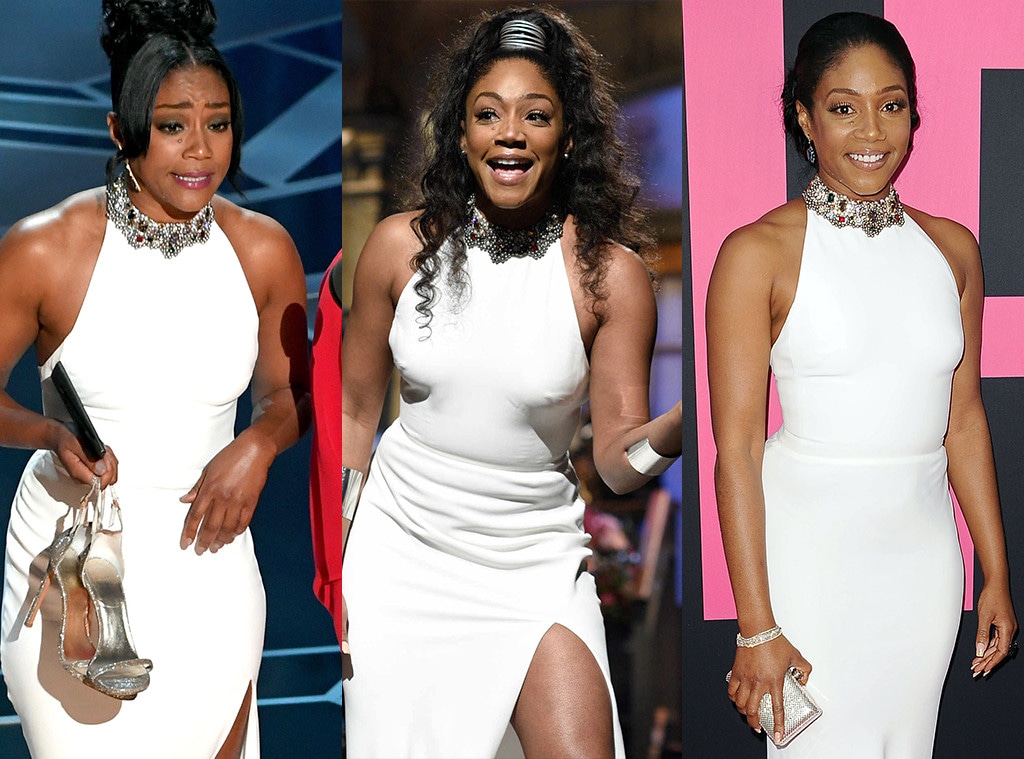 Getty Images/NBC
Whoever said you can't wear the same dress twice clearly hasn't met Tiffany Haddish!
As the A-list actress walked the 2018 Oscars red carpet Sunday night, the Girls' Trip star couldn't help but turn heads for the right reasons in her "Eritrean, authentic Princess" dress.
But when taking the stage to present an award alongside Maya Rudolph, the actress decided to have an outfit change.
Lo and behold, her costume change resulted in a dress (and a pair of Ugg slippers) that we've seen on multiple occasions before.
The white dress she worked tonight inside the Dolby Theatre is the same dress she wore for the Girls' Trip premiere back in July. It's also the dress she wore while hosting Saturday Night Live back in November.
"I wore it on the red carpet for Girls' Trip and my whole team, they told me, 'Tiffany, you cannot wear that dress on SNL. You already wore it. It's taboo to wear it twice,' and I said, 'I don't give a dang about no taboo,'" she shared on the NBC series. "I spent a lot of money on this dress!"
Tiffany continued, "This dress cost way more than my mortgage … this is an Alexander McQueen, okay? It's a $4,000 dress. I'm [going to] wear this dress multiple times! Real talk. You might see this dress in two sketches tonight, okay?"
But instead of being slammed or shamed for her decision, pop culture fans have nothing but love for the actress. Besides, this is the same Hollywood star who partnered with Groupon for the Super Bowl. In other words, this woman appreciates a deal.
Will we see this dress at another Hollywood event soon? We wouldn't hate it if we did. Go Tiffany!
Be sure to watch E! News Monday for more Oscar coverage at 7 and 11 p.m., only on E!