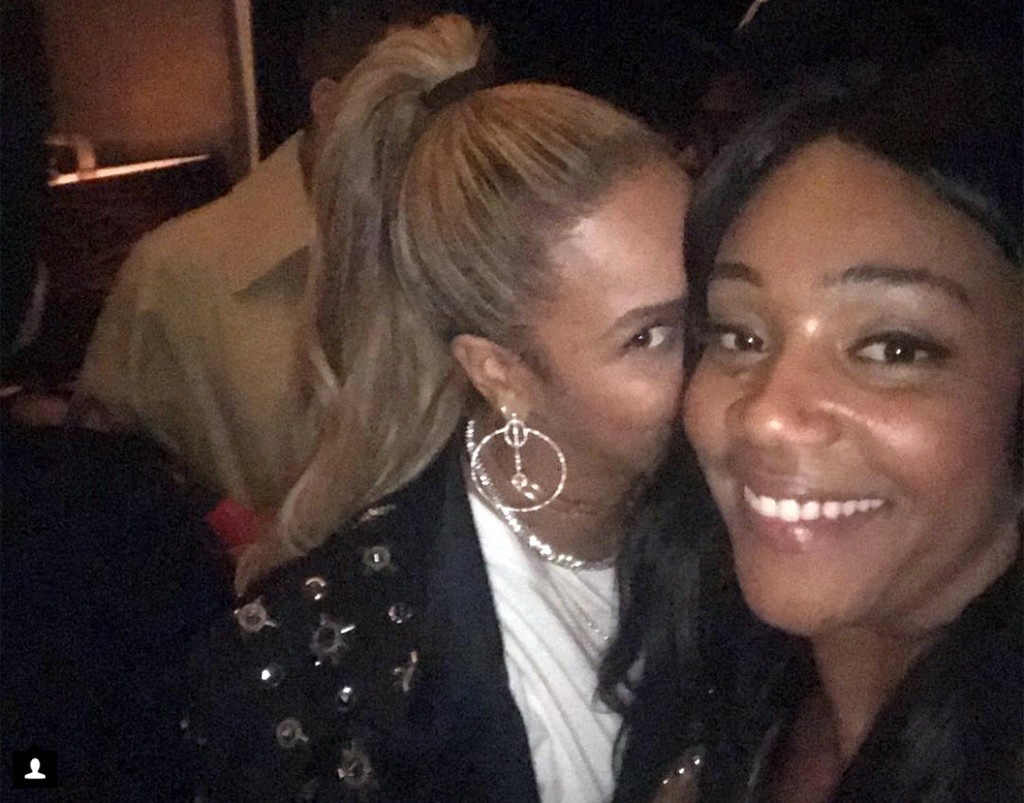 Tiffany Haddish/Instagram
The Beyoncé bite mystery has taken over the world.
Tiffany Haddish sparked a social media frenzy on Monday when her interview with April's GQ magazine was released. During the interview, the Girls Trip actress shared more details about her night out at a party with Bey and Jay-Z in December 2017.
Haddish had previously talked about the experience, revealing how Bey shut down a woman for touching Jay-Z. In GQ, Haddish claimed that an unnamed actress bit Queen Bey in the face!
She recalled, "Near the end of the party, Beyoncé's at the bar, so I said to Beyoncé, 'Did she really bite you?' She was like, 'Yeah.' I was like, 'She gonna get her ass beat tonight.' She was like, 'Tiffany, no. Don't do that. That bitch is on drugs. She not even drunk. The bitch is on drugs. She not like that all the time. Just chill.'"
After the interview was released, Twitter immediately tried to solve the mystery. Chrissy Teigen even tweeted, "I cannot leave this planet without knowing who bit Beyonce in the face."
She then shared with her social media followers, "I can only think of one person who would do this. but I cannot say. but she....is the worst."
Teigen's followers then tried to guess who the mystery biter is. Gwyneth Paltrow? "No I love her!" Teigen replied.
So that means Paltrow is off the list of suspects.
Teigen then followed up her initial tweet and gave us all more clues about the biting culprit. "My initial guess was wrong. The real person? I *never* would have guessed. I'VE SAID TOO MUCH," the Lip Sync Battle co-host tweeted Monday. "Update it is NOT the person I think is the worst. IM DONE."
We can also cross Teigen herself off the list. She had to confirm to her husband John Legend she didn't bite Bey!
"You know how much shit I have said and done to famous people?? I had to verify with john it wasn't *me*," Teigen shared with her Twitter followers.
While appearing on the Today show Tuesday, Teigen addressed the biting incident and why she won't name names.
"The problem is I love everybody involved, so I'm like 'zip,'" she told co-hosts Kathie Lee Gifford and Hoda Kotb.
Photo by JB Lacroix/ WireImage, Jason LaVeris/FilmMagic
So now that we know it wasn't Paltrow or Teigen, who remains a suspect?
"Y'all are funny," Sanaa Lathan, who is thought to have attended the same party in December, tweeted Monday. "Under no circumstances did I bite Beyoncé and if I did it would've been a love bite."
Another celeb who took to social media to deny the biting claims is actress Sara Foster, who also reportedly attended the party.
"Flattering that anyone thinks I could get this close to Beyoncé," Foster wrote on Instagram.
Lena Dunham also chimed into the conversation to put the naysayers to rest. "As the patron saint of 'She would do that...,'" she tweeted. "I didn't."
And Haddish took to Twitter on Monday to deny that Taraji P. Henson bit Bey. "No it wasn't," Haddish replied to a Twitter user.
She didn't, however, reveal the name of the actress who did bite Bey, so this remains a mystery.
Who do you think bit Beyoncé? Sound off in the comments!