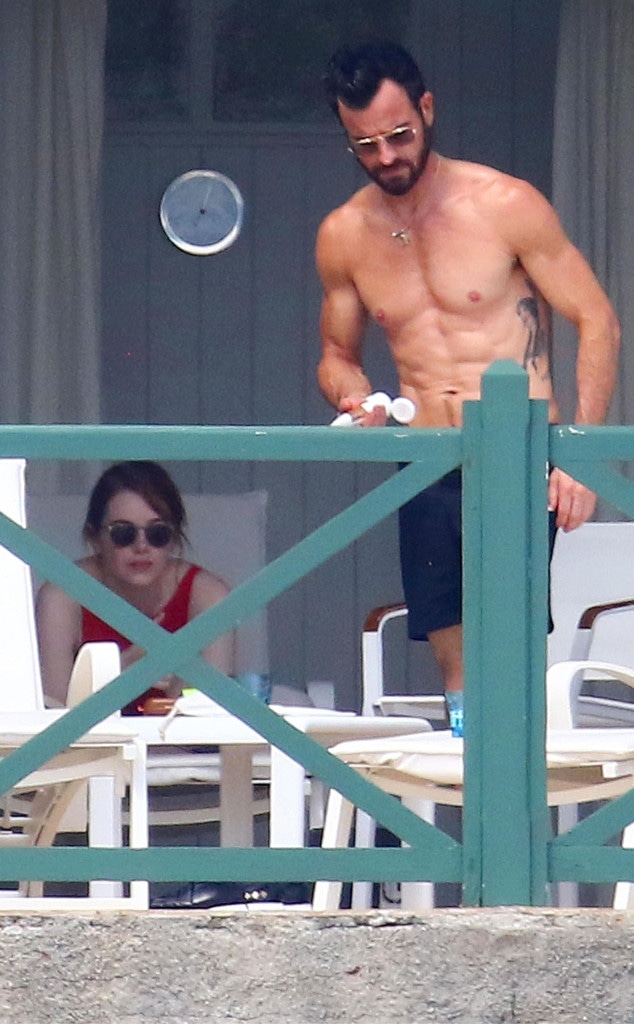 One Shot / BACKGRID
Justin Theroux is getting back out there. 
More than three months since the actor and his ex Jennifer Aniston announced their separation, Theroux is getting into the swing of his new life as a single man. With summer approaching, the star was recently spotted having some fun in the sun with famous pal Emma Stone. The two stars were photographed on Tuesday together as they hung out in the south of France at Hotel du Cap-Eden Rock with Sienna Miller, Spiderman: Homecoming actress Laura Harrier and journalist Derek Blasberg.
According to a source, Stone and Theroux had a big lunch with their friends and hung out together in a cliffside cabana, where they admired the view, took photos and just sat and chatted. "They laughed all afternoon long," the insider described. 
On Monday, the two separately attended the Louis Vuitton Cruise fashion show and lunch with Louis Vuitton ambassadors and other attendees, a second source told E! News. Stone is a face of the luxury brand. 
While the Maniac co-stars have been seen together several times in recent weeks, don't get it twisted—they're simply buds. As the second source noted, "Their friends and colleagues were with them during the day [on Monday] and they are just friends." Take it from Theroux himself, who captioned a photo of himself with Stone and Queer Eyes' Jonathan Van Ness in April with ""Bffffffs. And yes. JUST bfffffs."
But, maybe Stone can introduce Theroux to one of her single gal pals. As the first source told E! News, the actor is "casually dating" and is looking forward to where the summer takes him. 
"Justin is hanging out and having the time of his life. He's casually dating, but it's nothing more," the insider explained. "He's in a great place and very happy. He's enjoying being social and meeting people from all walks of life. He is excited about doing new things and traveling. He's looking forward to a great summer of fun and just seeing where it leads." 
As the source added, "He is letting loose for the first time in several years. He doesn't have anyone else to be responsible for or to report back to and he's taking advantage of that and having fun."
"Justin seems single and very much moved on from his marriage. He seems to really be enjoying himself.