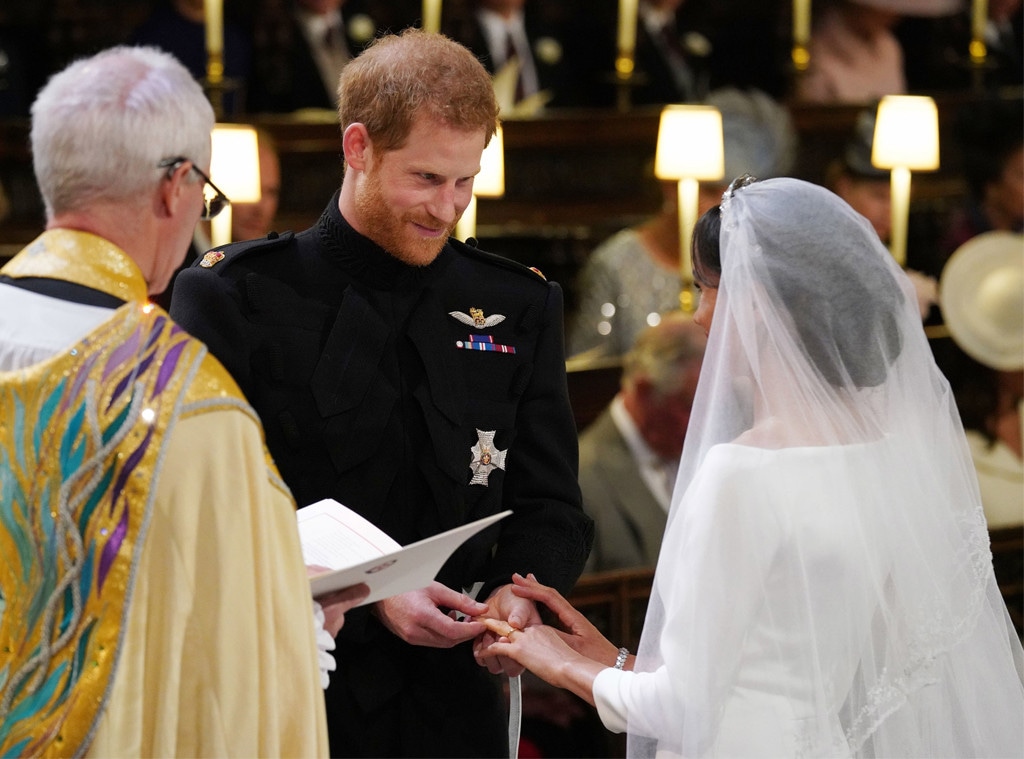 Jonathan Brady - WPA Pool/Getty Images
Prince Harry put a ring on it!
As is well known by now, the new Duke of Sussex wed his bride, Meghan Markle, Saturday afternoon in Windsor at St. George's Chapel, six months after the two announced their engagement and revealed the stunning sparkler the prince proposed with. 
Now, the couple have exchanged new accessories in honor of their nuptials—gold bands to signify their love, fidelity and new relationship status as husband and wife. 
Given the significance of the milestone royal event, the bride and groom did not exchange just any ordinary wedding bands. As Kensington Palace confirmed, the couple chose Cleave and Company to make their wedding rings.
For Markle, they crafted her band from a piece of Welsh gold gifted by Queen Elizabeth II while her British beau's band is platinum with a textured finish. Harry's older brother and Best Man Prince William had the duty of bringing both rings to the chapel for the ceremony. 
Cleave and Company is a favorite for the couple as the company also made Markle's engagement ring, a three-stone diamond ring featuring two stones from the late Princess Diana's personal collection and the middle stone from Botswana, one of Prince Harry's beloved places. 
The couple then recited their traditional vows to each other, promising to love and cherish each other in sickness and in health, for richer and poorer and for better or worse. 
Prince Harry was then captured by cameras placing the band on Markle's left hand ring finger. "Meghan, I give you this ring as a sign of our marriage. With my body I honor you. All that I am I give to you and all that I have I share with you within the love of God, father, son and holy spirit," he recited. Markle did the same for him. Shortly after, they were pronounced husband and wife. 
While few aristocratic men wear wedding rings, a source previously told E! News the redheaded prince "does want to wear a wedding band." 
Wear it proud, Prince Harry! Congratulations to the new husband and wife.