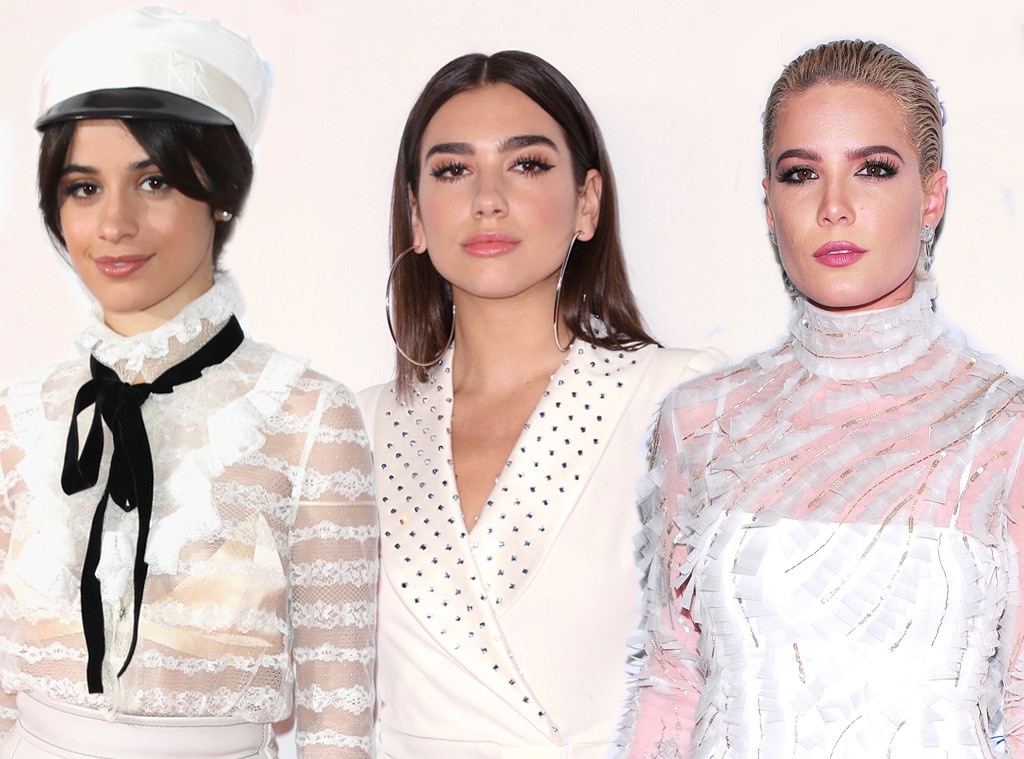 Shutterstock
When people think of today's biggest pop stars, a few female powerhouses come to mind: There's Beyonce, Adele, Taylor Swift, Lady Gaga and more.
Even though these women have helped break down industry barriers, the next generation still faces several challenges.
Consider: There hasn't been a female artist in the top spot on Billboard's Hot 100 chart since Jan. 27—when Camila Cabello's "Havana" reached no. 1. In fact, Cabello is the only female artist to secure this position so far this year. In addition, there was only one female nominee, Lorde, in the Album of the Year category at the 2018 Grammys. 
Despite these obstacles, newcomers are still making their mark on the industry. In February, Dua Lipa became the youngest female artist to hit one billion YouTube views on a music video. Halsey's songs "Bad at Love" and "Now or Never" also went double platinum earlier this year.
However, these women don't need to break each other down to build themselves up. 
"For so many years, the media has kind of pitted girls against each other," Dua Lipa told V Magazine. "From so early on, I've dealt with some people not being nice, or not being too happy about my success. That sometimes comes with the territory. But it's important to also be happy for people. You do your thing and I'll do mine." 
Here are five ways this new generation of female pop stars is reminding everyone there's plenty of room at the table.
1. They sing about empowerment
Dua Lipa is rewriting the rules—literally. After the 22-year-old artist released her song "New Rules," she told GQ the corresponding music video was all about "girls supporting each other."
"I think sisterhood is really important," she also told Teen Vogue. "It's really important to take care of the girls around you and keep your friends close." 
2. They collaborate with other women 
Instead of avoiding women who could be perceived as competitors, SZA surrounds herself with industry superstars. The 27-year-old artist has collaborated with Beyoncé, Solange Knowles, Nicki Minaj and Cardi B. Cabello is also currently touring with Swift.
Not only does this create a sense of camaraderie but it also deepens the level of respect these female artists have for one another. After SZA performed with Cardi B at Coachella, the "Bodak Yellow" rapper wrote that she was the "sweetest boolest girl ever" on Facebook. 
"[She's] really like me and you. Deserve all her success, talented and a piece of humble pie," Cardi B continued at the time.
3. They're outspoken
These women aren't afraid to speak out about the issues that they care about. For instance, Cabello spoke about Dreamers and her family's immigration story at the 2018 Grammys. In addition, Halsey read a poem at the 2018 Women's March that recalled her experiences with sexual abuse. 
Not only did these occurrences reinforce the power of raising one's voice, but they also allowed the artists to relate and connect with fans in a whole new way.
4. They don't let others define them
These singers know it's important to stay true to themselves. Halsey reinforced this idea after a social media troll questioned her for posing for Playboy while also calling herself a feminist.
"Yeah it's crazy," she wrote on Instagram back in 2017. "I can show my tits in Playboy, perform at the Nobel Peace, speak at the Planned Parenthood Gala With Hillary Clinton, shake my ass on 300 stages, give a speech at the United Nations, do 150 shots of tequila, get a #1 album and march in the streets of DC all in just ONE year!!!! Newsflash. A woman can be multidimensional. #WeAreNotJustOneThing."
5. They continue to fight for equality in the industry
Despite the progress that's been made, this new generation of female pop stars knows there's a long way to go. So when Recording Academy president Neil Portnow said women wanting to be in the music industry need to "step up," several stars put him in his place.
"Women are stepping up," Dua Lipa told Rolling Stone. "We just need to be given a chance. These men in power should be supporting everything that's happening, supporting equality, rather than saying, 'You're just not working hard enough.' "
She also said there's a double standard when it comes to women writing songs about men versus men writing songs about women. As Teen Vogue noted, female artists are often pigeonholed as boy-crazy or man-haters with little space in between. 
"I think gender norms are definitely a massive rule that should be broken," she told the publication.
See these ladies take center stage this Sunday at the 2018 Billboard Music Awards.