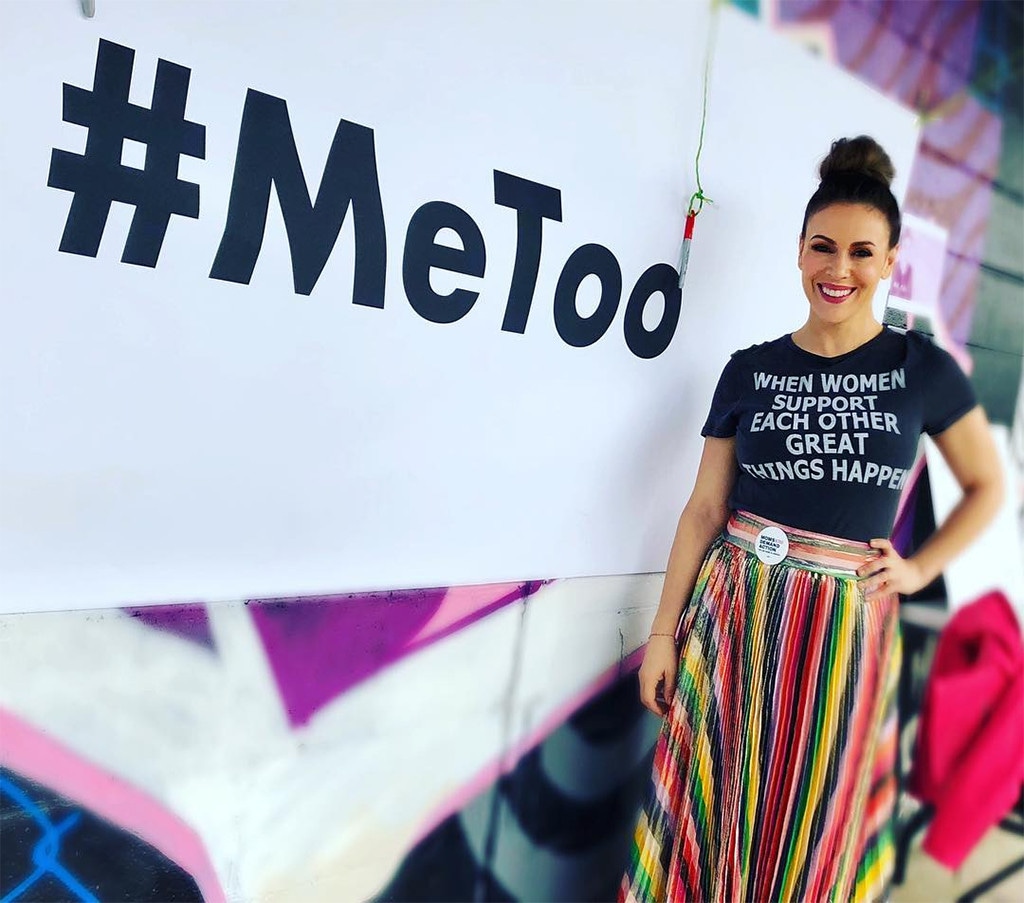 Instagram
Alyssa Milano, Halsey, Scarlett Johansson, Adele, Jennifer Lawrence and Ashton Kutcher and wife Mila Kunis were among hundreds of thousands of activists who marched to promote women's rights and equality and protest against President Donald Trump's policies on Saturday, the one-year anniversary of his inauguration.
These are the second such Women's March rallies in Washington, D.C., Los Angeles, New York and other cities. For the second year, scores of participants wore pink knit cat-eared "pussy hats," a symbol of female empowerment created in response to Trump's now-infamous offensive comments made on a hot-mic 2005 Access Hollywood tape.
"I really want you guys to look around at each other," Milano told the crowd at the Women's March on Atlanta. "I want you to look around and I want you to realize, that this, this right here is what democracy looks like. It doesn't happen automatically. It demands our action and participation. It challenges us but it also empowers us because at the end of the day, it is us."
This year's Women's March events come amid a growing #MeToo movement of people speaking out against sexual assault and harassment, sparked by accusations of misconduct made against a growing number of powerful men in and outside of Hollywood, namely producer Harvey Weinstein. Milano promoted the hashtag, founded more than a decade ago by activist Tarana Burke, last October.
"With those two words, we regained our dignity and #MeToo connected us through our pain but it also connected us, and this is very important," Milano said. "it connected us each one of us to our own power and by saying #MeToo, we formed a bond that is unbreakable. We formed a movement that is unstoppable and when time comes time to vote, you're gonna prove that it's also unbeatable."
The 2018 midterm elections to elect members of Congress take place in November.
"Voting is how we prove that our country is so much bigger and kinder than one man that is in the White House," she said. "The good news is that in a democracy like ours, the real power is not with him, it is with you. Let me tell you, we've got a whole lot more love and hope on our side than they have a--holes."
Milano then led the crowd in a chant, saying, "I believe that we will win!" 
At the New York march, Halsey read a powerful poem that referenced sexual assault.
Lines included, "Yell at the top of your lungs / Be a voice for all those who have prisoner tongues / For the people who had to grow up way too young / There is work to be done / There are songs to be sung / Lord knows there'sa war to be won."
Whoopi Goldberg, Padma Lakshmi and Rosie Perez also spoke at the New York march.
"The only way we're going to make a change is if we commit to change. We have to decide that the people who represent us have to represent all of us. They can't represent some of us," Goldberg said, according to the Hollywood Reporter. "We're all human beings and have a right to say 'This is how I want to be spoken to.' I don't want to be spoken to like you own me, like you think you can touch me when I say you cannot. We are here to say—as women—we're not taking it anymore. It's just not going to happen."
Perez ended her speech with a triumphant, "Power to the p---y y'all!"
Other celebrity participants included Drew Barrymore, Yoko Ono, Yvette Nicole Brown, Marcia Gay Harden, Melissa Gilbert, Piper Perabo, actor Javier Muñoz, Amber Tamblyn, and Patricia Arquette. 
Adele reunited with pal Lawrence at the Los Angeles march and the two were joined by Cameron Diaz. Johansson, Portman, Kutcher and Kunis, as well as Viola Davis also took part in the event.
"Gender equality can't just exist outside ourselves—it must exist within," Johansson told the crowd on Saturday. "We must take responsibility not just for our actions, but for ourselves."
The star had also spoken at last year's march.
"I am speaking today, not just for the @#MeToos, 'cause I was a #MeToo. But when I raise my hand, I am aware of all the women who are still in silence," Davis said in her own speech.
Actresses Chloë Grace Moretz and Tessa Thompson and rapper Common joined scores of people at the Respect Rally Park City in Park City, Utah. The event took place during the 2018 Sundance Film Festival.