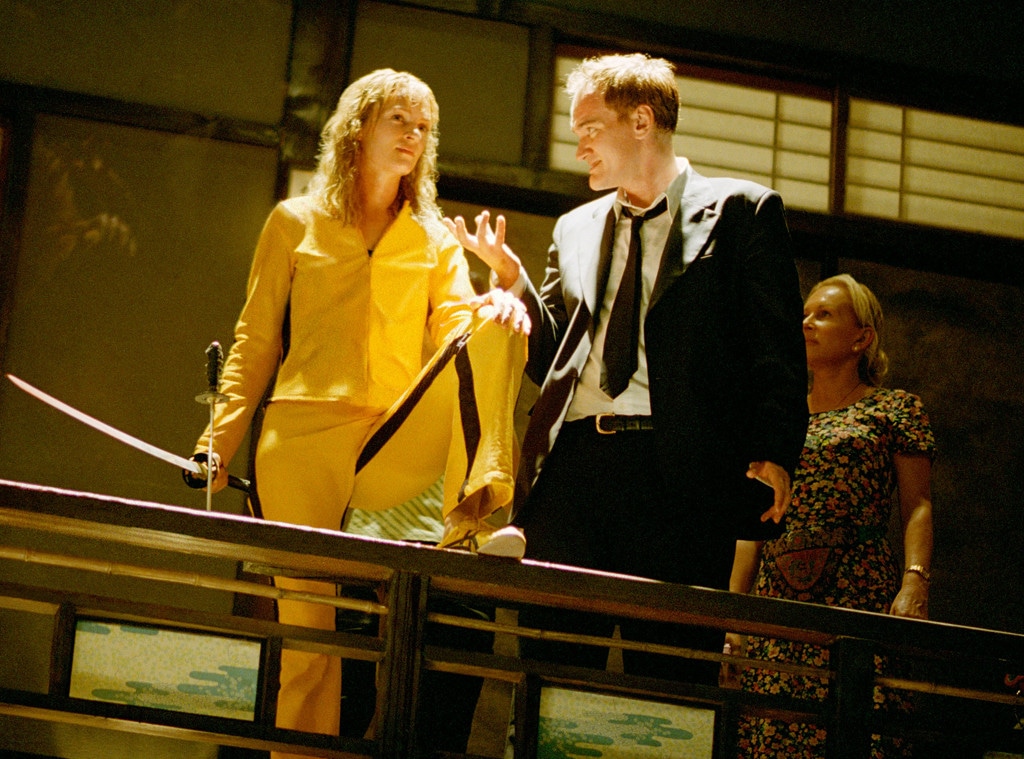 Miramax
Surprisingly, Uma Thurman is open to working with Quentin Tarantino again—Wif he wrote a great part!" In an interview with Entertainment Weekly, she said, "I understand him and if he wrote a great part and we were both in the right place about it, that would be something else."
Thurman's comments come three months after she accused the auteur of putting her in harm's way while making the Kill Bill movies in the early 2000s. In a New York Times story, she claimed she felt uncomfortable driving a vintage car and asked a stunt person to do it. Tarantino balked, she said, assuring her everything was safe. "Quentin came in my trailer and didn't like to hear no, like any director. He was furious because I'd cost them a lot of time. But I was scared. He said, 'I promise you the car is fine. It's a straight piece of road. Hit 40 miles per hour or your hair won't blow the right way and I'll make you do it again.' But that was a deathbox that I was in," she said. Once filming began, Thurman crashed the car into a tree and sustained severe injuries.
"The steering wheel was at my belly and my legs were jammed under me. I felt this searing pain and thought, 'Oh my God, I'm never going to walk again.' When I came back from the hospital in a neck brace with my knees damaged and a large massive egg on my head and a concussion, I wanted to see the car and I was very upset," Thurman told The New York Times. "Quentin and I had an enormous fight, and I accused him of trying to kill me. And he was very angry at that, I guess understandably, because he didn't feel he had tried to kill me.'" In a follow-up interview with Deadline, he confirmed her account, saying, "Me and Uma had our issues about the crash. She blamed me for the crash and she had a right to blame me for the crash. I didn't mean to do it. I talked her into getting in the car; I assured her the road was safe. And it wasn't. The car might even have been dubious too, even if I didn't know that then. We had our issues about it."
Thurman and Tarantino "were in a terrible fight for years," she told The New York Times. They "had a fateful fight" in 2004, she recalled, "because he wouldn't let me see the footage" of the crash. During that conversation, Tarantino said, "We dealt with all the car stuff and all the resentments she had toward me, the things she felt I could have done better in protecting her in that movie. "Once they "hashed it all out, he said, "We've been fantastic friends ever since."
And that's why she's open to collaborating with him on another film. "Do I have a chronically bad neck? Yeah. Was I mad about how it was handled and how I was treated? Yes. But does that mean I don't care about someone that I have 25 years of history with? No!" Thurman told Entertainment Weekly. "My capacity to forgive exists and things happen. The accident itself was wrong, but I tried to explain that it was the environment around it that wounded me the most."
"Did we have some tragedies take place? Sure. But you can't reduce that type of history and legacy," the Con Is On actress added. "It would have been reduced to my car accident if I died."