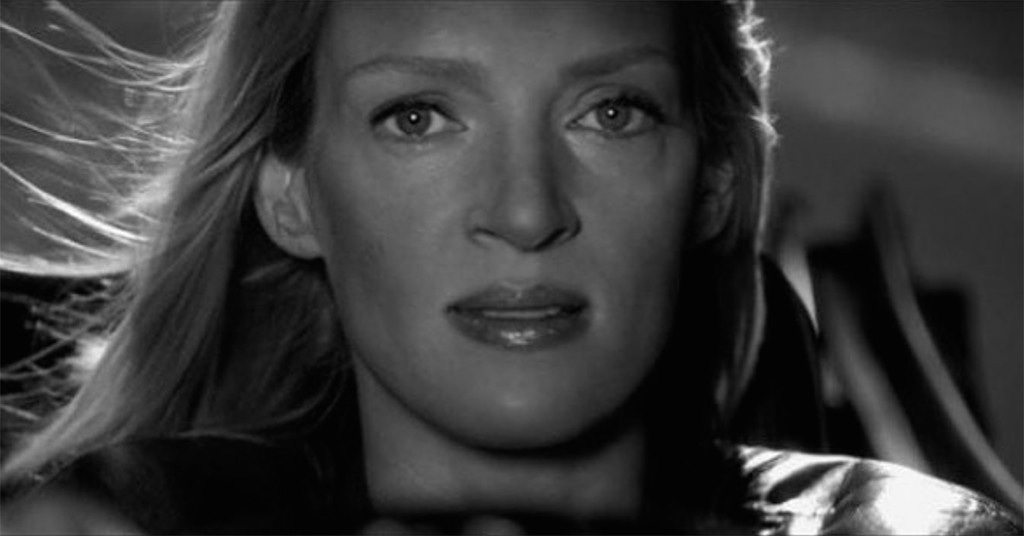 Miramax
UPDATE: After Uma Thurman spoke out about her experience working on Kill Bill through Instagram and the New York Times, director Quentin Tarantino is speaking out. 
"I knew that the piece was happening. Uma and I had talked about it, for a long period of time, deciding how she was going to do it," he revealed to Deadline on Monday night. "She wanted clarity on what happened in that car crash, after all these years." Read his full interview with the publication here. 
—————
Uma Thurman's new Instagram is shedding more light into the actress' experience on the Kill Bill set.  
On Monday afternoon, the Hollywood star shared video of what she claims is from the 2003 movie directed by Quentin Tarantino.
"I post this clip to memorialize its full exposure in the New York Times by Maureen Dowd. The circumstances of this event were negligent to the point of criminality. I do not believe though with malicious intent," she explained to her followers. "Quentin Tarantino, was deeply regretful and remains remorseful about this sorry event, and gave me the footage years later so I could expose it and let it see the light of day, regardless of it most likely being an event for which justice will never be possible."
Uma continued, "He also did so with full knowledge it could cause him personal harm, and I am proud of him for doing the right thing and for his courage."
Over the weekend, the New York Times published an article where Uma recalled being injured in a Kill Bill car stunt, which she said the director pressured her to perform herself. She said she was left with a "permanently damaged neck" and "screwed-up knees."
"Quentin and I had an enormous fight, and I accused him of trying to kill me," she said. "And he was very angry at that, I guess understandably, because he didn't feel he had tried to kill me."
Quentin has not responded to multiple requests for comment on Uma's allegations.
In her latest Instagram, Uma also slams Kill Bill producer Lawrence Bender, executive producer E. Bennett Walsh and Harvey Weinstein claiming they are part of a "cover up." Harvey in particular strongly denies the claims. 
"THE COVER UP after the fact is UNFORGIVABLE," Uma shared in her latest Instagram. "They lied, destroyed evidence, and continue to lie about the permanent harm they caused and then chose to suppress. The cover up did have malicious intent, and shame on these three for all eternity."
Dimitrios Kambouris/WireImage
She added, "CAA never sent anyone to Mexico. I hope they look after other clients more respectfully if they in fact want to do the job for which they take money with any decency."
E. Bennett did not immediately return E! News' request for comment regarding the alleged "cover up." A spokesperson for Harvey, however, denies the claims made in Uma's Instagram.
"Harvey has tremendous affection for Uma Thurman nevertheless he denies these allegations. He did not give instructions to destroy the vehicle or orchestrate a cover-up and this is the first time he has learned that Ms. Thurman had any issues regarding the handling of her accident.  In fact, she continued working with Mr. Weinstein on three more films, including The War with Grandpa which was scheduled to be released this year," the statement read.  "Ms. Thurman has reported in the past that that Mr. Weinstein personally came on set during the filming of the scene where she was being buried alive, concerned with her well-being, he demanded that they reconfigure the shot to her approval so that she felt more comfortable."
The statement continued, "We understand that members of the production team have stated to individuals in the media that Mr. Weinstein had nothing to do with the aftermath of the crash. Mr. Weinstein wishes Ms. Thurman would have spoken to him at the time to express her concerns and would like for her to provide any additional details so that he can assist in closing and repairing this chapter of her life. Once again, he is remorseful and regrets making a pass at her in England."
Over the weekend, Harvey's lawyer also said his client "is stunned and saddened by what he claims to be false accusations by Uma Thurman, someone he has worked closely with for more than two decades."
"Ms Thurman's statements to the Times are being carefully examined and investigated before deciding whether any legal action against her would be appropriate," his lawyer added.
Lawrence also denied the claims of a cover-up in a statement released February 7. 
"I deeply regret that Uma suffered the pain she has, both physically and emotionally, for all of these years from the accident that occurred on the set of Kill Bill. The safety of the professionals who work on the movies I produce is vital to me and I never want to let anyone down. I never hid anything from Uma or anyone else nor did I participate in any cover up of any kind- and I never would," he said. "I was informed of Uma's feelings in regard to this incident a few months ago and have done my best over this time to get as much verifiable information from all of the relevant sources that I could and shared it with Quentin. I wanted to make sure she had all of the answers she had been seeking." 
The statement concluded, "I have great respect for Uma Thurman, both as an artist and a person, and only wish her well."
As for Uma's Kill Bill co-star Vivica A. Fox, she is expressing her support to the actress for sharing her story.
"It is a testament to Uma's strength as an artist that even with all those added burdens, she was able to make the Kill Bill saga achieve the greatness that she envisioned for it," she said in a statement to NBC News. "I love her and I support her always."