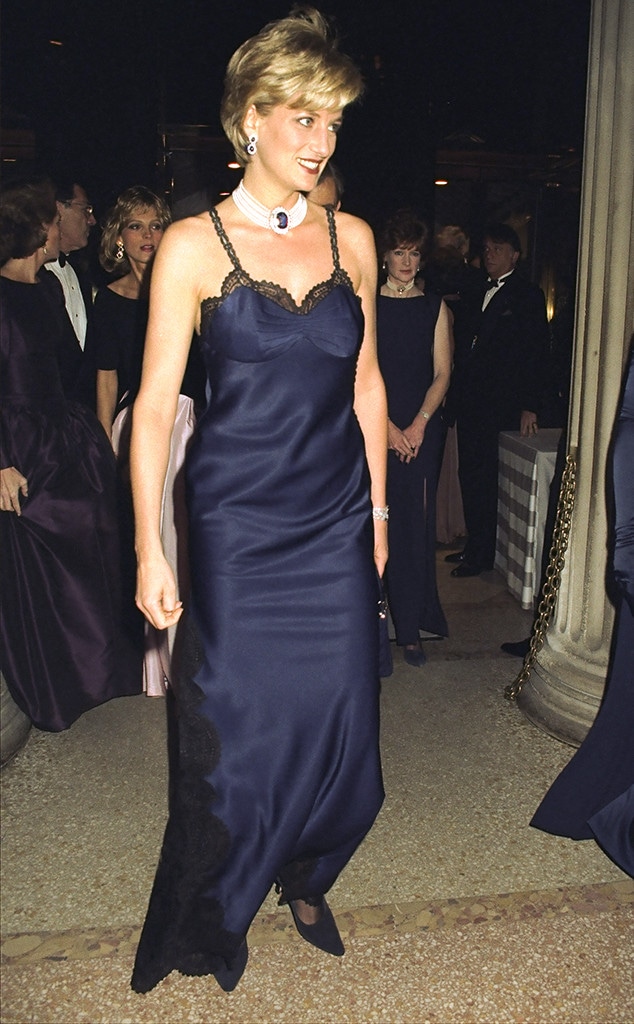 Richard Corkery/NY Daily News via Getty Images
Do you remember when Princess Diana went to the Met Gala?
It was 1996, three years before Anna Wintour took on the role as chair of the now-titled Costume Institute Gala, and the theme was centered on the influence of designer, Christian Dior. 
A few weeks before the princess' divorce from Prince Charles would be finalized, Princess Diana stunned the world with a surprise appearance, wearing a navy blue slip dress with lace trimmings from John Galliano's first collection as the creative director of Dior. As you can imagine, all eyes were on her and she welcomed them with a skin-baring, lingerie-inspired dress, a rebellious ensemble against the backdrop of the conservative British monarchy.
To give the dress a royal touch, Diana paired her gown with numerous pearls, sapphires and diamonds. Now that slip dress and chokers are on trend, the late royals' choker, which includes seven strings of pearls, is a classy version to the sultry style.
Richard Corkery/NY Daily News via Getty Images
She kept her beauty look relatively simple, adding a mauve-tinted lipstick and French manicure.
Although slip dresses and low-key beauty looks are on trend now, this throwback style has us wondering what the future holds for royals at the Met Gala. Will Kate Middleton, who has been channeling her late mother-in-law's style as of recent, ever make her way to the annual benefit? Is Meghan Markle fearless enough to step out of the confines of royal expectations to make a fashion statement on the famous red carpet?
We'll just have to watch Princess Diana's legacy continue to unfold.