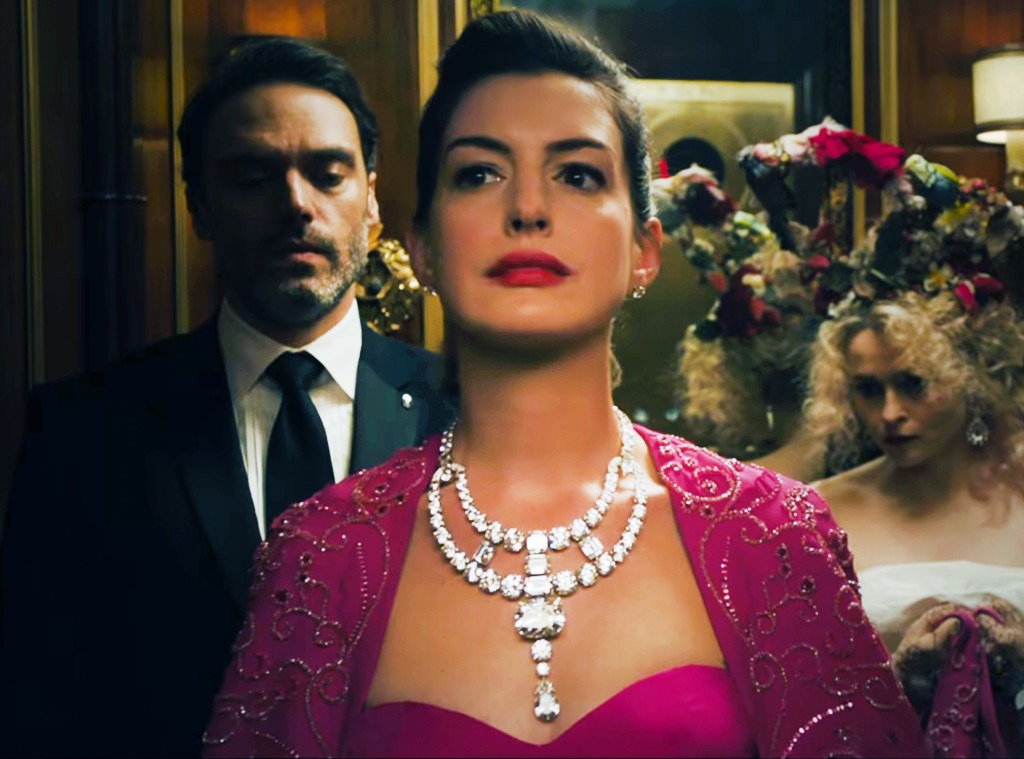 Warner Bros.
Fame is fleeting, but diamonds are forever.
There's no place better to prove this than the Met Gala, where the most glamorous, over-the-top looks go down in history…even if the jewelry is borrowed. It makes sense that the highly anticipated Ocean's Eight film—featuring an all-star female ensemble—takes place where millions of dollars of jewels are just dripping off of famous necks, ears and fingers.
In the movie, Sandra Bullock, Rihanna, Cate Blanchett, et al scheme to steal a diamond necklace—worth over $100 million—on lend to Anne Hathaway's character. Just like the other films in the Ocean's series, extravagant plans are made to outsmart perhaps the most sophisticated security system ever…in amazing fashion, to boot.
Gilbert Carrasquillo/GC Images
With Met Gala fast approaching, this probable hit had us thinking: How safe are those gems?
Hathaway may not be wearing a cool $100 million in real life, but just last year, Blake Lively did wear Lorraine Schwartz pieces worth $3.5 million to the Met Ball. Karlie Kloss was draped in $2.5 million worth of Forevermark jewels. And Rihanna was a champion of Chopard—her floral earrings alone were created with "34.89-carats of tourmaline briolettes, 27.78-carats of black diamond beads, 1.80-carats of rubellites, 7.15-carats of pastel pink sapphires and 1.33-carats of black diamonds set in 18k white gold," reported Forbes.
Every year brings more bling, and behind it, a lot of not-so-glam work and planning. What exactly does this entail? We asked two experts behind it all.
Money Pays: If a celebrity has an endorsement deal with a fine jewelry brand, chances are it is written in their contract that they must wear said brand to specific events. For example, Jessica Chastain, the face of Piaget, will likely wear the brand come Met Gala. For one-time deals, some A-listers will get paid upwards of six figures to wear a fine jewelry brand, according to a 2015 Business of Fashion article.
Relationships Matter: If there is no deal on the table, brands bank on their relationships to get featured on the red carpet. "We are fortunate to have relationships with some of the most talented stylists in the industry. Typically, we will work with a celebrity's stylist on the inspiration for their look and source jewelry that could work to best complement their ensemble," said Kristen Lawler-Trustey, a Forevermark Diamond Expert.
Dimitrios Kambouris/Getty Images
Shopping Is the Easiest Step: "Our preference is to work with people who appreciate the same artistry and the self-expression that Tacori jewels allow. The lending process is simple: We invite [celebrity and/or stylist] in, bring out all of our jewels and let them explore!" explained Michelle Chila, Tacori fashion director. "We always have our designer in the room, so that we can collaborate to create special designs or anything that's needed for the look they want to achieve. Fundamentally, we believe that whomever we work with must have the creative freedom to style themselves to match their vision, because this is when they truly shine."
High Alert From Fitting to Finish: "Once a stylist makes initial selections, we will usually need to bring jewelry to a fitting with the celebrity a day or two before the event. On the big day, high security measures are taken to protect the diamonds at all times," explained Kristen.
Insurance Is Mandatory: "The borrowed pieces are usually bigger, bolder pieces—after all, this is the Met Gala—so they are definitely insured, and strict security measures are put in place to protect the star and the Tacori jewels they wear," Michelle added. At last year's event, Zoe Kravitz wore $356,240 worth in just rings and earrings alone, and you can bet the actress and the jewelry were equally protected. 
Timpone/BFA/REX/Shutterstock
That's Not Just Another Guy in the Entourage: On top of the celeb's personal body guard, there's the jewelry guard. "The full security process is kept top secret because of the incredibly high value of the pieces involved, but there is always a security guard present until the pieces are safely returned," explained the Forevermark pro.
There Are Tracking Systems: "Depending on the value of the jewels, there may be additional visible protection measures such as security escorts or other invisible monitoring elements. For visible monitoring, we typically have armed security. As for invisible, we work with RFID (Radio Frequency Identification) trackers and video monitoring as well," explained Michelle.
The Return Process Is Just as Intense: "There's a strict chain-of-possession protocol in place to be able to track the jewels from the moment they transfer from Tacori possession, to the stylist, to the celebrity and anywhere thereafter until the return is safely back in our vault," said Michelle. This mean there's someone updating the status of the jewels en route home at every step.