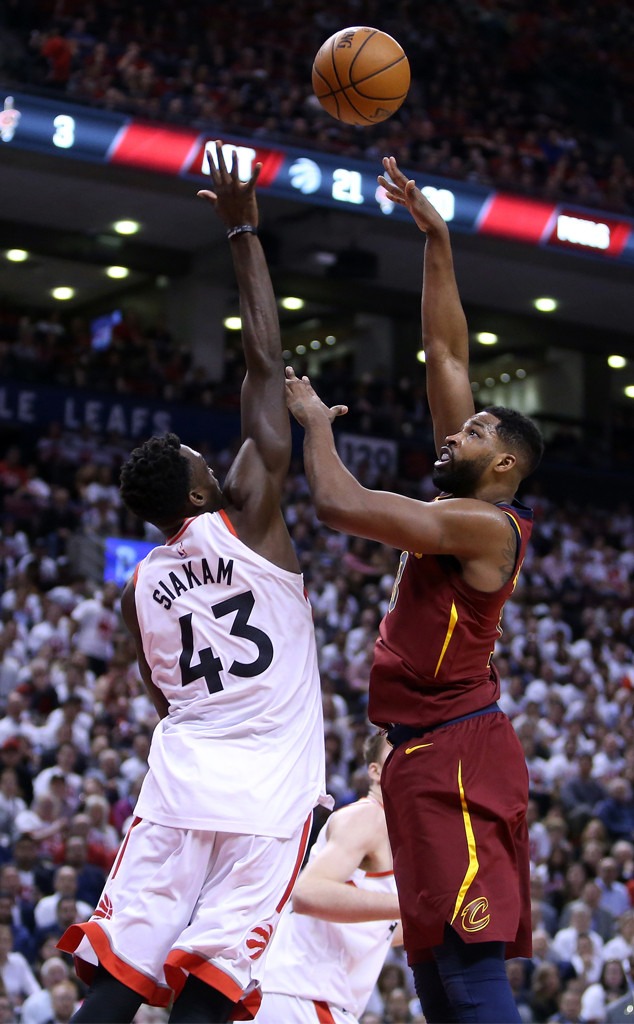 Vaughn Ridley/Getty Images
Basketball fans aren't letting Tristan Thompson get away with any foul play.
Fans of the Toronto Raptors trolled the NBA star during Tuesday night's game against the Cleveland Cavaliers. While the player was gearing up for a free throw, supporters of the opposing team tried messing with his mind by repeatedly chanting "Khloe!" The chant, of course, was a reference to Khloe Kardashian and allegations that Tristan cheated on her while she was pregnant with their first child, True Thompson.
Still, the chants didn't affect Tristan's game. He made the shot and the Cleveland Cavaliers beat the Toronto Raptors, ending the game with a final score of 113 to 112.
Shortly after the victory, Tristan posted a picture of him from the game to Instagram and captioned it "Feels good to be back in the 6."
News of Tristan's alleged infidelity broke days before Khloe gave birth to their little girl. While neither Khloe nor Tristan have commented on the reports, other members of the Kardashian family have weighed in.
Last week, Kim Kardashian appeared on The Ellen DeGeneres Show and addressed the scandal.
"Like I don't even know how to describe it besides it's just so f--ked up," she told host Ellen DeGeneres. "We really were rooting for Khloe, and we still are...you know, she's so strong and she's doing the best that she can. It's a really sad situation all over."
A source also told E! News that "everyone has remained civil" for the sake of the baby but that Khloe's family members are "furious."
As for Khloe and Tristan's future, another insider told E! News the reality star "hasn't given up" on him.
"She has one foot out the door but is also holding on to the fact that her and Tristan can make it work," the second source said. "She hasn't given up on him yet, but also hasn't really been focusing on their relationship. When they see each other, it is all about the baby and parenting together. Khloe has fallen in love with him all over again, watching him be a dad to True, but [she also] knows she needs to really take a step back and make the right decision."