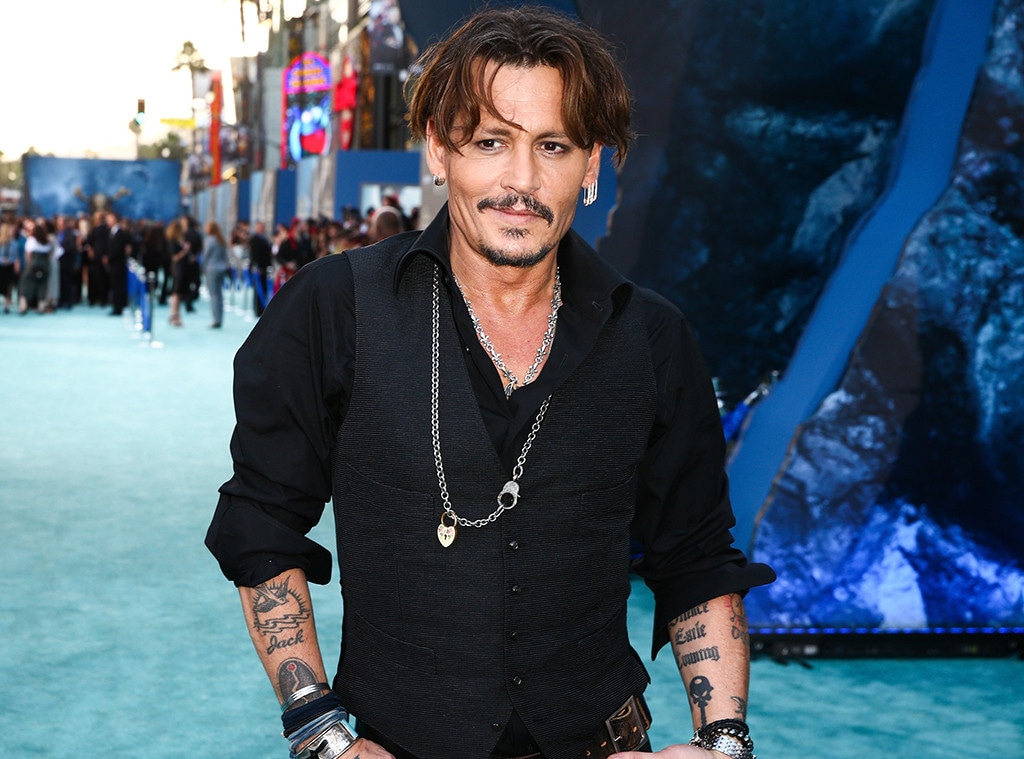 Rich Fury/Getty Images
Two of Johnny Depp's ex-bodyguards have filed a lawsuit against the 54-year-old actor for a variety of alleged offences, including unpaid wages, overtime, wrongful termination and unlawful business practices, E! News can confirm.
In the documents obtained by E! News, the security guards claim were "exposed to unsafe working conditions and essentially used as baby sitters and chauffeurs for Depp, his children and his entourage.
According to court docs filed on Tuesday, Eugene Arreola, a retired LAPD detective, and Miguel Sanchez allege that on numerous occasions they "were forced to protect Defendant Depp from himself" due to his "vices." 
The men allege in the suit, "Often times Plantiffs were forced to protect Defendant Depp from himself and his vices while in public, becoming caretakers for him. An incident at a local nightclub involved Plantiffs alerting Depp of illegal substances visible on his face and person while preventing onlookers from seeing Depp's condition."
The suit claims that Arreola and Sanchez worked for Depp through the company Premier Group International, but in 2016 when the Pirates of the Caribbean star hit financial troubles, they were hired directly to protect the actor as part of his in-house security detail—and that's when the issues began.
Arreolla and Sanchez claim that from May 2016 to January 2018 they were not paid overtime wages, or given off-duty meal and rest breaks during their 12 hour shifts.
The docs also claim that the security guards were often used as "drivers" and "were asked repeatedly to drive vehicles that contained illegal substances, open containers and minors."
The docs also claim that "Sanchez, whose primary detail was the protection of Depp's children, was more often than not the primary caretaker for Depp's minor child, who lived off of Depp's compound in a separate home alone."
The documents continue, "Worse yet, Sanchez was told to give into every whim of Depp's children and worried he would lose his job if he did not comply with their demands."
The guards add: "As a result of the toxic and dangerous work environment and the constant labor code violations of their employers, Plaintiffs were forced to leave their employment despite the fact that they enjoyed many of the people they worked with and have no ill will toward Johnny Depp."
According to the documents, the bodyguards claim they were "exposed to unsafe conditions and situations," detailing an alleged incident in which Leonard Damian, the head of Depp's security team, accidentally shot himself in the leg while working with Sanchez and the security guard claims he had to rush Damian to the hospital.
Meanwhile, in 2017 Johnny filed a lawsuit against his business managers for $25 million dollars for fraud, negligent misrepresentation, wrongful foreclosure and a breach of fiduciary duty.
According to court documents, Depp claims that The Mandel Company mismanaged his business affairs so much so that he "lost tens of millions of dollars and has been forced to dispose of significant assets to pay for TMG's self-dealing and gross misconduct."
At the time of the suit, the Mandel Group released the following statement to E! News:
"The lawsuit filed by Johnny Depp against his long-time business managers is a complete fabrication. For 30 years, Joel and Rob Mandel, and their company The Management Group, have been trusted business managers to some of the most successful individuals and companies in the entertainment business. For 17 of those years, they did everything possible to protect Depp from his irresponsible and profligate spending."
E! News has reached out to Depp for comment on the newest lawsuit.