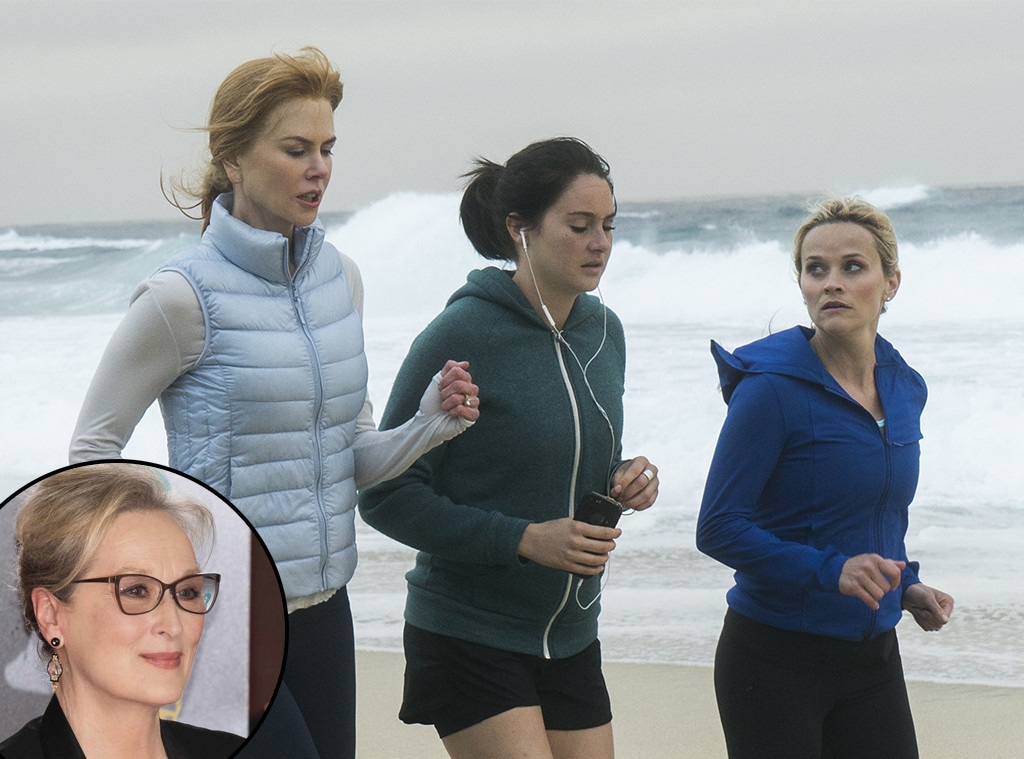 HBO; Getty Images
She has arrived. Meryl Streep is in Monterey. Nicole Kidman took to Instagram to share the first look at Streep at work on Big Little Lies season two. See the photo below!
Streep is playing Mary Louise Wright, the mother to Perry Wright (Alexander Skarsgård), who comes to town looking for answers following the death of her son. The part was written for her. Along with Kidman and Streep, the second season of Big Little Lies stars virtually all of the first season cast, including executive producer Reese Witherspoon, Laura Dern, Shailene Woodley, Adam Scott, Zoë Kravitz, James Tupper, Iain Armitage, Jeffrey Nordling and many more returning faces.
Witherspoon told Seth Meyers all about the moment she found out Streep would be part of the cast during a recent visit to Late Night.
"Well, she sent an email to Nicole and I," Witherspoon said. "And it said, 'OK, I read the part and I love it and I'm going to do it.' And I like dropped the phone, like mic drop, but I phone dropped. And then I called Nicole and I was like, 'Is this real life? Is this really happening?' And then I got off the phone with Nicole and I, like, hugged myself gently for a minute and said, 'This is really happening. You're really working with Meryl Streep.'"
Witherspoon said she then called writer David E. Kelley and said, "You better write me good scenes with Meryl Streep!"
The second season of Big Little Lies will "explore the malignancy of lies, the durability of friendships, the fragility of marriage and, of course, the vicious ferocity of sound parenting. Relationships will fray, loyalties will erode…the potential for emotional and bodily injury shall loom."
Big Little Lies will return to HBO in 2019.