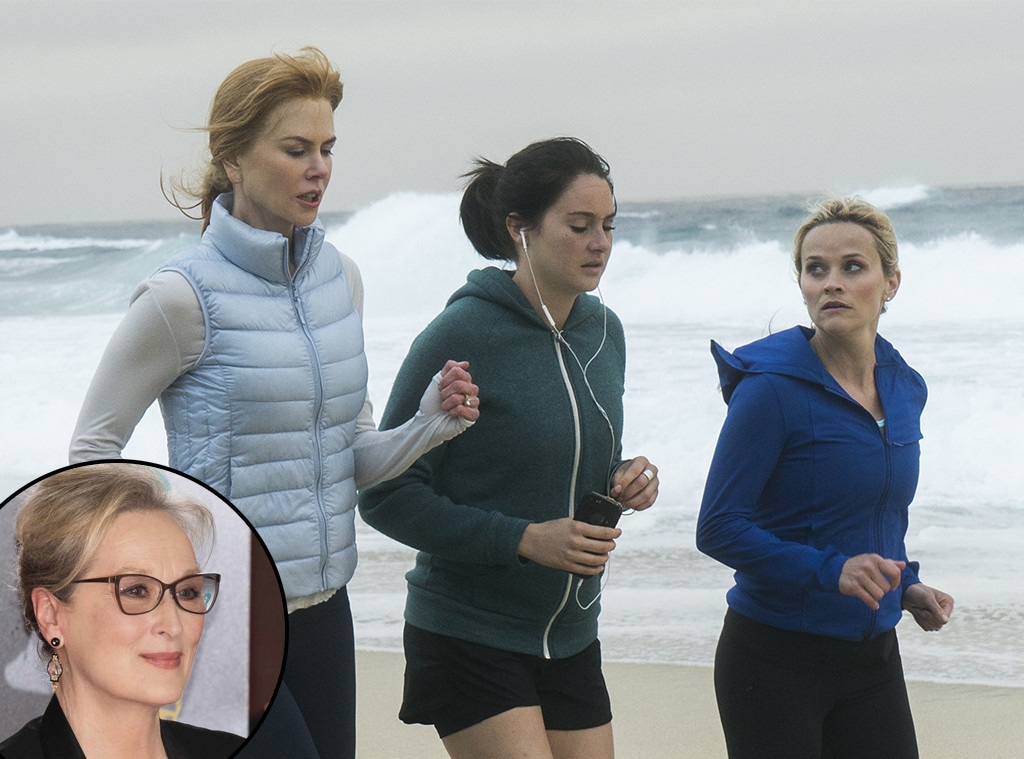 HBO; Getty Images
The ladies of Big Little Lies are returning to Monterey sooner than you thought! Reese Witherspoon revealed season two of Big Little Lies starts filming next Friday, March 16.  Deep breaths! The show isn't expected to premiere until 2019 still.
"So, y'all, we're starting next Friday on Big Little Lies 2, I can't believe it," Witherspoon told Seth Meyers on Late Night. "Not only do we have every cast member coming back, but also Meryl Streep is joining us."
Streep will play Mary Louise Wright, the mother to Perry Wright, the deceased abusive husband to Nicole Kidman's Celeste. Streep's character comes to town looking for answers about her son's passing and with concern for her grandkids.
Meyers asked Witherspoon the question so very few people can answer: What is it like when you get Meryl Streep to agree to do your show?
"Well, she sent an email to Nicole and I," Witherspoon said. "And it said, 'OK, I read the part and I love it and I'm going to do it.' And I like dropped the phone, like mic drop, but I phone dropped. And then I called Nicole and I was like, 'Is this real life? Is this really happening?' And then I got off the phone with Nicole and I, like, hugged myself gently for a minute and said, 'This is really happening. You're really working with Meryl Streep.'"
Kidman and Witherspoon are executive producers as well as stars on Big Little Lies, so this was quite a coup for them. After she hugged herself gently, Witherspoon said she called David E. Kelley and said, "You better write me good scenes with Meryl Streep!"
Along with Streep, Kidman and Witherspoon, Big Little Lies will welcome back Laura Dern, James Tupper, Shailene Woodley, Adam Scott, Iain Armitage, Jeffrey Nordling, Zoë Kravitz and possibly Alexander Skarsgård in some capacity. The new season was written by Kelley based on a story by original Big Little Lies novel scribe Liane Moriarty. Andrea Arnold is directing every episode.
When the second season was announced, HBO said the new season will "explore the malignancy of lies, the durability of friendships, the fragility of marriage and, of course, the vicious ferocity of sound parenting. Relationships will fray, loyalties will erode…the potential for emotional and bodily injury shall loom."