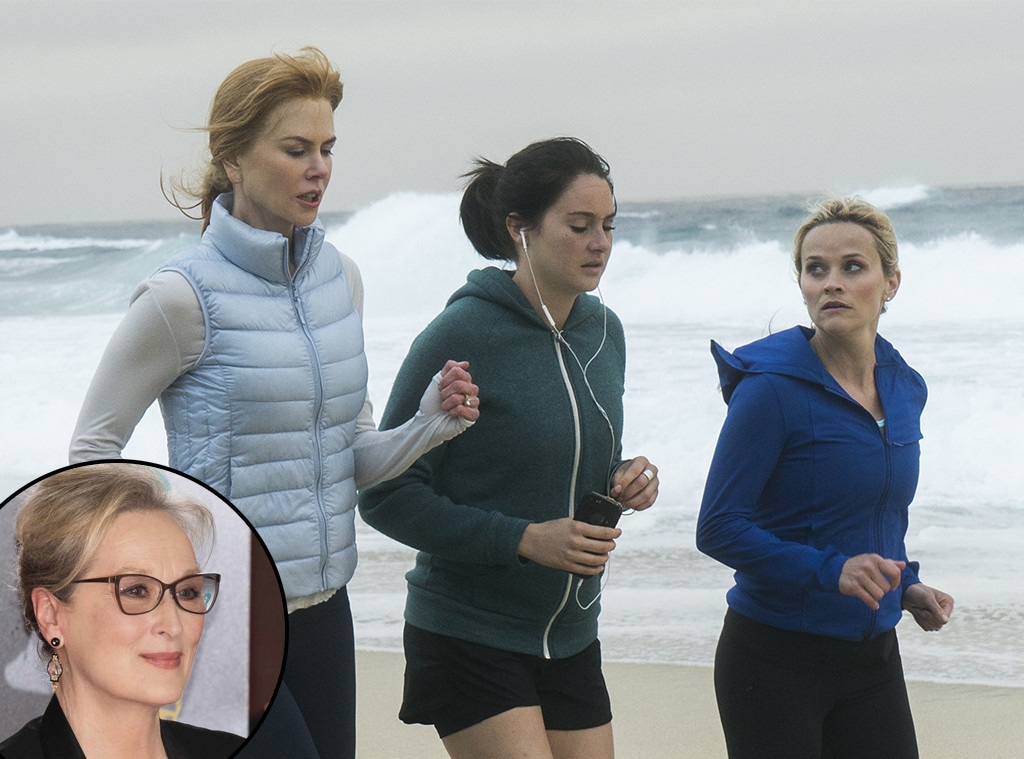 HBO; Getty Images
How will Big Little Lies top season one, a season that garnered huge ratings and awards ranging from Golden Globes to Emmys and everything in between? With Meryl Streep.
Yep, E! News has learned the Oscar winner will star in season two of HBO's Big Little Lies season two opposite stars and executive producers Nicole Kidman and Reese Witherspoon.
Streep will play Mary Louise Wright, the mother to Alexander Skarsgård's Perry Wright. Viewers will remember Skarsgård's Perry, the abusive husband to Kidman's Celeste, died at the end of season one after a confrontation with the characters portrayed by Kidman, Witherspoon, Shailene Woodley, Laura Dern and Zoe Kravitz.
Streep's character will come onto the scene "concerned for the well-being of her grandchildren following her son Perry's death," HBO said in the character description. "Mary Louise arrives in Monterey searching for answers."
So now the ladies of Monterey have Mary Louise and the police detective skeptical about the events surrounding Perry's death. TVLine previously reported Skarsgård would appear in some capacity in season two. Flashbacks, anyone?
According to the show's official description, season two of the HBO series will "explore the malignancy of lies, the durability of friendships, the fragility of marriage and, of course, the vicious ferocity of sound parenting. Relationships will fray, loyalties will erode…the potential for emotional and bodily injury shall loom."
Kidman and Witherspoon are the only other confirmed returning cast members, according to HBO, but the rest of the cast is expected to return in some capacity. Kidman has seen the scripts penned by David E. Kelley, she told us.
"I will say that we're incredibly grateful to the audiences, and also the press and the critics that have gone and supported this show beyond what we ever expected, and to then will a second season into fruition—it's amazing. Because this was not expected. We weren't going to do it. It was a limited series, a one-off and through the actual just people really wanting it we said, 'Ok let's see what we can do,'" Kidman told E! News' Sibley Scoles backstage at the 2018 SAG Awards about season two.
Season two isn't expected to debut until 2019.