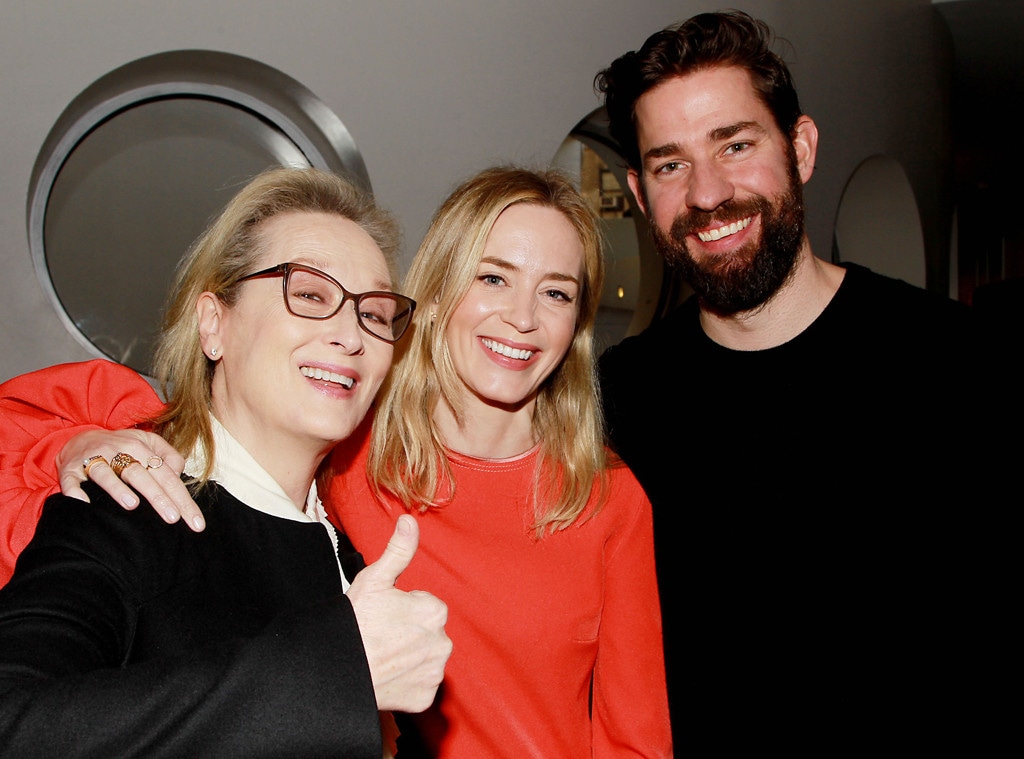 Dave Allocca/Starpix/REX/Shutterstock
We bet a million girls would kill for a night out with these stars. 
On Thursday night, John Krasinski was the lucky guy who got to mingle with two of the ladies from one of his favorite films, The Devil Wears Prada: his beloved wife Emily Blunt and the queen of the silver screen herself, Meryl Streep. Yes, he loves his job, he loves his job, he loves his job. 
The star, who once admitted to Blunt that he had already seen the 2006 flick 75 times, mingled with the two stars at a screening for Final Portrait at the Guggenheim Museum in New York City. 
However, paths didn't finish crossing at Streep. The film was directed by Stanley Tucci, who famously played Streep's right-hand man, Nigel, in the film. As an added real-life twist, Tucci is married to Blunt's older sister, Felicity Blunt, and the couple is currently expecting their second child together. 
Dave Allocca/Starpix/REX/Shutterstock
Needless to say, it was a family reunion in the Big Apple—and the stars' outfits would have impressed Miranda Priestly. Blunt made a sartorial splash in a salmon blouse with puff sleeves while her hubby and Quiet Place co-star opted for a simple black sweater with slate trousers. The expectant parents looked equally chic, Tucci sporting a three-piece suit while Felicity donned a colorful striped dress with Stuart Weitzman pearl-accented heels. 
As Blunt revealed to E! News back in 2016, her husband has an eye for clothes. "I remember [The Devil Wears Prada] came on one time when we first started dating and he was watching the montage where she has all the different amazing outfits," the actress recalled. "When he was watching he goes, 'And that's my favorite outfit.' I was like, 'Get a grip.'"
While we'd venture to say getting to hang out with Streep proved to be quite a fun night, the actor and his leading lady were also joined by celebrity pals Blake Lively and Ryan Reynolds, who also were in attendance. 
After the event wrapped, Lively, Reynolds, Blunt and Krasinski were spotted leaving all together. In the famous last words of Priestly, that's all.