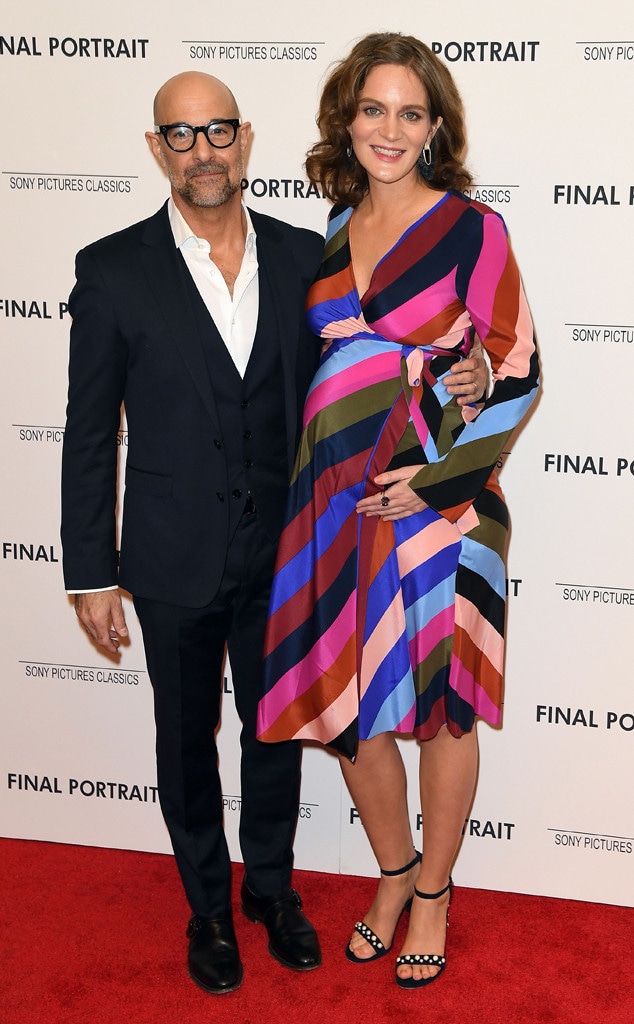 ANGELA WEISS/AFP/Getty Images
Surprise!
Stanley Tucci and Felicity Blunt have another baby on the way. The literary agent has not discussed her second pregnancy publicly. Rather, Felicity let her baby bump speak for itself by joining him at the Guggenheim Museum's screening of Final Portrait in New York City Thursday.
Felicity's sister, Emily Blunt, and friend, Blake Lively, were seen rubbing her belly on the red carpet. It's unclear how far along she is; E! News has reached out to Stanley's rep for comment.
The parents-to-be met in 2010 during Emily's wedding to John Krasinski. They got engaged in Berlin a year later and exchanged vows in a private ceremony in 2012. They celebrated their marriage with a group of friends a few weeks later, where Steve Buscemi served as best man and Oliver Platt was a groomsman. Guests included Patricia Clarkson, Colin Firth, Julianne Moore and Meryl Streep—and a few of the A-listers also attended the Final Portrait screening.
Stanley and Felicity welcomed a son, Mateo Tucci, in early 2015.
Michael Loccisano/Getty Images
"I'm very excited to be a dad. It's incredible," the actor admitted to Us Weekly just before Mateo's birth. "I'm most excited to have a baby with Felicity and for the baby to be healthy." After Mateo's birth, Stanley issued a funny statement, saying, "I believe he is mine. We are all thrilled to welcome him to this cold, cruel world. We are all thrilled that he is here and healthy."
Stanley also has three children with his late wife Kate Tucci, who lost her battle with breast cancer in 2009; the 57-year-old actor also helped her two children from her previous marriage.
Three years ago, Stanley admitted he felt "guilty" when he first began dating Felicity, as Kate had only died a year before they met. "It was very hard to go on vacations at first—really hard to go with Felicity someplace," the actor said. "I felt guilty. It's horrible. You always feel guilty."
Stanley left the U.S. and moved to the U.K. for Felicity, and he keeps a few pictures of Kate on display at their home. "Not that many," he clarified, "but I would have difficulty [not paying tribute to Kate]. And especially when we first met, it was only two years after Kate died. So…"
In the end, Stanley is happier than ever with Felicity.
"English women are a bit more relaxed than Americans," Stanley mused in an interview with the U.K.'s The Times. "You do swear and drink more, but I like that. I find that very attractive."