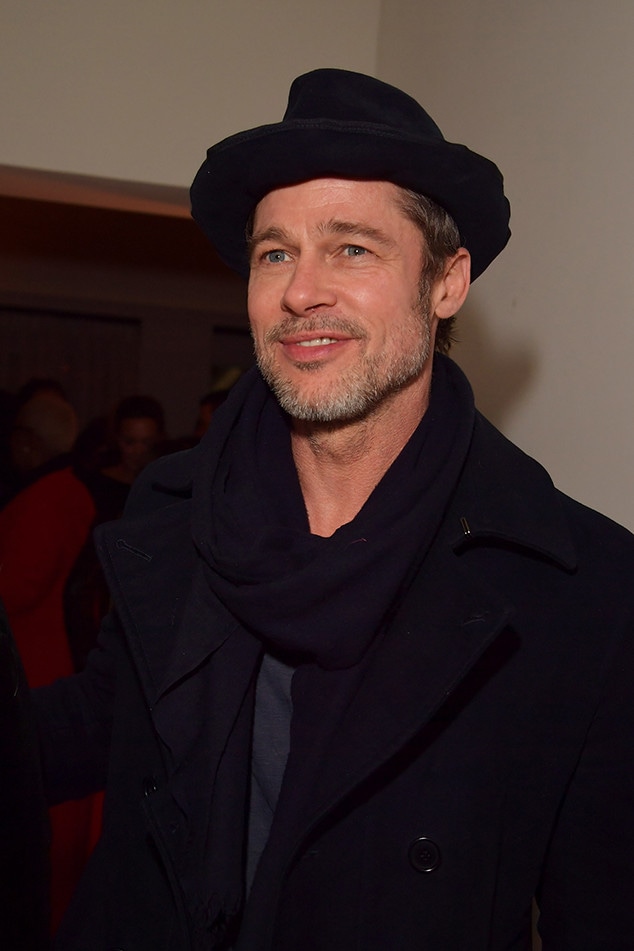 Lester Cohen/Getty Images for Gersh
No news is probably good news if you are Brad Pitt.
But apparently it's not the greatest if you're just really invested in what's going on with Brad Pitt.
No longer newly single, nor is he even divorced yet, and with no films coming out in 2018, the actor has retreated into enigma mode in recent months, choosing to operate almost entirely under the radar while he has the opportunity to do so. He went to Sean Penn's annual Haiti benefit in January, where he was outbid to watch Game of Thrones with Emilia Clarke, and then he went to two parties earlier this month—the Gersh Agency's pre-Oscars shindig at Chateau Marmont and a dinner for Penn's new book at Giorgio Baldi—and that's about it as far as high-profile socializing has gone.
Which isn't to say he isn't socializing at all. He's just doing so in places where the cameras can't follow.
However, not being a visible participant in the Hollywood game hasn't made him any less irresistible of a target when it comes to speculation as to what he's up to behind closed doors.
What we do know in the meantime is that Pitt had a rough and at times frankly awful 2016, followed by a course-correcting 2017, during the first half of which he and Angelina Jolie traded how-we-got-here stories and tried to mend fences as much as possible to help their six kids better adjust to the family's new normal. Jolie bought a house barely two miles away from the former Jolie-Pitt abode, where Pitt still lives, to make the co-parenting easier.
That being said, a source told E! News earlier this month that Pitt would prefer to see his children more. As of February he'd been seeing them a few times a week at his home, their nannies bringing them over and then taking them back to their mom's house after a few hours.
Jolie filed for divorce on Sept. 19, 2016, and at first requested sole custody, so building up to the current custody arrangement itself has been a jam-packed journey for him—a journey that involved quitting drinking, therapy, crisscrossing the globe so that he could keep visiting with the kids while Jolie was traveling for work, and getting to a point where he and the woman he had torched his previous life for a decade ago could communicate directly with each other and not just through lawyers.
So it has certainly been a purposeful, productive year and a half.
Michael Kovac/Getty Images for for J/P HRO Gala
"He made some important changes and is much better off now," the source said. "He's happier and healthier," and he's rekindled old friendships that had fallen by the wayside. 
Though the paparazzi keep missing him, Pitt goes out to dinner a lot (apparently no one was the chef in the family—Jolie said last year that she was taking cooking classes at the kids' request) and has an increasingly active social life again after spending a lot of time alone in self-reflection after the split.
After the Gersh party a source told us, "Everyone was excited he came, even if it was brief. Just seeing him out and happy was great."
But overall, in lieu of Pitt making any news-news himself, the narrative has shifted into throw-it-at-the-wall-and-see-what-sticks mode.
Last month he unwittingly co-starred in this year's biggest breakup story (so far), the demise of Jennifer Aniston and Justin Theroux's two-year marriage and almost seven-year relationship. Absurdities aside, the realization that both Aniston and Pitt were theoretically free to reunite made the Internet happier than it had sounded in months.
As 1999-tastic as that idea is, while the exes have sporadically been in touch (not including the Aniston memes that circulated when Jolie and Pitt broke up) since their painful divorce in 2005, no one who knows them predicts anything coming of the Internet's grand plan.
"They do text from time to time and have exchanged a few words over the years, but there's nothing beyond that at this point," a source told E! News. Aniston "wishes Brad well, but that was a lifetime ago and they were both very different people back then."
A year ago there were rumors that Pitt was dating again, and in print he went on to romance everyone from Kate Hudson to Sienna Miller to Elle Macpherson, all untrue.
But that was then. This year, "he's looking after No. 1," a source told The Sun, which recently reported that Pitt had vowed to abstain from sex for a year, the British tabloid apparently having added wellness, sculpture and mediation together and come up with celibacy.
Well, we've heard that that's not true. (Though it could be why he and Tiffany Haddish can't hook up until 2019...)
Our favorite story—they're all our favorites, but our biggest favorite—could be that Pitt has started studying Kabbalah with the help of friend Demi Moore and has taken to, per Radar Online, "carrying around a backpack full of sacred texts like it's his school homework."
Or, Brad isn't friends with Demi and they don't speak. "He is not trying Kabbalah and the story is made up," a source assured E! News. (Coincidentally, almost the exact same thing was reported about Jennifer Aniston in 2009, also supposedly thanks to a new friendship with Moore.)
But the stories are fun while they last, right?
Meanwhile, Pitt's Plan B Entertainment—which produced Best Picture Oscar winner Moonlight—has a packed slate, including Barry Jenkins' next film and The Big Short director Adam McKay's as-yet untitled upcoming movie about Dick Cheney.
Pitt, whose most recent starring role was in Netflix's War Machine, got back to work last fall shooting the sci-fi film Ad Astra (another Plan B production) with Ruth Negga and Tommy Lee Jones. And now he's attached to star with Leonardo DiCaprio in Quentin Tarantino's already gritty-sounding next movie, about an actor and his stunt double who happen to live next door to Sharon Tate in 1969.
"I've been working on this script for five years, as well as living in Los Angeles County most of my life, including in 1969, when I was seven years old," Tarantino said in announcing the project. "I'm very excited to tell this story of an L.A. and a Hollywood that don't exist anymore. And I couldn't be happier about the dynamic teaming of DiCaprio & Pitt as Rick & Cliff."
That part is real. And we'll know more soon enough.