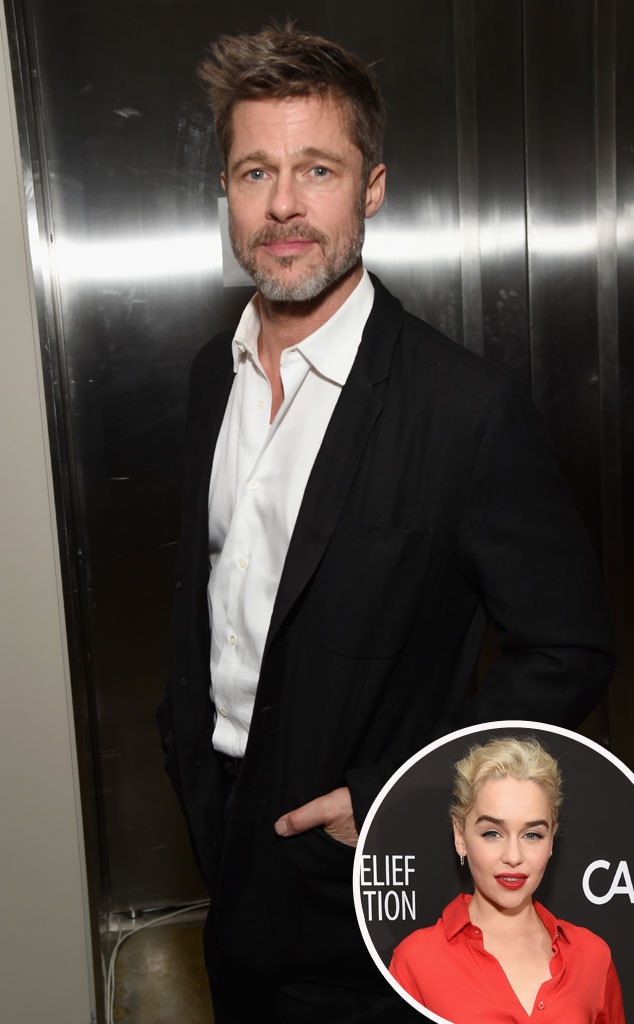 Michael Kovac/Getty Images for for J/P HRO Gala
Brad Pitt was ready to shell out some serious dollars to watch Game of Thrones with the Mother of Dragons herself. 
The Oscar winner stepped out Saturday night at Sean Penn's J/P Haitian Relief Organization "Steadying the Storm" Gala in a "great mood," according to a source, and clearly ready to spend some money. During the night's charity auction, one of the experiences on the bidding block was the chance to watch an episode of the HBO hit with Emilia Clarke, the star behind one of the series' notable main characters, Daenerys Targaryen. 
The opportunity clearly piqued Pitt's interested because he bid up to $120,000 for the experience. According to a source, Pitt kept looking over at Clarke, who was also in attendance Saturday night. However, he unfortunately lost out after somebody else bid higher and the Allied star bowed out. Ultimately, the experience went to another bidder who shelled out $160,000 to watch an episode with the actress and her co-star, Kit Harington. The actor behind Jon Snow kept a low profile following a little drama at a New York City bar Friday night. 
Michael Buckner/WWD/REX/Shutterstock
Michael Buckner/WWD/REX/Shutterstock
However, Pitt didn't walk away empty-handed. For $40,000, he won an NBA weekend experience with the San Antonio Spurs featuring tickets to a game, a ride on the team's plane and more VIP seats to the team's practice and game in Texas. Not too shabby!
Meanwhile, Clarke and fellow attendee Leonardo DiCaprio got into a brief bidding war when they both vied for the same painting. However, after bidding $80,000 and $90,000 respectively for a Josh Smith piece, another painting was brought out for auction and the two stars each took home one of the artworks—each with an $80,000 price tag. 
Overall, despite the loss, it sounded like a successful night for Pitt. 
"Brad sat through the entire night having a great time and stayed for James Taylor's performance. Brad was thoroughly enjoying it at his table. He was bopping his head to each song including'You've Got a Friend,'" a source described. "He seemed to be totally relaxed all night and always surrounded by friends."
—Reporting by Alli Rosenbloom