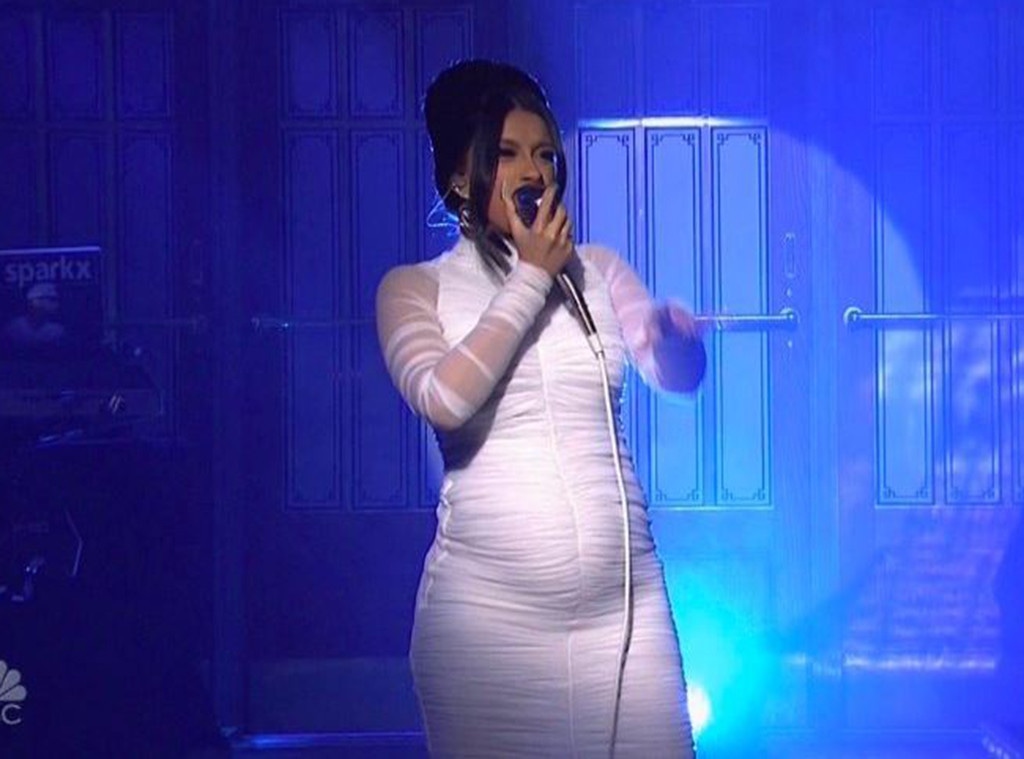 Cardi B is a mom-to-be! 
That's right, after months of speculation the "Bodak Yellow" rapper is pregnant! In true Beyoncé style, the dynamic rapper made sure she had all eyes on her when she literally revealed her pregnancy bump to the world, wearing a bodycon white gown during her performance on Saturday Night Live, which was hosted by Black Panther's Chadwick Boseman.
Earlier in the show, Cardi, who is engaged to Migos' Offset, hid her form under a voluminous feathered frock during her first appearance as the show's musical guest. 
Soon after Cardi revealed her secret, Saturday Night Live's official Twitter wished the expectant star some love, tweeting, "Congratulations @iamcardib! #SNL."
In recent weeks, the rapper, whose first studio album Invasion of Privacy dropped one day ago, has been wearing increasingly outrageous ensembles in order to keep her body under wraps. Just last night she was outfitted in a very roomy pink metallic dress, which many (correctly) speculated was hiding her growing bump.
Following the SNL performance and the pregnancy reveal, the entertainer, who has been tight-lipped for months, went backstage and was met by an applauding crowd. The excited star jumped up and down, yelling, "I'm finally free!" The whole triumphant scene was caught by pal @brooklyn.johnny.
After his lady's performance, Offset also took to social media to thank the couple's many fans, writing, "Thank you for all of your support [.] We feel so blessed."
This is Cardi's first child with her fiancé, whom she got engaged to last October. Offset has three kids from previous relationships. 
Alexander Tamargo/Getty Images for E11EVEN MIAMI
As her celebrity status skyrocketed over the past year, Cardi continued to shoot down pregnancy rumors. She's previously responded to the speculation on Instagram, writing to one social media troll, "No bitch I'm just getting fat. Let me fat in peace." 
Additionally, the Bronx native told E!'s Giuliana Rancic at the 2018 Grammys she's happy to respond to the gossip. "If ya'll wanna know, ask me, I'll tell ya," Cardi quipped. 
Just recently, Cardi responded to the pregnancy speculation during an interview with Beats 1 on Apple Music, saying, "I just feel like people gotta tune in a little bit on album and they will know a little bit more. Because it's like I can't address all the rumors and everything."
Cardi acknowledged how "open" she's been with fans about her personal life in the past, but added this subject was off limits. "People can not expect me to be open about everything." 
Daniel Boczarski/Getty Images for blu
Like Cardi, Offset had denied the possibility of a pregnancy, telling TMZ, "I'm already a father-of-three. I don't know what you're talking about. My kids [are] 2, 2 and 8. I don't got no other possibilities."
Other matters in Cardi's personal life made headlines when Offset became the subject of an alleged sex tape. She rebuffed her critics in a recent interview with Cosmopolitan, saying, "I know I look good. I know I'm rich, I know I'm talented. I know I could get any man I want—any basketball player, football player. But, I want to work out my sh-t with my man, and I don't got to explain why."
"It's not right, what he f--king did—but people don't know what I did, 'cause I ain't no angel," the 25-year-old added without further elaboration. 
The couple's love story officially began in early 2017 when they attended the Super Bowl together. Eight months later Offset popped the question in front of a sold-out crowd in Philadelphia. Of course, Cardi couldn't say no to the enormous, 8-carat diamond ring he proposed with!
But before all this happened, Cardi opened up about one day settling down with a family of her own. 
"I'm a woman. Every woman, I think, wants to get married and wants to have children. It's never too early to get married now. You know, if you want to propose to me, you can," she teased at the 2017 MTV VMAs pre-show. 
She's since pumped the breaks on rushing down the aisle, telling E!'s Sibley Scoles at a pre-Grammys event that they delayed their fall wedding plans to focus on work. "We are really workaholics. It's crazy," Cardi said, adding, "It's not only about the wedding date. It's not just one day. It's gotta be a whole almost two weeks type of thing. We want a honeymoon. Do we even have time for that?"
Cardi is expected to perform at Coachella 2018, which takes place later this month.
Congratulations to Cardi and Offset!