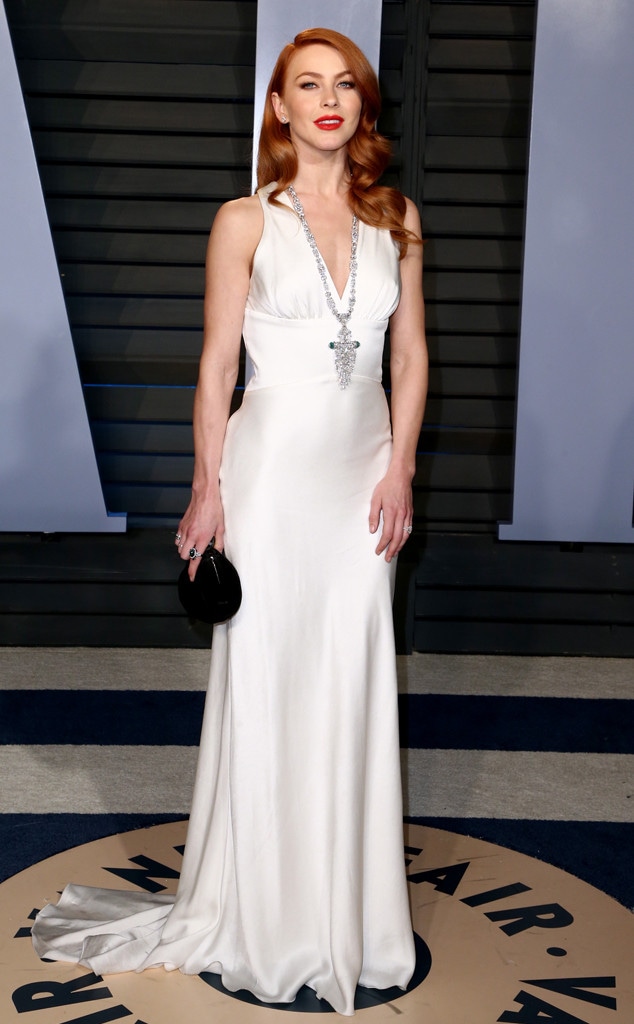 John Salangsang/REX/Shutterstock
She's a survivor!
For Endometriosis Awareness Month, Julianne Hough sat down with E! News and opened up about her 10-year battle with the often-times painful disorder in which tissue that normally lines the uterus grows outside the uterus.
In the chat, the 29-year-old, who is among stars like Lena Dunham who have been open about their struggle, revealed that she'd often suffered in silence and dealt with the pain on her own, but that she's recently learned to let in new husband Brooks Laich, whom she married last July, during the trying times.
Detailing her decade-long journey with the disorder, Julianne, who has a new campaign SpeakEndo, explained, "Obviously, with my story, I came out with it in 2008 when I found out that I had Endometriosis. But then at the time, I was like, I don't know if I really want to talk about this, it's very personal and there can be some misconceptions about certain things and I was like, I don't have the answers yet."
The former Dancing With the Stars pro says she started talking about it because she she feels she has a "responsibility" to use her voice "to help other women so they don't have to go through this sort of like, silent, I'm alone situation, that there's actually an amazing community of women that are there for you."
Justin Edmonds/Getty Images for dOMAIN Integrated
The actress, who just became a redhead, also says she kept the information from Brooks because she'd grown up her whole life as a "competitor," believing she could do anything on her own. The star said that she didn't have the "Endometriosis talk" with him until one day she was doubled over in pain and couldn't hide the fact that she was going through what she was going through.
The newlywed said after she revealed her disorder to the Canadian ice hockey star, they were able to talk about it and that she's been learning to let him there for her.
Julianne said nowadays, "He rubs my back while I'm going through my thing, knowing that it's going to pass, but like he's not freaked out anymore. And now he feels like he's contributing to helping."
She added, "As hard as it was for me to let go of that control, it's actually amazing."
"Whether that's your significant other, your family, a friend, your coworkers, whatever it may be this should not be something that you should be afraid of. It doesn't define who you are. In fact, I own it now and I am so glad that I have a voice to be able to help people with it," said the Footloose actress.
Of course, one big issue with Endometriosis is dealing with fertility and the possibility of infertility. Julianne explains that because she discovered her condition a decade ago that she does not think it will be an issue in having children, which she's been vocal about wanting. 
"The good thing is I found out that I had Endometriosis when I did back in 2008 so I've been really lucky that I'm able to come across things that maybe could've been challenging in the future," said the star. "But now that I know, and that I've had conversations with my doctor, we're good."
She also wanted women with Endometriosis to know that "there are options" in regards to having children.
Talking about her campaign, the dancer/actress explained, "SpeakENDO.com is the perfect place for people to go to get information, take a quiz so they can understand what symptoms they have, and if it could be Endometriosis or if it's normal, not normal."