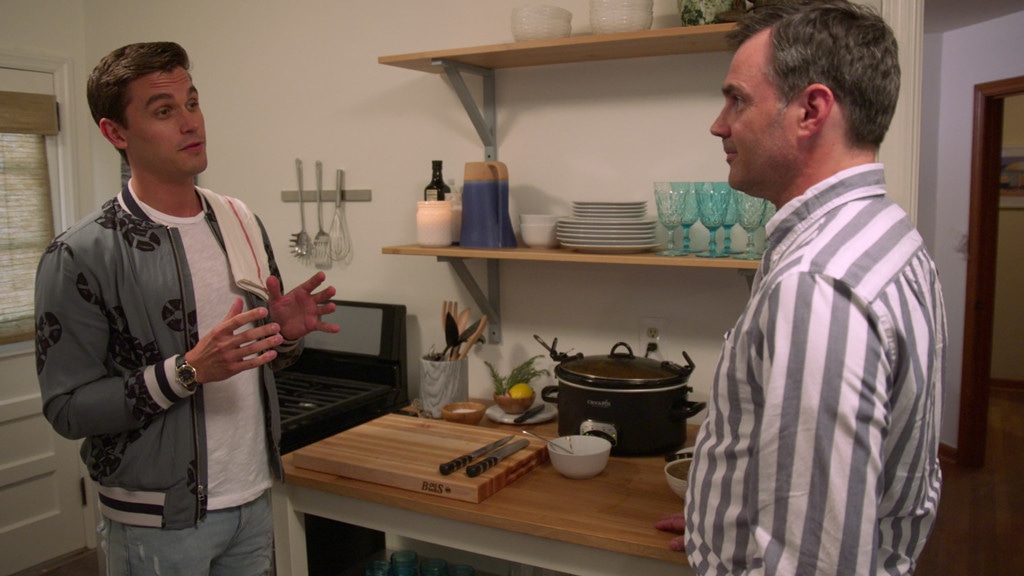 Courtesy of Netflix
Ever since the reboot of Queer Eye hit Netflix last month, there are a lot of questions everyone has been asking. 
Which guy does the most work? Why does Bobby barely get any screen time? Is it because he does the most work? Can Tan please come to my house and save me from myself? Which queer guy is the best queer guy and why is or isn't it Jonathan?
But perhaps the biggest question many have had is: Can Antoni actually cook?
Antoni Porowski, the show's so-called "food and wine" expert, is extremely cute and charming, but in one episode, he teaches a Nascar-loving cop to make a salad of sliced grapefruit and avocado, so some have wondered if his face and calming voice and love of slicing things is distracting us from the fact that he's kinda silly.
We have no real doubt that he has some skills in the kitchen, but is Antoni actually a food and wine expert or is he just a beautiful actor from one episode of The Blacklist who's good at improvising unexpected ingredients for really basic food items? (Or is he both??)
In order to find out, I put his recipes to the test. Over the course of one weekend, I made the main recipe from each and every episode in season one of Queer Eye (except of course for Comedian Joe's episode, they moved him from a regular bedroom in his parents' house to the basement of his parents' house and that was enough of a journey for him without introducing a meal for him) using only the info I was given on screen along with my own solid food knowledge. Yep, I even made the yogurt guac and "fancy" hot dogs.
I've ranked each recipe in terms of how delicious it was and how likely I'd be to make it again, focusing on whatever weird addition Antoni suggested adding to up the ante on a few fairly regular foods. We'll start with the one I liked least (or rather the one I struggled with the most). 
Episode 4: Arepas with Queso Fundido and Grilled Veggies
This ranks the lowest mainly because the arepas have eluded me. After teaching AJ how to grill veggies and bake cheese, Antoni just made an arepa appear, like he pulled it out of the sleeve of his graphic tee. He didn't explain that an arepa is a Venezuelan or Colombian corn flour cake, and he didn't divulge where it came from. Did he make it? Did he buy it? Did he conjure it out of thin air? 
I had to resort to Googling on this one, and I found that it was too much of a journey on my short timeline to buy them premade in LA (I wasn't going to Santa Monica on a weekend for this!). I even got an actual recipe from an actual Venezuelan person, but I then found that no store anywhere near me carried the very specific pre-cooked cornmeal flour necessary to make them. I gave up and added arepas to my bucket list.
I was still able to grill veggies and bake cheese, but eating them together wasn't that exciting. They also don't really meld together because the grilled veggies are coated in oil, per Antoni's instructions. Still, grilled veggies are good and cheese is good, so it wasn't bad.
Good idea, but not worth the trouble without the most important ingredient. 
Would I make this again? Someday. Someday I will experience the arepas, and that day is the day I will finally feel complete.
Episode 3: Avocado and Grapefruit Salad
This "salad" is so pretty, so Insta-worthy, and so, so strange. I felt like a pro supreme-ing that grapefruit, but I think I f—ked up the vinaigrette because that Dijon was so overpowering, and the mixture of that flavor with grapefruit juice and olive oil did not work. I also don't think I like grapefruit and no one at home or work wanted to try the combo, so now there's just a container full of avocado and grapefruit in my fridge that's absolutely going to be thrown out.
Why did Antoni think this was the dish to make for a conservative car-loving cop? Was there not a better fruit he could have chosen for this? Why do people like grapefruit?  
I think I would have been more into this if I had known Antoni was watching me somewhere, squealing with delight when I properly sliced that avocado.
Would I make this again? Nope. But I'm happy to know how to handle a grapefruit!
Episode 5: Pork Loin and Whiskey Caramelized Onions on a Baguette
It's hard to go wrong with whiskey caramelized onions. This appetizer felt like a strange choice for Bobby Camp and his gigantic family, and a dangerous choice when we saw Bobby allowing his small child to use a gigantic knife. We also didn't see much of the instruction. How do you make whiskey caramelized onions? How do you prepare the pork tenderloin? Like the arepas, Antoni just sort of pulled those prepared ingredients out of nowhere with no explanation shown, other than to reassure Bobby that the alcohol was all cooked off and to explain how you place butter, onions, and a piece of pork on a piece of bread.
Does Antoni have a pantry hidden in his abs? Why is there no explanation for all the prepared food?
I ended up just using the basic instructions on the pork loin packaging (season with salt and pepper, bake at 350 degrees for 30 to 35 minutes) while a whole sliced onion cooked in whiskey for an hour.
The final product was not too bad but it was sort of bland and boring and dry. A nice mustard sauce would have livened this whole thing up.
Would I make this again? Yes to the onions. No to the rest of it unless I figure out a good sauce.
Episode 6: Baked Mac and Cheese
I love baked mac and cheese and I've made it a lot, but I've always considered it extremely time consuming and extremely unhealthy. This recipe fixed one of those problems.
In the episode, Remington's mom told Antoni that she uses full fat cottage cheese and whole milk for the base of the dish, which means you don't have to make a roux (cooked flour + butter) base for the cheese sauce, and you don't have to cook anything ahead of time.
Antoni's version involved gruyere cheese, grated parmesan, and his favorite sharp cheddar from Vermont, along with a bit of Dijon and nutmeg, all topped with Panko breadcrumbs. I mixed the cottage cheese and milk together, added some cheese (though I could only find cheddar from Oregon), mixed it with the pasta, then sprinkled more cheese and the breadcrumbs on top.
I guessed and put it in the oven at 375 degrees for around half an hour, until there was some browning on the edges at least.
It came out kind of dry and a little lacking in seasoning, but only in a way that was like "This could be better, but I still can't stop eating it."
My stomach is so mad now, but I had a good time.
Would I make this again? Yes, but with some spicing up.
Full disclosure: I have to be honest here and say that yes, I did see that one shot of the mac and cheese that showed that there were peas in it. But Antoni never mentioned the peas, and you couldn't see the peas in every shot of the mac and cheese, and I just refuse to ruin baked mac and cheese with peas! I refuse! No peas in my mac and cheese please!
Episode 1: Guacamole with Greek Yogurt
Who doesn't love a good guacamole? Antoni's recipe for Tom was pretty simple—like, insanely simple—save for a spoonful of tangy Greek yogurt because Antoni's a "dairy freak."
Like Antoni did on screen, I mashed avocados, added lime juice, salt, a tiny bit of cilantro because I'm growing into the "cilantro tastes like soap" camp, and then mixed in some Greek yogurt. I then shoved it all into my face with the help of some whole grain Tostitos scoops, just like Antoni.
It was a great start. I could have used less tangy Greek yogurt, and I could have used a lot more ingredients, like garlic of some kind, or tomatoes, or anything spicy, but this is a very good guacamole base. It's perfect for a guacamole newbie looking to get a foothold in wide world of guac.
Would I make this again? Yes, but with a lot more things in it. And less yogurt.
Episode 8: "Fancy" $5 hot dogs
I will not lie, I rolled my eyes a few times during this segment. Pickled carrots on a hot dog? Referring to crushed potato chips as "fancy?" But friends, I have to tell you, these are incredible. I first thought I just wanted one hot dog so I did half the hot dog with the carrots and half with the chips, but then I found myself gobbling up a second half and half hot dog immediately.
For once, Antoni actually gave pretty complete instructions. One hot dog featured pickled carrots, cut into matchsticks, accompanied by a sauce of three parts Dijon mustard to one part honey. The other was topped with mayonnaise mixed with the sauce from chipotle peppers in adobo sauce (an actual staple in my cabinet) and then crushed potato chips.
Antoni cut the hot dogs almost in half and then grilled both the hot dogs and the buns for two minutes on each side.
I couldn't find pre-pickled carrots, so I bought some julienne carrots and let them sit in a mixture of white vinegar, apple cider vinegar, a little salt, and just a little bit of brown sugar for a few hours. I also used a cast iron grill pan instead of an actual grill since I'm a millennial in a grill-less apartment, but it still gave me those all-important grill marks and worked just fine.
Weirdly enough, the pickled carrot, Dijon mustard and honey hot dog was the best. I've eaten one for several meals now, and I may just eat another.
Would I make them again: 100 percent, absolutely. They're not very pretty hot dogs, but they are completely delicious.
Episode 2: Grilled Cheeses with Buttered Leeks
Yes, it's hard to mess up a grilled cheese as long as you stick with the main idea of cheese and bread. But please believe me when I say these are kind of mind-blowing grilled cheeses, and you do not want to know how many I ate when I made these. I ate enough that I couldn't eat them anymore, because I Ate. Them. All.
Neal was the lucky student to Antoni's grilled cheese teachings, and it was Neal who actually revealed most of the ingredients as he listed them off casually to his friends. Brioche bread, mayonnaise, grated gruyere cheese, buttered leeks.
Antoni taught us (Neal) how to make the buttered leeks by cutting and discarding the leaves, washing the hell out of what was left, slicing them, and then letting them cook in butter until they were just soft and translucent.
I coated each side of the Brioche bread with mayo, then lightly browned the bread before layering on cheese, then leeks, then more cheese, and now, days later as I'm writing this, I'm salivating.
You have to be careful not to burn the bread, but even when I did that, the grilled cheese was still beyond delicious. I'd happily trade my life or at least my digestive happiness for a thousand burnt buttered leek grilled cheeses.
You could do a lot of good with these bad boys. I felt like Grilled Cheese Jesus handing them out to my hungover friends, perking them right up, prompting them to follow me right into the promised land of more grilled cheeses until my loaf of Brioche ran out.
Would I make these again: This is all I'm eating for the rest of my life.
Final Thoughts
I'm exhausted and working through some digestive issues after my weekend of way too much cheese and way too many hot dogs, but I'm also impressed. I could see all of these as recipes that would seem daunting to someone unfamiliar in the kitchen, but kind of thrilling when they turn out to be totally doable. I cook a lot, but never with the speed or confidence I felt with Antoni's calming presence and simple instructions guiding me. 
Even when there weren't many instructions, I had a good time because I felt like I was in a technical challenge on Great British Bake Off.  
If you've got a sensitive stomach, I do not recommend recreating this experiment over the course of just a few days. Or at least I do not recommend recreating this experiment the same way I did it, which was to consider each recipe an excuse for another meal. 
Now if you'll excuse me, I'm off to dream of grilled cheese and my never ending quest for arepas. 
Queer Eye is now streaming on Netflix.