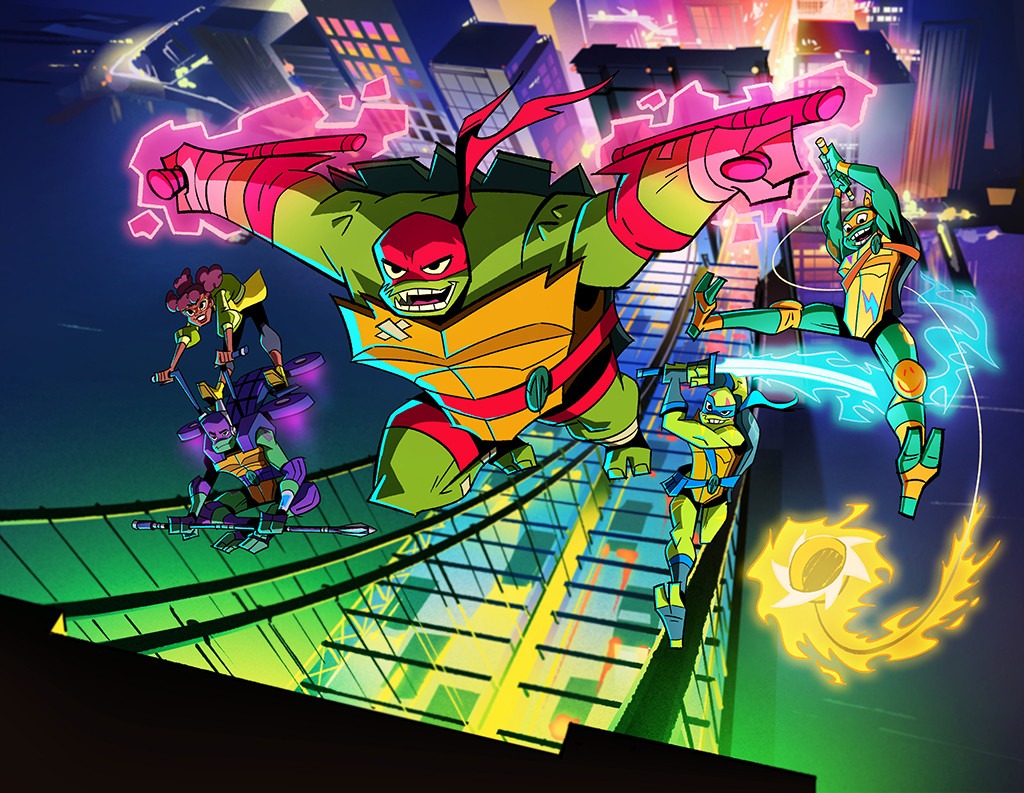 Nickelodeon
These aren't the Teenage Mutant Ninja Turtles of the days of yore. Nickelodeon's new animated series, Rise of the Teenage Mutant Ninja Turtles, is giving Donatello, Raphael, Leonardo, Michelangelo, Splinter and April O'Neil new looks.
The new 2D-animated series, which debuts later this year on Nickelodeon, features the famous turtle brothers as they discover new powers and mystical worlds they never knew exited beneath the streets of New York City. Along with new looks, some of the turtles are also trading in their signature weapons.
Raphael is the new leader and a snapping turtle, Leo is a read-eared slider, Donatello a soft-shell turtle and Michelangelo is a box turtle.
The series stars the voice talent of Omar Miller (Ballers) as Raphael, Ben Schwartz (Parks and Recreation) as Leonardo, Josh Brener (Silicon Valley) as Donatello, Brandon Mychal Smith (You're The Worst) as Michelangelo, Kat Graham (The Vampire Diaries) as April O'Neil and Eric Bauza (Teenage Mutant Ninja Turtles) as Splinter. John Cena lends his voice as villain, Baron Draxum, an alchemist warrior mutant who seeks to turn all of humanity into mutants.
Cena previously told E! News voicing a Teenage Mutant Ninja Turtles character was a dream come true, "especially because I was right at the age to enjoy the first fascination with Teenage Mutant Ninja Turtles."
The new descriptions of everyone's favorite turtles: Raphael, the oldest and biggest brother, is the leader and full of enthusiasm and bravado; Leonardo, the self-professed coolest brother has irreverent charm and a rebel heart; Donatello is still the mechanical genius and tech wizard; and Michelangelo, the youngest brother, is a wild and imaginative skateboarder and artist.
These new looks come from co-executive producer Andy Suriano. Ant Ward is also on board as a co-executive producer and Rob Paulsen is directing the 26-episode series.
Rise of the Teenage Mutant Ninja Turtles premieres later in 2018.