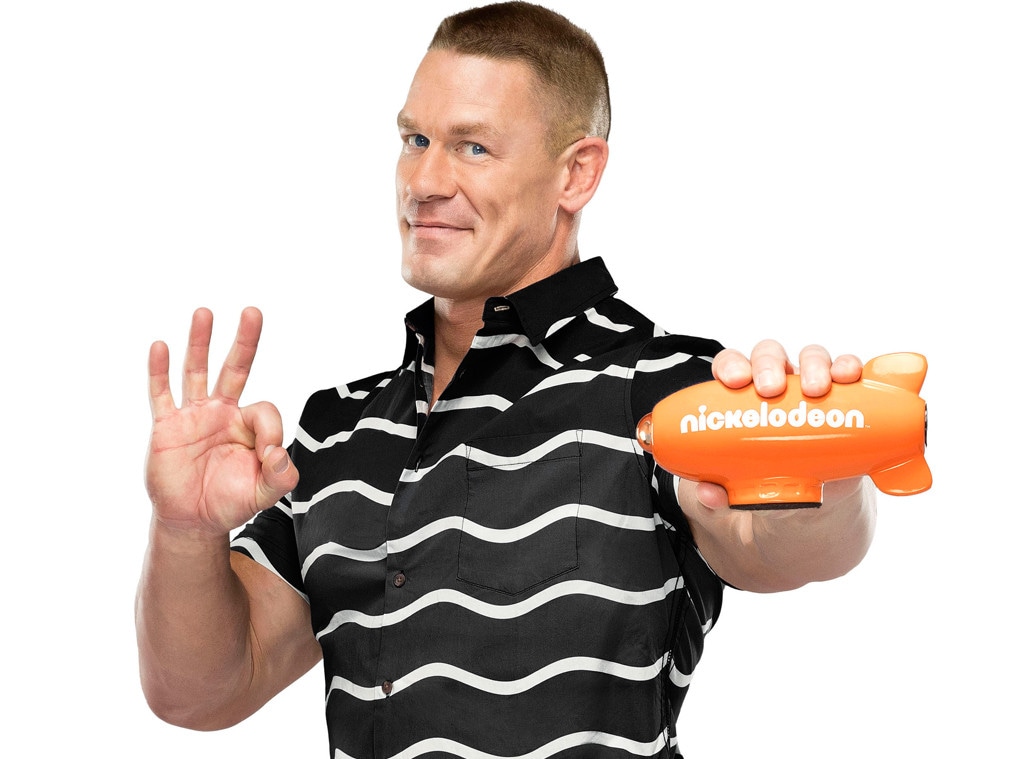 Nickelodeon
John Cena, one of the busiest people in the entertainment industry, has added not one, not two, but three new Nickelodeon projects to his ever-growing portfolio of projects.
Cena is returning to host Nickelodeon's Kids' Choice Awards, he will appear as a new villain in the upcoming Rise of the Teenage Mutant Ninja Turtles and his is executive producing a new game show, Keep It Spotless, featuring teams of kids going head-to-head in a battle to stay clean. Does this man sleep? And truly, how does he keep it all balanced?
"This is going to sound super cliché, but I just take things one day at a time," Cena told E! News in a phone interview.
"Absolutely one day at a time and that's how you sleep and find time for all this work and I guess the second thing is something you hear from a lot of folks that grind it out is, this recurring message of love what you do. There isn't a single thing that I'm doing and am involved in that I don't truly enjoy," he said.
Cena previously hosted the Kids' Choice Awards in 2017 and he's coming back because "it's an awesome show!"
"It is like the thrill of being in a WWE show, which is the thing I enjoy the absolute most and Kids' Choice Awards is that thrill and that experience. Nickelodeon's production value is amazing. Every show is just outstanding and what they do for the kids in the audience and the kids at home is spectacular," he told us. "The show is for the kids and so designed for the audience absolutely and it's so fun. You get to be a big kid. It's so fun you get to be so goofy and get messy and slimy and slime the kids and they love it. It's a really cool time."
As for his animated role in the upcoming Teenage Mutant Ninja Turtles reboot, Cena is playing Baron Draxum, an "alchemist warrior mutant who seeks to turn all of humanity into mutants." The character is recurring and Cena will make his debut in the premiere episode. He said the role is a dream come true, "especially because I was right at the age to enjoy the first fascination with Teenage Mutant Ninja Turtles."
"I've been saying this consistently because I think it's awesome, but usually the older you get the farther away you drift from that connection with youth. It's like older people usually say 'Back in my day…" but this is one of those instances where back in my day I watched exactly the same thing that kids are watching these days, so you can have that fun experience and talk to kids about who your favorite Ninja Turtle is and what they think of the show," he said. "It's really, really fun selfishly to be part of that because I grew up with it."
His next project, Keep It Spotless sees Cena stepping behind the scenes in an executive producer role. According to Nickelodeon, the series "features kids competing in a variety of physical and paint-filled challenges designed with one goal in mind--to stay as clean as possible." Following each game, a 360 degree scanner will measure each teams' mess to determine just how spotless they really are. The winning team then heads to The Gauntlet, a multiple-challenge obstacle course. The show is based on a UK format.
"Keep it Spotless is awesome," Cena. The show takes the "excitement and the energy" that kids have "when getting dirty is a possibility, and getting messy is a possibility."
"It really is a cool stage-by-stage challenge, where as kids, you go in as partners and go through this against another team and you get a chance to win a cash prize, which is unique for kids and I think the kids watching at home are going to be like, 'Wow, that's crazy they just had a chance to win all that money!' The kids are so fun and exciting and it's right in the wheelhouse of the Nickelodeon audience, so I think it's going to be a success," he said.
Rise of the Teenage Mutant Ninja Turtles premieres late in 2018, Nickelodeon's 2018 Kids' Choice Awards airs live on March 24 at 8 p.m. and Keep It Spotless is scheduled to debut later in 2018.
Want more Cena scoop? Find out the latest on the wedding plans with Total Divas' Nikki Bella right now!