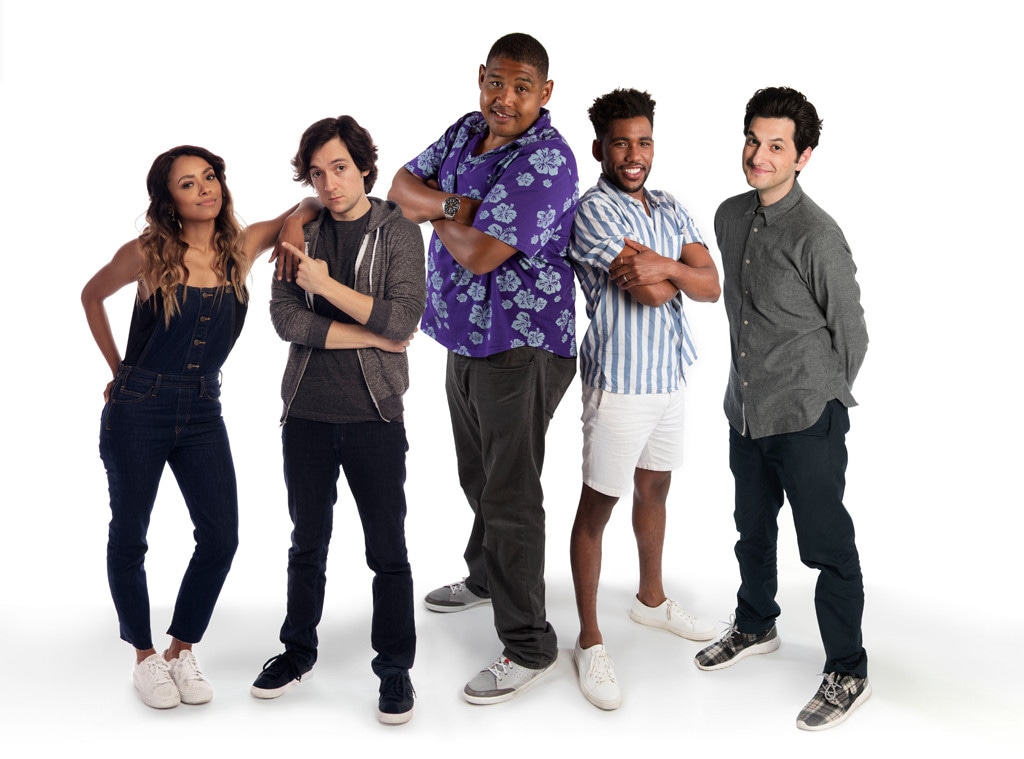 Nickelodeon
The Teenage Mutant Ninja Turtles are back—with a historical twist. Nickelodeon is returning to 2D for the new animated series Rise of the Teenage Mutant Ninja Turtles with a new voice cast including The Vampire Diaries' Kat Graham as April O'Neil, marking the first time April has been portrayed as an African-American.
"I've watched TMNT since I was a little girl. I'm so proud to be playing the first African-American April O'Neil. What an incredible honor for me and milestone for this iconic cartoon," Graham said in a statement. "I'm excited for all the adventures the Turtles and I will have!"
The cast also includes Ballers' Omar Miller as Raphael, Parks and Recreation star Ben Schwartz as Leonardo, Silicon Valley's Josh Brener as Donatello and You're the Worst scene stealer Brandon Mychal Smith as Michelangelo. Erica Bauza will play Splinter. In this series, things are different. Raphael is the leader, Leonardo is the self-professed "coolest" brother with a rebel heart and charm, Donatello is still the tech wizard and Michelangelo is an artist and skateboarder with an imaginative personality.
Rise of the Teenage Mutant Ninja Turtles will see the heroes encounter new allies and villains as well as discover a "mystical world they never knew existed beneath the streets of New York City."
"This incredible roster of voice actors provides a fresh take on these globally recognized characters, and they are going to bring this version of the Turtles to life in a whole new way," Chris Viscardi, senior vice president of production and development at Nickelodeon for animation, said in a statement. "We have reimagined the series to be filled with humor, loads of action and a dynamic look, and it's packed with all new heroes, villains and cityscapes for the Turtles to explore."
Rob Paulsen, who played Donatello in Nick's CG-animated series Teenage Mutant Ninja Turtles and Raphael in the 1987 original series, will voice direct the series.
The official description from Nick about the new 26-episode first season: "Rise of the Teenage Mutant Ninja Turtles follows Raphael, Leonardo, Donatello and Michelangelo on all-new adventures as they seek to unlock the mystical secrets of New York City. From the tallest skyscraper to the dankest sewer drain, the Turtles will encounter absurd new mutants and battle bizarre creatures all while enjoying their favorite slice of pizza. Tapping into mystic, ninja powers they never knew existed, the four brothers must learn to work together and navigate the perils of the modern age and hidden realms in order to fulfill their destiny to become a team of heroes."
And yes, if you're keeping track this officially makes Ben Schwartz the king of reboot and revivals. From BB-8 in Star Wars to Disney's DuckTales and now Nickelodeon's new TMNT, you can't escape his voice—and that's just fine.
Look for Rise of the Teenage Mutant Ninja Turtles in 2018 on Nickelodeon.