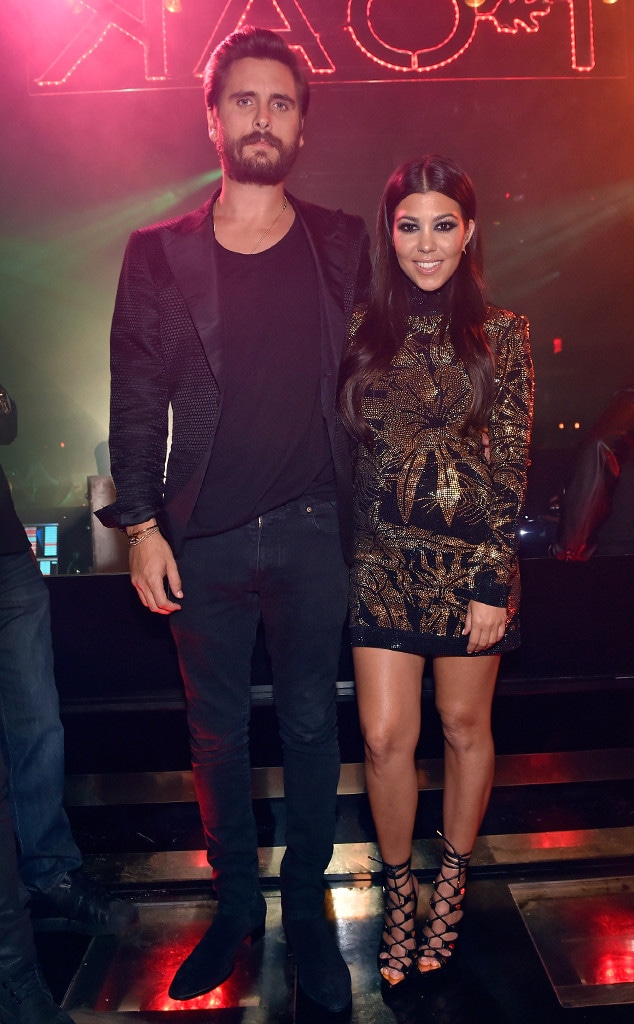 David Becker/WireImage
First comes love, then comes a breakup and then comes the new normal.
While we wish every fairytale relationship would last forever, life sometimes has a way of complicating things. Look no further than Scott Disick and Kourtney Kardashian who tried—and we mean tried—to keep their romance alive.
But even with three children, the pair realized that things just weren't working out. It led to Kourtney breaking things off once and for all.
"I think the moral of the story is we are never getting back together," she shared on Keeping Up With the Kardashians.
Fast-forward to today where Kourtney is enjoying time with boyfriend Younes Bendjima. Scott is getting serious with Sofia Richie. And yes, the exes are keeping the peace for their children.
Watch:
Kourtney Kardashian Sets Kris Straight on Scott Disick's Ways
"Well, we're not together," Kourtney previously shared on The Ellen DeGeneres Show. "I feel like every day is different, but we're totally getting along. Like, we have three beautiful kids together...But, you know, he's family. He'll always be."
That family spirit has allowed Scott to attend family events including Mason's eighth birthday party last month at a Southern California bowling alley.
In fact, Scott even scored an invite to Kris Jenner's Christmas Eve bash that included Younes in attendance. Before you imagine awkward or dramatic moments, a source shared at the time that there really was peace on earth.
"Scott and Kourtney get along very well. There was no drama at all at the party between them," our insider shared. "At this point, the Kardashians are his family too. Scott is more part of the family than Younes is, that much is clear even just based on how he was interacting with everyone."
Even though their kids remain the priority, both Kourtney and Scott find themselves enjoying vacations with their new significant others.
Just last weekend, Kourtney enjoyed a kids-free weekend at the Imanta Resort in Mexico with Younes. "It was a very peaceful and relaxing weekend where they got to be completely alone and escape all stresses," one source explained to us.
As for Scott and Sofia, they recently spent New Year's weekend in Aspen where they were photographed holding hands and enjoying the snow. And yes, they also went to Mexico earlier this month for a PDA-filled getaway.
While recent episodes of Keeping Up With the Kardashians have chronicled tense moments between Kourtney and Scott, it's clear that these two will always be in each other's lives.
And for those wondering if there is any sort of chance that these two could ever get back together, we'll let the fans decide on that one.
"You wanna make out?" Scott joked to Kourtney after a tense argument on Keeping Up With the Kardashians. "When do you think we're going to get married by the way?"
Khloe Kardashian added, "You two are so f--king nuts seriously. And the fact that you waste my time when you guys are now just gonna go get mani/pedis." Welcome to 2018, Khlo.
Keeping Up With the Kardashians returns this September, only on E!