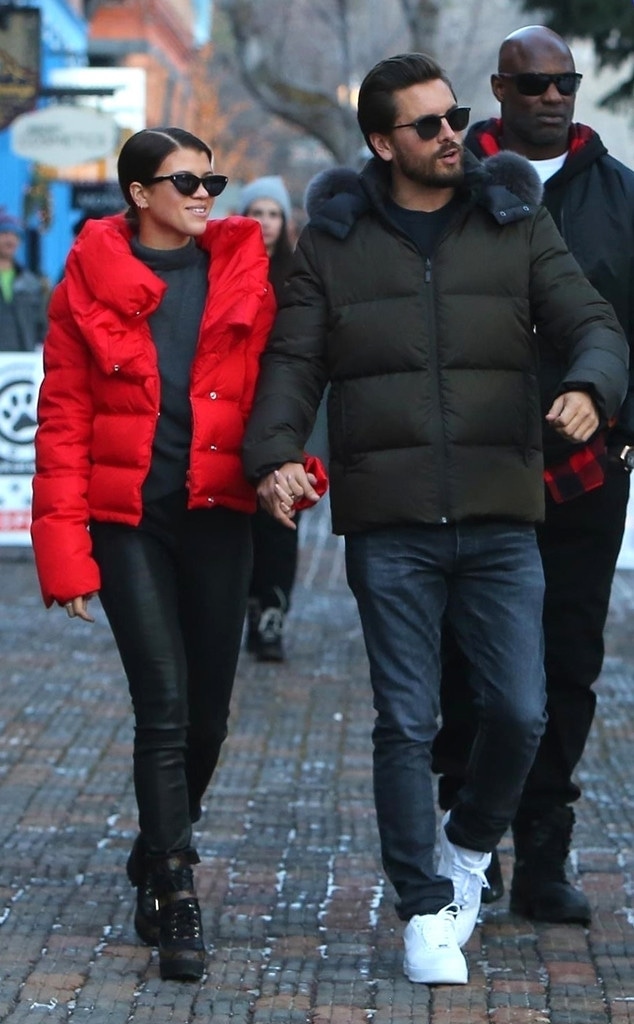 BACKGRID
Scott Disick and Sofia Richie rang in the New Year with a romantic getaway to Aspen, Colo.
The 34-year-old ex of Kourtney Kardashian and the 19-year-old daughter of Lionel Richie celebrated the holiday by attending a party at the 1 Oak New Year's eve weekend pop-up. The two partied with several other celebrity guests, including newly engaged couple Paris Hilton and Chris Zylka, Rita Ora, Bella Hadid and Real Housewives stars Bethenny Frankel and Kyle Richards.
"Sofia and Paris hung out for a lot of the night with Paris' cousins," a source told E! News, adding that the ladies danced and snapped photos in the photo booth.
At the stroke of midnight, Scott gave Sofia a "long kiss," the insider said. The source said the two then enjoyed a fireworks display and did a little dancing before heading home in their SUV.
Before attending the big bash, Scott and Sofia enjoyed some quality one-on-one time. An eyewitness told E! News the pair spent time at the St. Regis and enjoyed shopping, dining and hanging out with friends. They also packed on some playful P.D.A.
"They walked around a lot holding hands and snuggling up in the cold," the eyewitness said. "They were very playful together and at one point Sofia stopped to sit on a spinning seat in a park. Scott spun her around in circles so she got dizzy and he had the biggest smile on his face. Sofia was laughing with joy and very youthful. They took pictures together with their phones and always seemed to be having a lot of fun. She seems to bring out a much less serious side to Scott and he was really enjoying himself."
After a fun-filled weekend, Scott and Sofia took a private JetLux plane back to Los Angeles on New Year's Day. The two also flew JetLux out to Aspen on Dec. 29.
"I'm on a whole new year vibe," Scott captioned a photo of him and Sofia onboard the aircraft, which Kris Jenner liked via Instagram.
Sofia shared another photo of the two of them outside the plane and wrote "Ready for 2018."