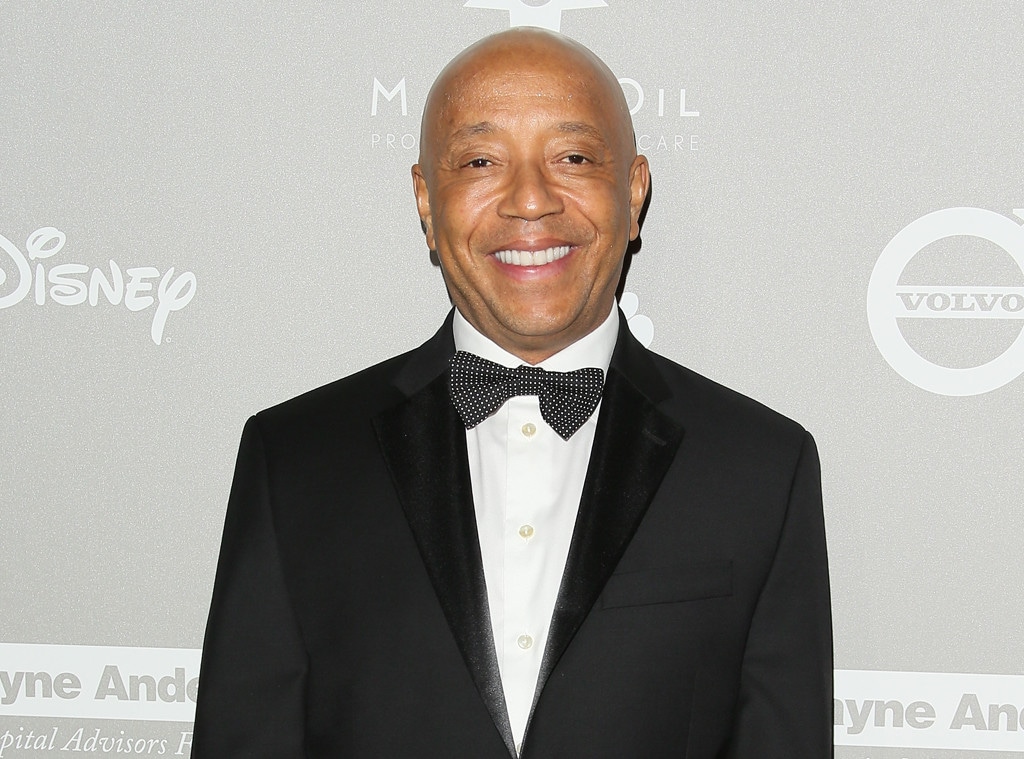 JB Lacroix/WireImage
UPDATE: E! News can confirm Russell Simmons and Jennifer Jarosik filed a joint stipulation of dismissal with prejudice. 
Each party agreed to pay their own attorney's fees and costs in the legal case. The Def Jam Records co-founder has denied all accusations in the case. 
————
Russell Simmons is being sued to the tune of $5 million for allegedly raping a woman in 2016, a claim he calls "absolutely untrue."
According to court documents obtained by E! News, Jennifer Jarosik is suing the music mogul for sexual assault and battery, as well as for intentional and negligent infliction of emotional distress. 
Simmons released a lengthy statement to E! News in response, which read, "This allegation is absolutely untrue. I look forward to having my day in court—where, unlike the court of public opinion, I will have the ability to make use of fair processes that ensure that justice will be done and that the full truth will be known. In the meantime, please understand that I will not litigate this matter in the media. I am confident that when all is said and all is done, it will be as clear to others as it is to me that I did not do what this lawsuit accuses me of doing."
Jarosik, then an aspiring documentary filmmaker, states in the lawsuit that she first met and forged a friendship with Simmons in 2006. At the time, she claims Simmons offered to co-produce and finance a film she was working on.
In August 2016, Jarosik alleges Simmons invited her to his home, where upon arriving he allegedly asked her to have sex. Jarosik claims she denied his request, and Simmons "got aggressive" and pushed her on his bed. In the documents, Jarosik claims Simmons knocked her off the bed and hit her head after she "tried to force [Simmons] away from her." Simmons then allegedly "pounced on her while she was still in shock and fear, and proceeded to rape her."
The woman claims she contacted Simmons after others came forward with similar accusations against him, but he allegedly "pretended [the incident] never happened."
At least 14 women have accused the DefJam co-founder of sexual misconduct, which he's also previously denied. Earlier this month, the New York Police Department confirmed they were looking into new allegations against Simmons, who has since stepped down from his various businesses.
Simmons touched on those accusations in the statement, adding, "These horrific accusations have shocked me to my core and all of my relations have been consensual. I am blessed to have shared extraordinary relationships, whether through work or love, with many great women; and I have enormous respect for the women's movement worldwide and their struggle for respect, dignity, equality and power."
"I am devastated by any reason I may have given to anyone to say or think of me in the ways that are currently being described," he said. "In recent weeks, some former business, creative and romantic partners have aired grievances as claims I categorically reject. In some of these instances, financial motives and direct contradictory witness testimony has been supplied to the media, which has been completely left out of stories. The current allegations range from the patently untrue to the frivolous and hurtful. The presumption of innocent until proven guilty must not be replaced by 'Guilty by Accusation.'"
Simmons concluded, "I have already apologized for the instances of thoughtlessness in my consensual relations. I have separated myself from my businesses and charities in order to not become a distraction. I have re-dedicated myself to spiritual learning, healing and working on behalf of the communities to which I have devoted my life. I have accepted that I can and should get dirt on my sleeves if it means witnessing the birth of a new consciousness about women."
"What I will not accept is responsibility for what I have not done," he said. "I have conducted my life with a message of peace and love. Although I have been candid about how I have lived in books and interviews detailing my flaws, I will relentlessly fight against any untruthful character assassination that paints me as a man of violence."
The court documents also includes "#TimesUp" on several pages, and states Simmons has "historically thrived on the sexual exploitation of young women trying to break into the entertainment and music industry, in which young female artists are falsely promised opportunities and advancement by experienced and well-established men in power in the industry."
A statement from the woman's attorney Perry Wander to E! News reads, "It's time that the hip hop industry face the music and recognize that the deep rooted history of misogyny and discrimination against women in the music industry has to come to an end. #TimesUp. It's not enough to apologize and step away from your business, convert a yoga studio to a nonprofit and still draw a salary and be worth $500 million and do nothing but apologize. As James Franco said, 'If I need to make restitution I'll do that.'"
The statement continues, "Mr. Simmons practices meditation, yoga and is a long time vegan practicing non violence against animals. So basically he treats animals better than women. The hypocrisy has to stop now."
(Originally published Thursday, January 25, 2018 at 7:56 p.m. PST)