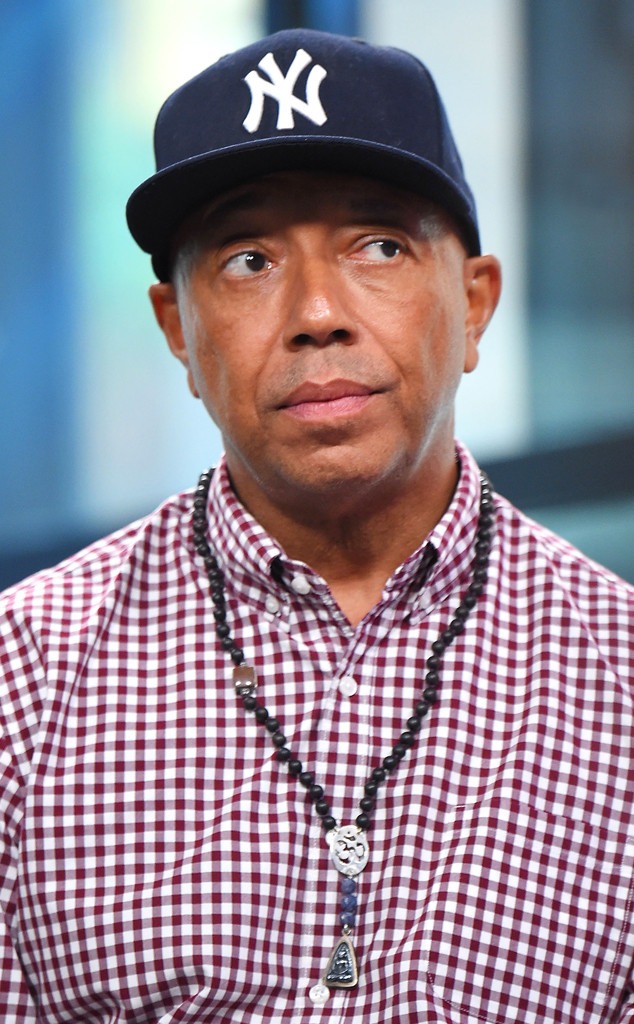 Michael Loccisano/Getty Images
In the wake of new sexual misconduct allegations against Russell Simmons, the music and fashion mogul is stepping down from his businesses. 
The 60-year-old Def Jam co-founder announced in a statement on Thursday that, following a new account from screenwriter Jenny Lumet against Simmons, he has decided to remove himself from the businesses he's founded as not to "be a distraction."
"I have been informed with great anguish of Jenny Lumet's recollection about our night together in 1991. I know Jenny and her family and have seen her several times over the years since the evening she described.  While her memory of that evening is very different from mine, it is now clear to me that her feelings of fear and intimidation are real. While I have never been violent, I have been thoughtless and insensitive in some of my relationships over many decades and I sincerely and humbly apologize," he said in a statement. 
According to Lumet, who published a guest column for The Hollywood Reporter detailing the night in question, she and Simmons had known each other for several years and worked together on a movie before the two were at the same restaurant circa 1991. Lumet claimed he offered her a ride home, but after getting into the car and telling the driver her address, Simmons allegedly objected and took her to his apartment instead."You didn't punch me, drag me or verbally threaten me. You used your size to maneuver me, quickly, into the elevator," she wrote for The Hollywood Reporter. "Alone in the elevator, you pressed me into the corner with your body, your hands and your mouth."
She claimed once inside a bedroom, "there was penetration."
"At one point you were only semi-erect and appeared frustrated. Angry? I remember being afraid that you would deem that my fault and become violent. I did not know if you were angry, but I was afraid that you were," she alleged. I desperately wanted to keep the situation from escalating. I wanted you to feel that I was not going to be difficult. I wanted to stay as contained as I could." After the alleged incident was over, Lumet described quickly heading home.  
Charley Gallay/Getty Images for Baby2Baby
As Simmons' statement continued, "This is a time of great transition. The voices of the voiceless, those who have been hurt or shamed, deserve and need to be heard. As the corridors of power inevitably make way for a new generation, I don't want to be a distraction so I am removing myself from the businesses that I founded. The companies will now be run by a new and diverse generation of extraordinary executives who are moving the culture and consciousness forward. I will convert the studio for yogic science into a not-for-profit center of learning and healing. As for me, I will step aside and commit myself to continuing my personal growth, spiritual learning and above all to listening."
Prior to Lumet's account, model Keri Claussen Khalighi came forward publicly earlier this month with sexual misconduct accusations against Russell, claiming that she had been a teenage model when Simmons and Hollywood producer Brett Ratner  took her to dinner and then to Simmons' apartment to watch a music video in 1991. According to The Los Angeles Times, Khalighi alleged that back at the mogul's house, Simmons tried to force her to have sexual intercourse and, after she "fought it wildly," he allegedly coerced her to perform oral sex. Despite allegedly asking him for help, she said Ratner "just sat there and watched."
While Ratner's attorney Martin Singer told the newspaper Ratner had "no recollection" of Khalighi asking him for help and denied witnessing her "protest," Simmons "completely and unequivocally" denied "the horrendous allegations of non-consensual sex against me with every fiber of my being," the father of two said in an earlier statement. 
"I know Keri Claussen Khalighi and remember the weekend in 1991 that she has referenced. Everything that happened between us 26 years ago was completely consensual and with Keri's full participation. We spent time in my apartment over a period of two days and one night, as well as at some public places including Nell's Nightclub. Much of the time we were in the presence of other acquaintances. I'm deeply saddened and truly shocked to learn of Keri's assertions as to what happened over the course of that weekend," he continued. 
"Let me be crystal clear and very direct Abusing women in any way shape or form violates the very core of my being. I have always spoken out regarding my life experiences, women's issues and the need to bring a faster and more decisive shift in the collective consciousness that will help bring about true women's equality. More than anything. I want my daughters to live in a more equal world and a world here they will not become victims of sexual harassment."