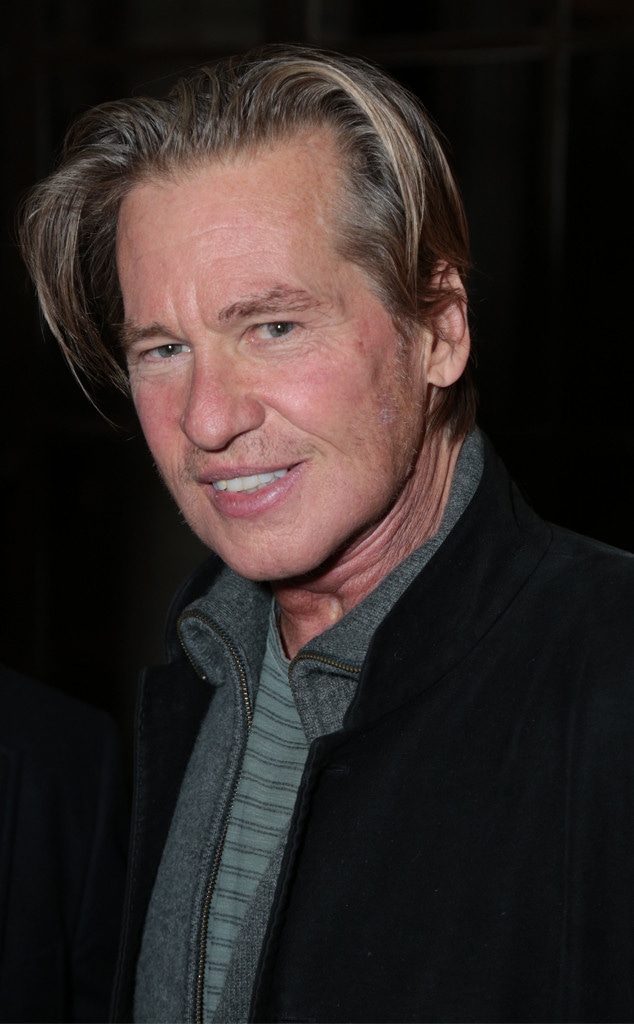 Alex J. Berliner/ABImages via AP Images
Val Kilmer is opening up about his two-year fight against throat cancer and how it's changed his outlook on life.
In an interview with The Hollywood Reporter, the 57-year-old actor admitted he was "too serious" about having an A-list career.
"I'd get upset when things like Oscars and recognition failed to come my way," he told the magazine.
However, his perspective changed when he received his cancer diagnosis. Shortly after, his daughter Mercedes, 26, was involved in a car accident, leaving her in the hospital with her father.
"I was just, you know, miserable, distraught, sitting next to these two," Kilmer's 22-year-old son Jack told THR.
Rumors of Kilmer's health problems started spreading in 2015. The Kiss Kiss Bang Bang star denied having a tumor in January 2015. His rep had previously told E! News the actor was "undergoing tests" for a "possible tumor" at a Los Angeles hospital. Kilmer emerged from the hospital two weeks later after experiencing an undisclosed "complication." He then denied having a tumor a second time in October of that year.
"There's a rumor I'm unwell again and in hospital which is totally untrue," part of his Facebook post at the time read. "I was in to verify I have no tumor or infection of any kind which was verified by the very caring experts at UCLA."
Michael Douglas also fueled the rumors when he reportedly suggested Kilmer had cancer in 2016. Kilmer responded to the comments on Facebook and called his co-star from The Ghost and the Darkness "misinformed." 
But in April, Kilmer said he "did have a healing cancer" and that his "tongue is still swollen altho healing all the time."
According to THR, Kilmer has undergone chemotherapy to fight the cancer. And while the Top Gun actor's perspective on fame has changed, he still has strong ambitions.
"I would like to have more Oscars than anybody," he said. "Meryl Streep must feel pretty good, you know? It must feel nice to know that everyone loves her. It's about being loved."