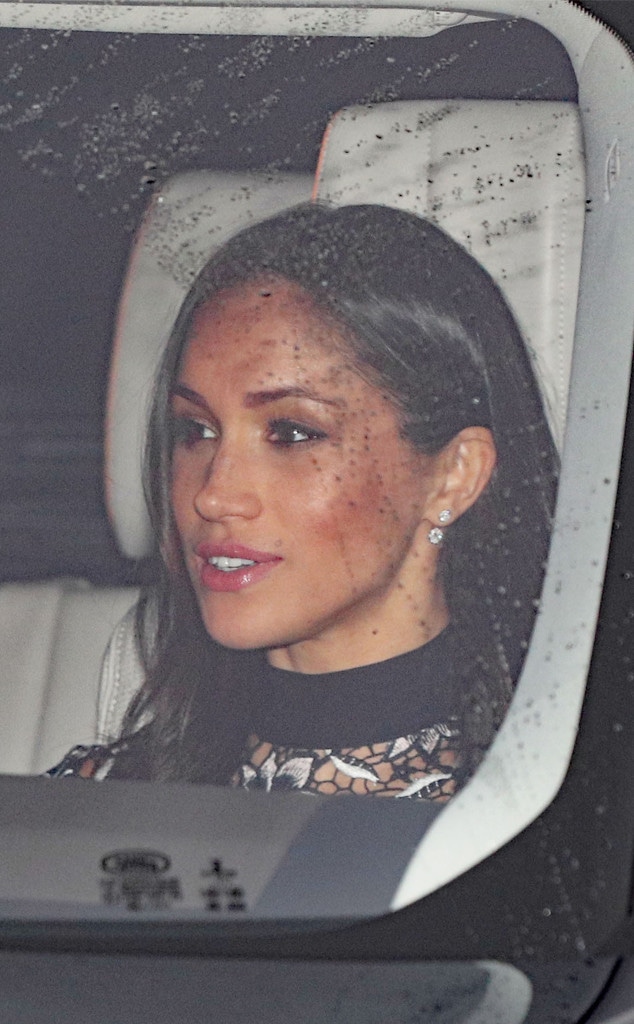 Jonathan Brady/PA Images via Getty Images
Without saying a word, Meghan Markle has already made quite a statement on the way to her first royal pre-Christmas luncheon. 
On Wednesday, the American star and future bride was spotted arriving to a pre-Christmas luncheon hosted by Queen Elizabeth II at Buckingham Palace, her first official royal family gathering since announcing her engagement to Prince Harry last month. As has already been reported, Markle will be the first fiancée to join the royals for Christmas at the monarch's Sandringham Estate. 
While she may not be an official member of the royal family yet, she's already getting serious practice in the fashion department. As Markle sat in the passenger seat alongside her British beau, royal enthusiasts around the world honed in on her ensemble for the special occasion. Though only her dress' neckline was visible, it was enough to send fans into a fashion-forward frenzy trying to identify the design she was donning.  
Alex Huckle / Splash News
As determined by Meghan's Mirror editor Christine Ross, Markle opted for a Self-Portrait midi dress with a black mock neck and lace contrast detailing from the waist up, a particularly special choice considering another royal also recently wore the U.K. design. 
"The dress was worn by Princess Amalia of the Netherlands recently!" Ross pointed out to E! News. While the pick marked a shift from some of her usual wardrobe selections, it proved to be a fitting option for a royal event.  
"As a royal, Meghan will have to stick to more modest styles. She has worn Self-Portrait in the past, but this is definitely a departure from her usual choices for party dresses," Ross explained. "On the red carpet or at professional events, she might opt for an illusion lace or spaghetti strap, but for the Queen's Christmas lunch, she chose a more modest style better fitting for a future Duchess."
Alex Huckle / Splash News
While she hasn't been officially granted that title just yet, the look was also reminiscent of a different royal close to her American roots. "This dress felt very Grace Kelly, which seems sweetly appropriate," the Meghan's Mirror editor noted. "Grace Kelly was America's first princess and Meghan is America's new princess!"
As fellow royals, like her future sister-in-law Duchess of Cambridge Kate Middleton, understand well, the brand one chooses to wear can make just as much of a statement as the design itself—a lesson Markle seems to be learning quickly. The actress paired the dress, made by Britain-based brand, Self-Portrait, with diamond earrings by Canadian fine jewelry brand, Birks—a nod to her former home. 
"We loved seeing Meghan combine a Canadian brand with a British brand for today's event. She's already learning the art of 'sartorial diplomacy'—where her clothes will speak for themselves," Ross told E! News. "Combining a designer from her former home with one from her new home is a great nod to her past and her future!"