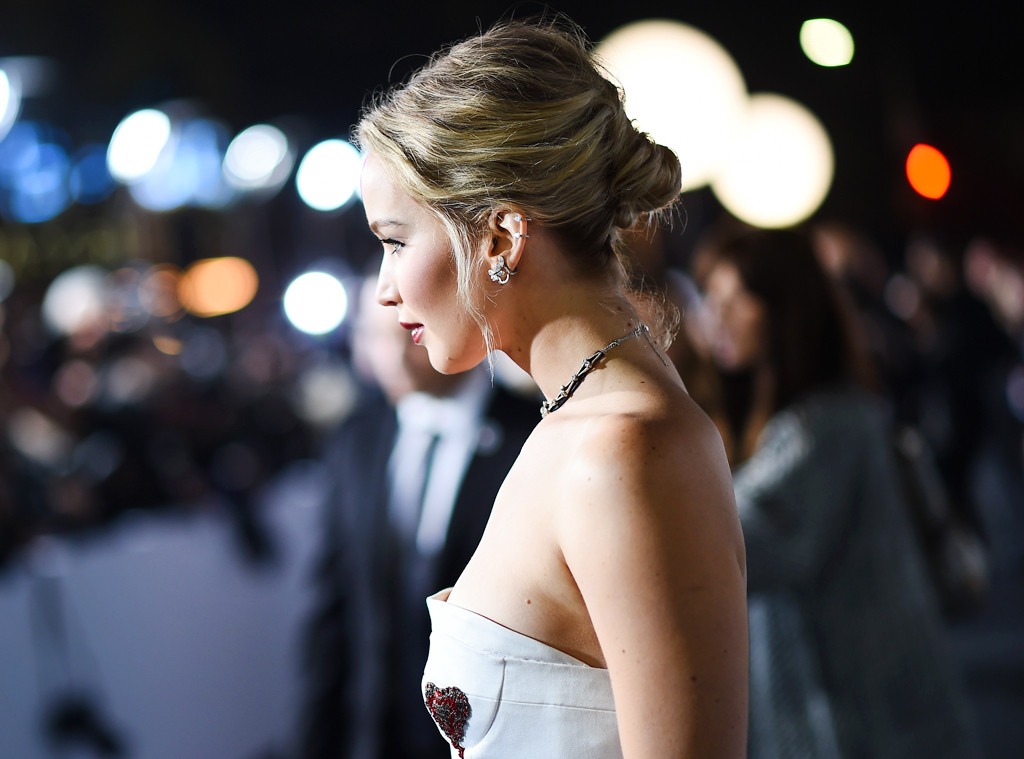 Michael Buckner/Variety/REX/Shutterstock
Jennifer Lawrence is award season and award season is Jennifer Lawrence. The A-list actress has come to be synonymous with all things Oscars and Golden Globes. If there's a red carpet, she's there (probably) wearing Dior. If there are reporters, she's there giving them quotes like "I'm the fastest pee-er ever" and "If I don't have anything to do all day I might not even put pants on." 
If there's an award, she'll win it—and she'll probably trip on the way up there. If there's after party, she's pounding champagne two at a time and photobombing her famous friends. 
In short, she breathes light and brevity into moments in which Hollywood has a tendency to take itself way too seriously, and everyone—from the fans watching at home to the producers whose lives depend on ratings—has come to expect it. So what does it mean that the industry is now potentially facing down a second award season in a row without their foul-mouthed favorite?
It all started last year. Lawrence was coming off of a period that included her breakout nomination for Winter's Bone, three Golden Globes wins in a row and a handful of Oscar nominations (in addition to the Academy Award she took home for Silver Linings Playbook). She had a relatively quiet 2016, with X-Men: Apocalypse hitting theaters in May and Passengers releasing just before the holidays. 
When fans and insiders alike heard about her big, secretive space movie opposite Chris Pratt it seemed like an award season no-brainer. It had everything: Two of Hollywood's most-beloved stars, a mildly-dystopian outlook, intrigue and a very strategic Christmas weekend release date. But what the studio delivered paled in comparison to the expectations. There's no use in rehashing old hard feelings about an hour and 56 minutes wasted so let's just say that when it came time for that year's award nominations Passengers was nowhere to be seen. 
As a result JLaw was decidedly toned down during the ensuing award shows. She clearly knew what she was getting into with two huge action movies in one year (and no David O. Russell team-up to be found), so there were no hard feelings for what could hardly be termed a "snub." But her absence was still felt. Plenty of people stepped in to be honored, of course, and with good reason. No one is arguing for any actress to hold a monopoly over casting or recognition in Hollywood. 
Still, the red carpets and the parties and the presentations felt different without her antics. (This is a good place to point out that her industry BFF Emma Stone put in a fabulous effort to fill the void of quirky mishaps last season). 
This year it seemed that everything would be different. She had an even more secretive project, this time with the director who brought the world Black Swan. mother! was going to be everything: It was going to change hearts and minds and put Jennifer Lawrence in a role unlike any she had done before. (And what does the Academy love more than a transformation?)
Award-watchers everywhere thought that this flick was going to put her securely back in the nominee pool (and back on the award campaign circuit) again. Until they saw it, that is. mother! turned out to be not quite what anyone was expecting and its largely negative reviews made the fact that it was left out of the Golden Globes nominations entirely not very surprising. But predicted or not, to be facing down another award season without JLaw and her photobombs feels like a bit of a shock to the system. It certainly threatens to be a shock to the ratings, given her penchant for (accidental) stunts.
An award season without Jennifer Lawrence also means that she won't be doing the press rounds: No hilarious late-night show appearances to look forward to, no constant stream of head-to-toe Dior outfits to swoon over. And who's going to eat the pizza that Seth Meyers will inevitably order for the Globes audience? We're already counting on Meryl Streep to give an impassioned speech against all the sex offenders of the world so it's not really fair to ask her to step in during viral stunts, too. 
Of course, overall award season will be fine. We don't need Jennifer Lawrence. Her absence in the nominations pool leaves even more room for the people, faces and stories that have been largely underrepresented in past years. And there are surely more important and pressing topics to be sorted out during award season—it would feel almost crass to look forward to Lawrence's quips about drunken snacks when there are issues like widespread sexual harassment at hand. 
Besides, the woman deserves a break at some point and maybe with a lighter schedule this next month she'll finally be able to give the world that Amy Schumer movie it's been waiting for.