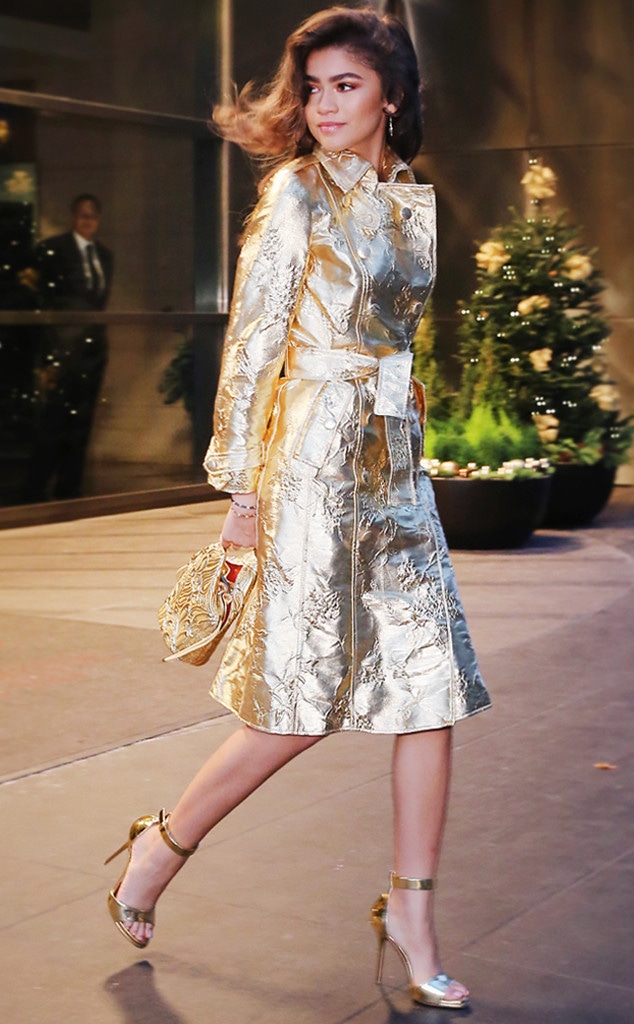 Mireya Acierto/GC Images
Fresh off The Greatest Showman's three Golden Globes nominations, Zendaya turned heads with three striking outfit changes in one morning.
After exiting The Today Show, the Spider-Man star's stylist, Law Roach, posted a picture of her with the affectionate caption, "My very own GOLDEN GLOBE." Although the star claims her fashion choice on the release day of the Golden Globe nominations was a "accidental reference," her Giuseppe di Morabito gold coat dress, Bienen-Davis bag, metallic heels and glowing makeup personifies the glamour and hue of the award show. 
As the sun rose, the actress was radiant in this glimmering gold ensemble, but little did we know this was just the beginning of her one-woman fashion show, which took part throughout the rest of the day.
Before her appearance on Live! with Kelly & Ryan, the star switched into a Mary Katrantzou circus-inspired dress to talk about her role as a trapeze artist and performing most of her own stunts. Her vibrant and polka-dotted piece proved she is a risk-taker on and off-screen.
In contrast to Blake Lively, who paired seven outfits in one day with separate beauty looks, Zendaya kept her voluminous locks swept in loose curls through her multiple appearances, but didn't forget to swap out her earrings for a pair of subtle studs. Everything about this cheery outfit matched her sunny demeanor, as she smiled through the morning talk-show. 
For her third look, the trendsetter paired a Stella Jean Resort top with a high-slit pink and orange skirt. In the sexiest look of the three, Zac Efron's onscreen love interest chose to tuck in her striped top and keep it off her shoulder. Her colorful, high-slit skirt, however stole the show.
The day before her Golden Globes moment, the star began her press tour and braved the snow in collared white blouse, long green skirt and over-sized blazer—a chic look for a cold day. The former Disney Channel star kept her hair up to show off her dangling earrings, before posing for pictures with her co-stars.
We can only hope her press tour continues to inspire our winter wardrobe!