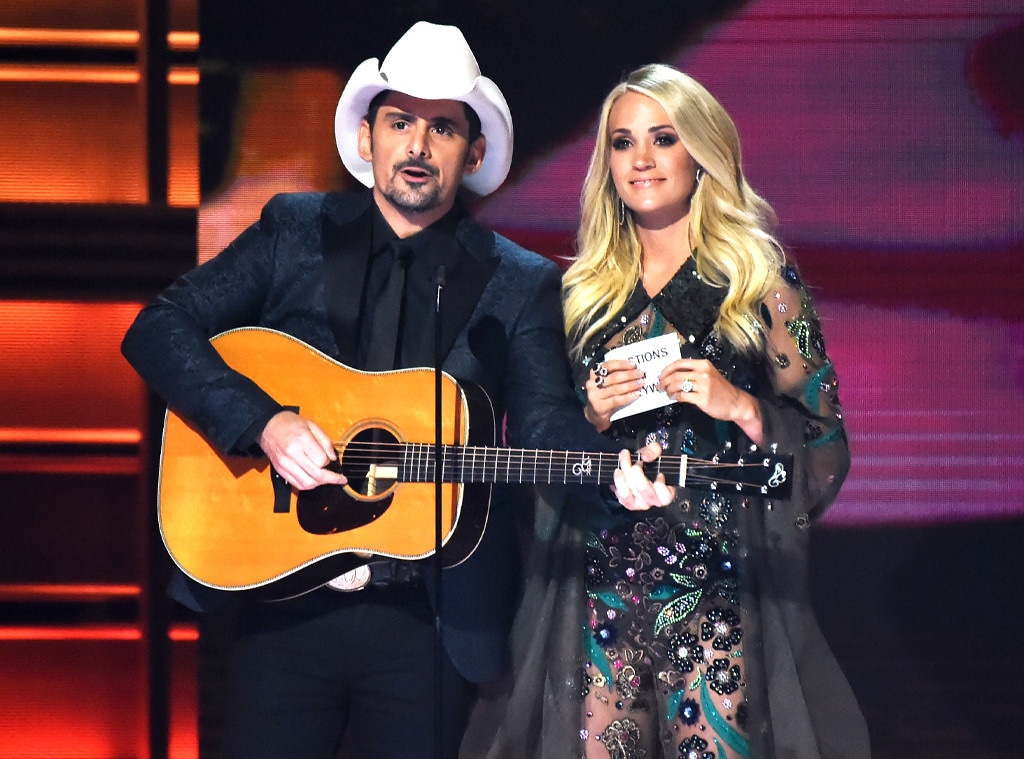 Rick Diamond/Getty Images
Oh, what a night! 
The 2017 CMA Awards winners have been named, the performers have rocked the stage and the red carpet saw plenty of unforgettable style moments, but how 'bout another round of applause for Carrie Underwood and Brad Paisley?
The singers returned to co-host the 51st annual ceremony for the 10th consecutive year, no small feat for a duo as ultra-talented as Carrie and Brad! As per usual, we lost track of Underwood's many, many outfit changes and there were plenty of uplifting moments and laughs to go around. 
Without further ado, here are their best hosting moments!
Rick Diamond/Getty Images
An Opening to Inspire: 
Right off the bat, Carrie and Brad acknowledged the numerous events that have threatened the industry, including the Las Vegas Massacre and natural disasters that tore through the south. "This has been a year marked by tragedy, impacting so many in our country music family," Underwood shared, as Paisley added, "Tonight is dedicated to all those we've lost and all those still healing. We love you and we will never forget you. 
Before Trump Cheats... err... Tweets: 
After joking they weren't allowed to touch politics this year, Carrie and Brad took a playful dig at President Donald Trump with a song to the tune of her hit song "Before He Cheats." 
The duo sang, "It's fun to watch that's for sure, until little rocket man starts a nuclear war. Maybe next time he'll think before he tweets..."
Nashville's Next Big Fitness Trend:
Wondering how Brad and Carrie got in such a great shape for their co-hosting stint? They chock it up to this little thing they call goat yoga! During their fan PasileyWood Q&A, footage of the pair working out with a baby goat played on the big screen.
"Those are not chocolate covered raisins," Underwood teased after revealing the training sesh went down in Little Big Town's dressing room. "You're gonna wanna keep your shoes on in there."
Not a Dry Eye in the House:
Toward the end of the telecast, Carrie took the stage with an incredibly moving performance dedicated to country music stars who passed away in 2017, as well as the 58 killed by a gunman at the Route 91 Harvest Festival in early October. She performed "Softly and Tenderly," and struggled to hold back tears while the victims' named and photos were displayed.
And All Those Outfits!: 
We've already mentioned Carrie's rotating wardrobe of sequined jumpsuits, bedazzled gowns and downright stunning outfits, but this year's looks were seriously major. So major, in fact, that we're tipping our hat to Underwood's 2017 ensembles. Check them out for yourself. 
Until next year, you two!
Check out the complete list of winners here.