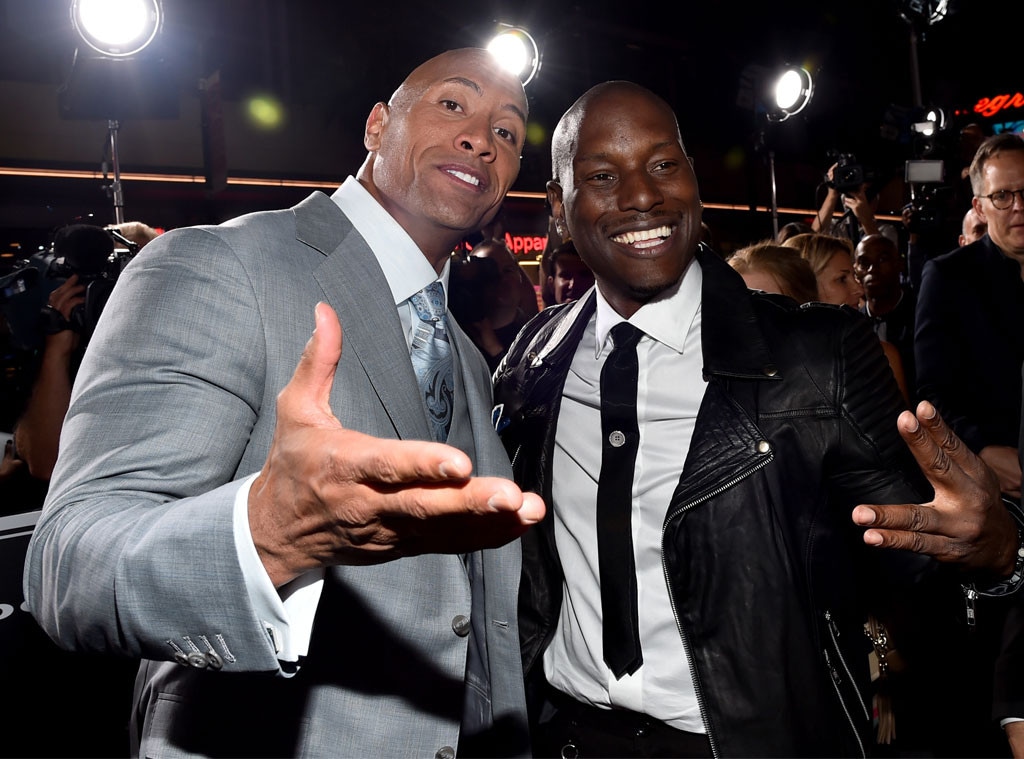 Alberto E. Rodriguez/Getty Images
Tyrese Gibson is threatening to quit the Fast & Furious franchise if Dwayne Johnson, who he calls a "clown" and a "selfish champ," is in the upcoming ninth film.
His rant, posted on Instagram on Wednesday, marked his harshest words yet against the actor, with whom he has feuded over the movie's delayed release date.
Last month, Universal Pictures announced a standalone spinoff movie starring The Rock and fellow cast member Jason Statham would hit theaters in 2019, the year the ninth Fast & Furious film was originally supposed to hit theaters. The studio said the latter flick's release date would be moved to 2020. Tyrese, who plays recurring character Roman Pearce, blames Dwayne for the delay.
"Hello world.......... hello loyal fans and loved ones from OUR fast universe........ I'm sorry to announce that if Dewayne is in Fast9 there will no more Roman Peirce (sic)," Tyrese wrote on Instagram on Wednesday, alongside a selfie of main star Vin Diesel with his arm around him, standing next to Dwayne. "You mess with family and my daughters survival I mess with yours......... close your eyes dude you're a 'Clown'...... #CandyAssBitchMade. All my real one.... Men on integrity... my real ones out here stand UP."
"Spin off huh? Spin off these nuts selfish champ," he added. "Pause notice who's got his arms around my shoulder and who's standing alone - #OurChildrenMatter."
Dwayne and Universal Studios have not commented. E! News has learned that production on the Fast & Furious movies that have been announced will proceed as planned.
Tyrese had used an insult The Rock had used in 2016 against his colleagues. He said on Facebook that some of his "male co-workers" do not "conduct themselves as stand up men and true professionals" and "are too chicken s--t to do anything about it anyway," adding, "Candy asses." He did not name names. Many speculated he was talking about Vin, who later sung the actor's praises. Dwayne late told The Los Angeles Times he was "very clear" about what he said in his rant. At the premiere of the eighth film, The Fate of the Furious, Dwayne told E! News that he and Vin had a "good chat" and that he thinks "everything's fine."
"I was never mad at The Rock - I was just mad that he was 'pitched' an idea privately and said yes to it without thinking of what I'm dealing with personally," Tyrese said in another Instagram post on Wednesday. "I'm almost broke paying legal fees and is doing what we committed to doing for the #FastFans and #FastFamily cause the fast is tradition it's not just another Movie...Fast was created to COUNTER images of racism to counter that WE ARE NOT ONE RACE...... So the rock how does it feel bro?.... going home to your daughter every night.... it's was 60 days before I seen my baby..... and all I asked you to do 'privately' was NOT accept a role that would deeply effect us all."
"You are simply NOT the people's champ," Tyrese continued, referring to Dwayne's WWE nickname. "You are a selfish champ."
He said that in addition to his legal fees, a top talent agency has been unable to book him work because his ex-wife Norma Gibson "killed" his reputation. She has not commented. The actor and his ex-wife are involved in a child custody battle over their daughter Shayla, 10. She recently obtained a temporary domestic violence restraining order, claiming he physically abused her and their child in the past.
Gibson told People last week that Norma's allegations were "hurtful lies," adding, "After 9 years of working extremely hard to co-parent our child, I am disappointed to learn that the mother of my daughter has made gross and false accusations against my character in a shameful attempt to ruin our co-parenting efforts."
Tyrese penned a note to Norma on Instagram in September, saying he "NEVER wished harm" on her and simply wants to "co-parent and raise Shayla to be a respectful, decent, smart angel that I know she is." He and the child were photographed at an In-N-Out Burger this past weekend, on what TMZ described as a court-monitored visit.
"Make sure you kiss your 2 daughters when you get home I wish I could but I can't afford to fight for my baby anymore so they're likely going to take her away," Tyrese wrote in his Wednesday Instagram post. "Thanks Dewayne see you guys in 2020 and I will not delete this post cause the TRUTH of selfish people in Hollywood needs to be mentioned.................. to this day Dewayne has NOT called me back as u see me crying every 3 hours over my baby know #ShaylaRocks."
Watch:
Jordana Brewster on "Fast & Furious 9" Premiere Date Change
E! News had learned in April that Universal Pictures was looking into doing a Fast & Furious spinoff with Dwayne, Jason and Charlize Theron, who made her debut in the eighth movie.
The following September, a month before the spinoff was announced, Tyrese told Dwayne on Instagram, "If you move forward with that #Hobbs Movie you will have purposely ignored the heart to heart moment we had in my sprinter. I don't wanna hear from you until you remember what we talked about. I'm on your timeline cause you're not responding to my text messages – #FastFamily is just that a family...we don't fly solo."
Tyrese added, "I have never and will never have a problem with this major movie star he's my brother. I'm simply trying to reach him cause he won't call me back about this solo #HobbsMovie  I want you to shoot it just not right now cause the #Fast9 release date has already been announced and we can't let our loyal fans #FastFamily or our loyal fast and furious FANS down on any level from pushing the date."
In October, after the spinoff and Fast & Furious 9 delay were announced, Tyrese wrote on Instagram, "Congratulations to @TheRock and your brother in law aka 7 bucks producing partner @hhgarcia41 for making the Fast and the Furious franchise about YOU."
Around the same time, Vin showed support for Dwayne, posting a throwback pic of the two on Instagram and writing, "Brotherhood... and all it's complexities."
Days later, Tyrese spoke to TMZ about Dwayne and the movie drama.
"Congrats to him," he said. "I don't know what they're doing. Everybody's coming at me like I'm hating on Dwayne about his spinoff. I'm not. The truth is, I just wish he was releasing it at a different time."
"The Fate of the Furious is like a holiday. The Fast and the Furious family, the fans, the tribe, the people that've been rocking with us for 16 years...pushing our release date back, it's only happened one time in the history of The Fast and the Furious—it's when we lost our brother Paul Walker," he continued. "So what's the reason we're pushing the release date back now? I just got a problem with Dwayne. It appears that he's being selfish, it appears that he's so focused on furthering his own self-interests, he's making decisions from the seat that he's sitting. Fast and the Furious 9 is not coming out until 2020...it's f--ked up."