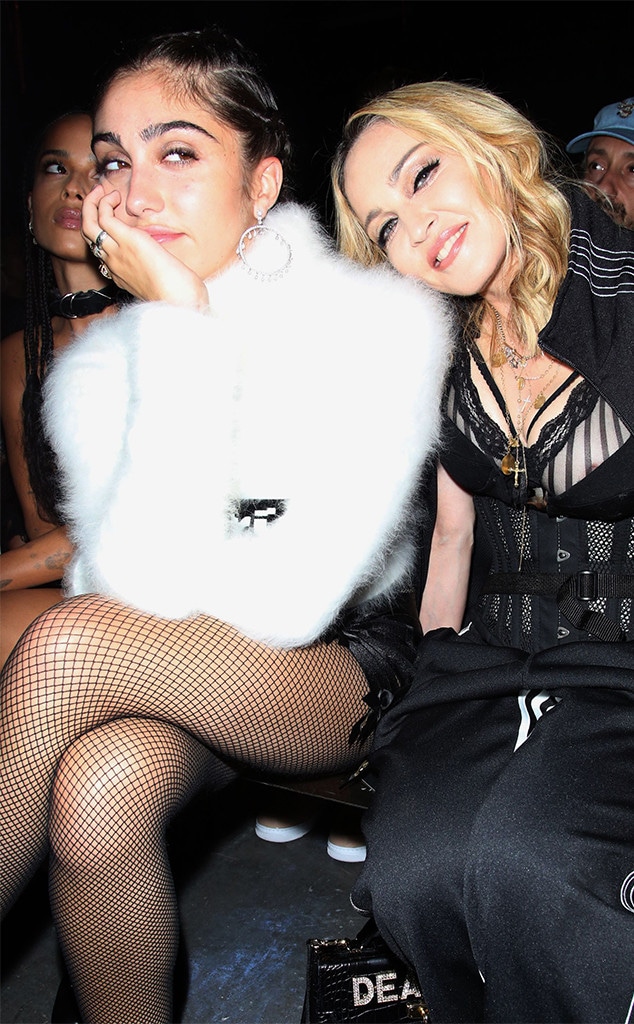 Matt Baron/Rex Shutterstock via ZUMA Press
Once upon a time, a new mom named Madonna sat down with Oprah Winfrey to gush about her baby girl, who was waiting out her mommy's interview in the green room, dressed in pint-size Dolce & Gabbana.
Today, that little baby is turning 21.
That's right, Lourdes Leon—named after the city of healing and miracles, but also because Madonna just loved the name—is officially old enough to legally enjoy a champagne toast in the United States, if she so desires. Meanwhile, it seems as if it was just yesterday that the world was all aflutter over Madonna being pregnant with her first child, news the Material Girl received while in the middle of shooting Evita, a role that defined "passion project" for the star.
"At first I was a little bit shocked but then I thought, This is a little bit perfect because I'm getting two things I want more than anything, at the same time," the pop icon told Winfrey in 1997 when she sat down for her first interview since Lourdes' birth.
In 1996, with no Twitter or other central social media platform to use to congratulate or criticize celebrities on, people must have reacted to Madonna's pregnancy in a generally sensible manner, right?
"'Well the world knows, and I feel like my insides have been ripped open,'" Winfrey read aloud an April 17, 1996, entry from an expectant Madonna's diary. "'Some people have suggested that I've done this for shock value. These comments, only a man would make, because it's much too difficult to be pregnant and bring a child into this world to do it for provocative reasons.'"
Sigh. At least in 2017, shaming is totally passé, right? Anyway...
From day one, photographers were camped out outside her home angling for a peek at the pregnant star. Madonna told Winfrey that her neighbor three doors away rented his guest house so a cameraman could zoom in on her house through a tiny corner of a window—an experience she admitted made her feel sick.
"I accept it when I walk outside, when I go outside my gate, into the world… I don't like it, but I accept it," she said. "But when I'm in my house and I'm being filmed…I feel incredibly violated because I feel there has to be one place in the world where I have my privacy."
Ultimately what mattered was that a baby was on the way, and Madonna, 38 at the time, couldn't have been more thrilled. Her sister—whom she called "the most perfect mother"—helped her prepare for motherhood, teaching her that "patience and surrender" were pretty key to the process. And though it wasn't as easy for some people to wrap their heads around Madonna's relationship status, or lack thereof, at the time, Lourdes did have a very involved father, Carlos León, a Cuban-born dancer and fitness trainer. They remain close.
"When I look into my daughter's eyes right now, I feel that I'm being healed," Madonna said on Oprah 21 years ago. "...Because I didn't have a mother that I could grow up looking into the eyes of, I couldn't recognize myself in [my mom], I couldn't see myself in her. So now I look into my daughter's eyes and I see that recognition, and it is so extraordinary, that feeling, and I think that it is going to heal a lot of the pain that I felt growing up without a mother." She revealed that, while Mother's Day had always been a depressing day for her, Mother's Day 1996 was when she felt her baby kick for the first time.
Asked what the number-one thing she wanted to teach her daughter, Madonna replied, simply, "self-respect."
And what would she teach her about men?
"Well, I think that if you learn self-respect, you don't need to be taught about men," the "Express Yourself" singer said.
In 1998, Madonna told the Los Angeles Times, "I feel like I'm starting my life all over in some ways. My daughter's birth was like a rebirth for me." Lourdes—or Lola by then—had made her life "infinitely richer. Every day, I'm so excited to wake up in the morning and see her."
Later that year Madonna went with the pages of Vanity Fair to debut the first photos of Lourdes. In a subsequent sit-down with the star, Winfrey commented that she was surprised Madge let the pictures be taken.
"The photographers were pursuing me so doggedly and so intensely, and I know that there was a really big bounty being put on getting a picture," Madonna explained about her now very common choice to thwart the paparazzi by taking matters into her own hands. "So I thought, I'll just present a photograph that will kind of dissipate all that excitement and intensity, and they won't pursue us so much."
It would be the first of many glossy photo opportunities for mother and daughter together.
Mark Cuthbert/UK Press via Getty Images
In 2003, Madonna collaborated with her 7-year-old on the children's book The English Roses, and they would appear at readings together. She later said that teaching Lourdes to read made for one of her proudest moments out of the spotlight. The always immaculately dressed little Lourdes was also often her mom's plus-one at child-friendly events, such as gallery openings.
And while Lourdes enjoyed her independence as she got older, she wasn't too cool to hit the red carpet with mom at a Vanity Fair Oscars party or sit with her in the front row at Fashion Week. Oh, the sacrifices we make to spend time with our parents...
Of course, as the years went on, being Madonna's daughter wasn't all designer clothes, artistic inspiration and traveling the world—though there was plenty of that.
Madonna's been open about her at times amusingly rigid standards as far as neatness and house rules go (which probably weren't so amusing to her kids).
She said in that 1998 interview with the LA Times, "I do spoil [Lourdes], but I have my boundaries. If she had her way, she'd be eating candy all day. She loves candy. She doesn't like playing with toys, but she loves taking the top off of every writing implement in my house and drawing all over the walls. Unfortunately, all of my friends do spoil her when they come around. But what can you do?"
Jon Furniss/WireImage.com
She welcomed son Rocco in 2000 with her husband at the time, Guy Ritchie, and London was the family's home base.
"We don't talk about fame, we don't have magazines in the house, and we don't watch TV," Madonna told Oprah for the January 2004 issue O magazine, explaining how she and Ritchie at least tried to create a semblance of normalcy.
In 2005 she told Harpers & Queen, "I'm the disciplinarian, Guy's the spoiler. When Daddy gets home they're going to get chocolate. I'm more practical."
On Rock Center in 2012, she said that, for all her wild antics that her fans have witnessed and her at times outrageous public persona, "To my children, [I'm] the one that comes home and says, 'Have you done your homework?' and 'Why are you wearing that?' and 'Why did you say that?' and 'What are you eating that for?'"
Craig Barritt/Getty Images
But the lessons have run both ways. As Madonna told Oprah in 2004, "My daughter is a daily reminder of the issues I have to work on—being too consumed with the way I look and what people think of me, feeling insecure, all that stuff."
Lourdes was obviously born to a tough-as-nails mother, someone who's blasted through boundaries, thumbed her nose at taboos, thrown herself into her passions head-first, and generally conducts herself in a way that, while she knows it's going to get attention, communicates that she couldn't care less what people thought. 
There are, however, some people whose opinions do matter to Madonna, and those are her kids.
"When I was making my Sex book," she recalled her at-the-time very scandalous 1992 coffee table book to Newsweek in 2012, "I wasn't thinking about my kids or the reaction they would have. Now I have children, so I have to think about how things like that would impact them."
Then again, when a 15-year-old Lourdes objected to the corset-and-fishnets look she planned to wear to a screening of W.E. one night, "I'm not going to let [being a parent] completely censor me. I say to my kids all the time, I'm an artist, this is what I do, this is what I've always done. And they need to learn to separate it." (In a reverse case of "mom was right," Madonna admitted to Newsweek she probably should've heeded her daughter's advice.)
But judgment has accompanied Madonna wherever she's gone, from the stage to movies to her study of Kabbalah to Africa, from where she has adopted four children.
"It's worth it if you can understand it's a means to an end," Madonna mused about fame and the scrutiny that comes with it to Rolling Stone in 2009. "My work has allowed me to do things that have nothing to do with music. To know that my experiences in Africa have changed people's lives for the better, to see their lives change before my eyes...how can I not feel positive about that? I'm not always positive, I can assure you. Yesterday I woke up on the wrong side of the bed. It's a good thing the interview is today."
And Lourdes indeed appears to have inherited her mother's strength and poise, well as Madonna's ability to withstand the punches that life is going to throw. And, for better (as a lifelong mantra to live by) and worse (the teenage years), she also got some of Mom's flair for rebelliousness.
"I think I am [a tough parent], but honestly, I don't think I'm as tough as I should be. I think I need to be maybe tougher," she said in a 2012 interview with Rock Center's Harry Smith, not long after then 15-year-old Lourdes was caught smoking. (Caught by paparazzi, that is.) "It's hard—every day is a negotiation."
"But cigarette smoking," she added, "I'm not very fond of—for anyone. I don't approve of anyone smoking cigarettes—most of all, my daughter."
Doing his due diligence, Smith flashed to her "Girl Gone Wild" music video in which Madonna is smoking. "I don't smoke," she gently chided him. "That's just an accessory, Harry. There's a difference. [My daughter] smoked that cigarette before I did that video! She didn't get that from me."
blog.materialgirlcollection.com
The smoking appears to be a vice that Lourdes continued to enjoy, as she was spotted again in 2014 on a post-high school graduation trip in the French Riviera (not a bad perk of being her) and just in April with cigarettes.
And when Lourdes was 16, forget about it. "Ever since my daughter got an iPhone, she stopped talking to me," Madonna quipped on Good Morning America, sharing an anecdote that probably sounded pretty familiar to most moms.
But all of that has resulted in both Madonna and Lourdes having a reliable shoulder to lean on when necessary. And it's been necessary at time.
Seven and a half years after marrying in a lavish ceremony in Scotland, Madonna and Ritchie divorced in 2008. Lourdes was 12; son Rocco was 8; and their youngest son, David, whom they had adopted from Malawi two years prior, was 3. Madonna adopted her now 11-year-old daughter Mercy on her own in 2009, and this past February she adopted 4 1/2-year-old twins, Estere and Stella, all from Malawi.
"There were times when I felt incarcerated," Madonna said about her second marriage (she was previously married to Sean Penn in the 1980s) in a 2015 interview with The Sun. "I wasn't really allowed to be myself. It doesn't mean that marriage is a bad thing. But if you're an artist you've got to find someone who accepts who you are and are comfortable with that."
She said "maybe" to the possibility of getting married again. "I don't have any limitations for myself in terms of relationships...I'm single," she said. "But I'd like to have a man around the house—that would be nice. My children like that and enjoy that."
That became evident when Madonna's relationship with Rocco hit a rough patch and he refused to fly back to New York after a visit with his dad in London, resulting in a custody battle that was ultimately resolved in September 2016. During the nine months of court dates and back-and-fourth, Madonna would post tender messages to Rocco on Instagram and during one of her concerts that March she dedicated "La Vie en Rose" to her son.
"That is my son, who I mentioned earlier," she told an audience in New Zealand. "He is actually 15 and it's true, there is no love stronger than a mother for her son. And, if I talk about him too much, I might cry. But I would like to dedicate this song to him. It's a love song for a man, but I know he'll be one, one day. I hope he hears this somewhere and knows how much I miss him."
Bryan Bedder/Getty Images
Lourdes was away at college by then, but mother and daughter's relationship reportedly remained strong despite the turmoil on the home front.
In the meantime, though it's hard not mention her genetic head start, Lourdes was cultivating an artistic flair and a head for business all her own as she grew up. When she was barely 13 she was picking out the wardrobe for Madonna's dancers on tour and then she partnered with her mom on an '80s-chic kids' clothing line, Material Girl.
"I didn't know 25 years ago a song that I sang was going to turn into a clothing line that my daughter was the designer for," Madonna told CNN at the Material Girl launch party. "It's pretty cool actually."
"This is about her," Lourdes gave the credit right back to her mom, "and her style in the '80s, which was amazing." "And now I'm just copying myself," Madonna quipped.
At 14 she presided over the launch of Material Girl Beauty. She performed in musicals at New York City's La Guardia School of Performing Arts, where she graduated from before heading to the University of Michigan to study musical theater. And in 2012, the teen contributed backup vocals to the song "Superstar" off of Madonna's 2012 album MDNA.
"I fell into the deepest depression" when Lourdes went to college, Madonna admitted to Ellen DeGeneres in 2015. "I'm always so happy when she calls me and she says, 'Mommy I miss you,' or 'I need you to rub my head.' I'm still needed."
Madonna also revealed that the "intelligent" young fellow her daughter was dating at the time had received her seal of approval when Lourdes brought him home for a visit.
Lourdes has also acquired a modeling career, having made her auspicious start last year at 19 as one of the fresh faces of the Stella McCartney fragrance Pop. The British designer, and longtime Madonna pal, called Lourdes an "independent, inspirational and free-spirited young woman." But while that opportunity may have sounded like a given on the surface, it was a decision the camera-wary college student didn't make lightly. She learned at an early age that more attention isn't always something you want.
"I have a lot of people judging my every move," she told Vogue in March 2016. "It's important for me to not let it rule my life." And she loved the Pop message, of the importance of self-expression and being true to one's self. "I love when someone doesn't pretend to be someone they are not," the discerning teen said.
In a video for the campaign, Lourdes named her mom as one of her style idols. "My mom has helped me so much," she said. "She has great style and she's an amazing dresser."
Elder Ordonez/INFphoto.com
All the while, it's been apparent from her breezy street-style looks that Lourdes still appreciates fashion, as she has since she was a baby, going "wow!" while gazing upon the items in her mom's closet.
"Lola spent most of her childhood growing up in England," Madonna told the U.K.'s Sunday People in 2010. "According to her, she thinks people have more style in London, especially the boys." And "of course she is inspired by my closet. My Christian Dior shoes will go missing and then some fabulous bag I won't be able to find or my skinny jeans, the only pair that fit me are gone."
Lourdes has been spotted more lately in New York—this past summer she starred in the campaign for the collaborative streetwear line MadeMe x X-Girl, and the shoot intended to capture her in "New York situations"—but earlier this year Madonna packed up her four youngest kids and moved to Portugal, where David has joined Benfica soccer club's youth academy. She jets back and forth, appearing on The Tonight Show last month, but Lisbon is now her home base.
Happily it appears that time has helped smooth over some of the more painful memories of the past couple years, and all six of Madonna's kids joined her in August to celebrate her 59th birthday in Lecce, Italy.
No word if Lourdes still objects when her mom wears a corset.
Watch Daily Pop weekdays at 12:30 p.m., only on E!