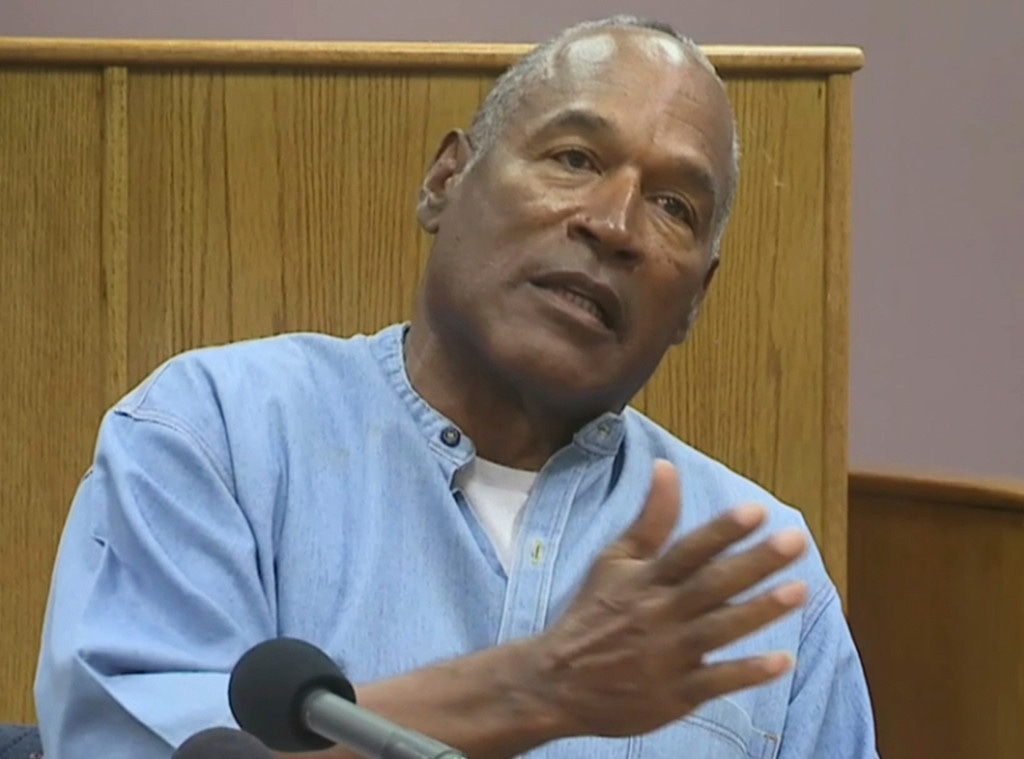 Lovelock Correctional Center via AP
O.J. Simpson has been dreaming about the day he would walk free.
Last month the former NFL star turned infamous prison inmate finally got his wish when a Nevada parole board unanimously agreed he should be released after serving almost nine years behind bars for his role in a 2007 armed robbery in Las Vegas. TV cameras were at the ready and roughly 14 million people tuned in to see Simpson's face as he heard the news.
His inner circle is already working on the logistics of his release, which could come as soon as Oct. 1. Well aware that the public's fascination with O.J. is as intense as ever, they are planning a stealth mission to get him out of Lovelock Correctional Center with minimal media intrusion.
"We will treat Mr. Simpson's release like a SEAL Team Six Osama Bin Laden operation," his lawyer Malcolm P. LaVergne tells E! News.
Bin Laden's wanted-man status isn't the only thing that's changed since O.J. was first locked up. He is going to be entering a vastly different world and will have to re-orientate himself into a society obsessed with social media where almost everyone is looking for the ultimate Instagram brag: a selfie with a celebrity. 
"It's going to be hard for him," admits Simpson's friend Bruce Fromong over the phone. Ironically, Fromong was one of the victims of the robbery which landed O.J. behind bars.
Lovelock Correctional Center via AP
"There are cell phones everywhere, people can record everything," Fromong says. "He is a nice guy but I have seen people try to get him. I remember one time we went out for dinner and a woman came up to him and put her hand out to shake his. He shook it and the woman said, 'I've always wanted to shake the hand of a murderer.' He said, 'Too bad you still haven't,' and just walked on.
"There will be people out there who will try to trip him up. He will have to remember that and learn. We would go out and people would try to take a picture with him. O.J. knew why he was great. The public loved him."
Myung J. Chun/Daily News via AP
Interest in OJ has been magnified thanks to two acclaimed TV productions about the storied events that unfolded in the mid-1990s. Last year's The People v O.J. Simpson on FX and ESPN's O.J.: Made in America were not only a stark reminder of the double homicide trial that brought a nation to a standstill, they also served to introduce millennials and Gen Z to the highly polarizing figure.
"I think that people will keep a close eye on him," says movie producer Arthur Bernstein, another Simpson friend. "There's people that are going to hate him. There's people that are going to love him. But they are going to watch every move that he does. There's going to either be people rooting for him or rooting against him."
Lavergne disagrees that O.J. may find it difficult to assimilate to his new life outside of jail. "I don't think he is nervous," the attorney says. "Social media was around [when he went in]. It maybe wasn't such a big juggernaut, but O.J. is aware of the medium. It won't be a big issue."
What those who know Simpson can agree on is that he will most certainly end up moving back to Florida so he can live close to three of his four children. Daughters Arnelle and Sydney and son Justin all reside in the Sunshine State, where they've enjoyed relative anonymity while their father's been away. (Simpson's elder son, Jason, resides in Atlanta). A decision on whether O.J. will actually be allowed to relocate from Nevada to Florida is expected soon, but experts agree that it's pretty much a done deal.
Lovelock Correctional Center via AP
Once he gets out, O.J. will be able to enjoy his hefty NFL and SAG pension income (top estimates put it at over $20,000 a month) while also being able to dip into the nice nest egg he's amassed while in prison (around $600,000 in nine years). It's a treasure trove the family of murder victim Ron Goldman cannot touch, despite them having won a $33.5 million civil judgment against Simpson in 1997 for the wrongful deaths of Ron and Nicole Brown Simpson.
The law protects retirement funds, though his outstanding debt may influence O.J.'s decision regarding how he'll be spending all the free time he's about to have on his hands, as any future earnings belong to the Goldman family.
During the parole hearing O.J. said he'd like to just play golf and be with his kids, but people who have spent significant time with him say that even at 70 years old and after everything that's happened, he will find it difficult not to give in to the allure of Hollywood.
"He likes the attention. He likes being known," explains Fromong. "When you are walking around with O.J., everyone stops him. We would go to a restaurant and they would send out special food for him."
Bernstein, who cast him in the 2004 short film The Lemon Twist, agrees, "He definitely likes being in the limelight.  We [once] went to see a fight and at that fight was Barry Bonds, Mark McGwire and [still] everybody was looking at O.J. After, as we were walking out, he goes, 'There's Mark McGwire and Barry Bonds and who are they looking at? Me!' And that's The Juice! That's who he is! He loves it!"
AP Photo/Joe Burbank, Pool
The TV route is something agents whom I have spoken to think could be a possibility on a pay-per-view channel, but most mainstream networks will be reticent to sign Simpson due to fear of viewer outrage. All agree, though, that O.J.'s past ensures maximum interest and that easily translates into dollars. It's a risk that many could be willing to take. 
Bernstein says he wouldn't hesitate to work with O.J. again. "Absolutely I plan to reach out to him. I don't know if he did it," he says, referring to the 1994 double homicide. "He was proven not guilty. People can make up their own minds but I am not going to discriminate because of his past. I believe you've got to give him a chance. But I would hire him again. He was very professional on the set, he wasn't demanding or abusive, he was a pro.
"I have a few movies I am developing right now," Bernstein continues. "One is called 'Smoke Eye,' and there is a father role in it that he could be great for. Another is called 'Being Elvis'—he could play an FBI agent on that one. O.J., we'd be honored to have you working with us, we'd love to have you, I think you'd do a great job."
And if that doesn't work out, the producer has something else up his sleeve. "I am also working on a game show called 'Poka Bingo,' it's poker and bingo combined. OJ could be a celebrity contestant or maybe he could be a host."
Stranger things have happened.
Jason Bean/The Reno Gazette-Journal via AP, Pool
Lavergne, meanwhile, would prefer a different future for his client. "My main advice to him is to lay low," he says. "Although I can't tell him what to do, I suggest keeping a quiet life."
Simpson's lawyer reveals that "a lot of people have been calling"—including people who want O.J. to do a big tell-all interview once he's out. 
Right now, Lavergne's main concern is keeping O.J. out of trouble because any parole violation could send him back to jail. I ask Lavergne whether he thinks O.J. could become a target.
"There are some O.J. fanatics," he admits. "Whoever his parole officer is, I may have to have a conversation with him or her. There are some people who may make up some fake things and 95 percent will be a gross exaggeration or fantasy. But it doesn't worry me. This is part of dealing with Mr. Simpson."
"He has a controversial past," Lavergne adds. "People can look down on him for that but you can't take away his sporting achievements, his Heisman trophy, his [place in the] Pro Football Hall of Fame. He has always contributed to the community. Everyone likes a bogeyman but fundamentally he is a leader of men. The [proof of the] pudding is in the eating, look at his kids, they are good private citizens."
Fromong, who suffered multiple heart attacks from the stress of the Vegas robbery, says that speaking on O.J.'s behalf at his recent parole hearing landed him back in hospital for "heart hiccups," as he puts it. But he doesn't regret his involvement in his pal's forthcoming release.
"I did it because it was the right thing to do," he says. "It was a simple decision to speak for him. It brought back some memories. I have forgiven O.J. but it took me back to the stress." Despite everything, the memorabilia dealer says he would also go into business with O.J. if given the chance: "I would work with him in a heartbeat."
But Fromong cautions, "I hope OJ does what is right from now on. He was my friend. I will pick him up from jail if he needs me to.  I hope that he has changed. I saw a flicker of the old O.J. during his testimony, when he was a little combative and losing patience, and that worries me.
"But I hope he makes it. I hope he stays out of trouble."