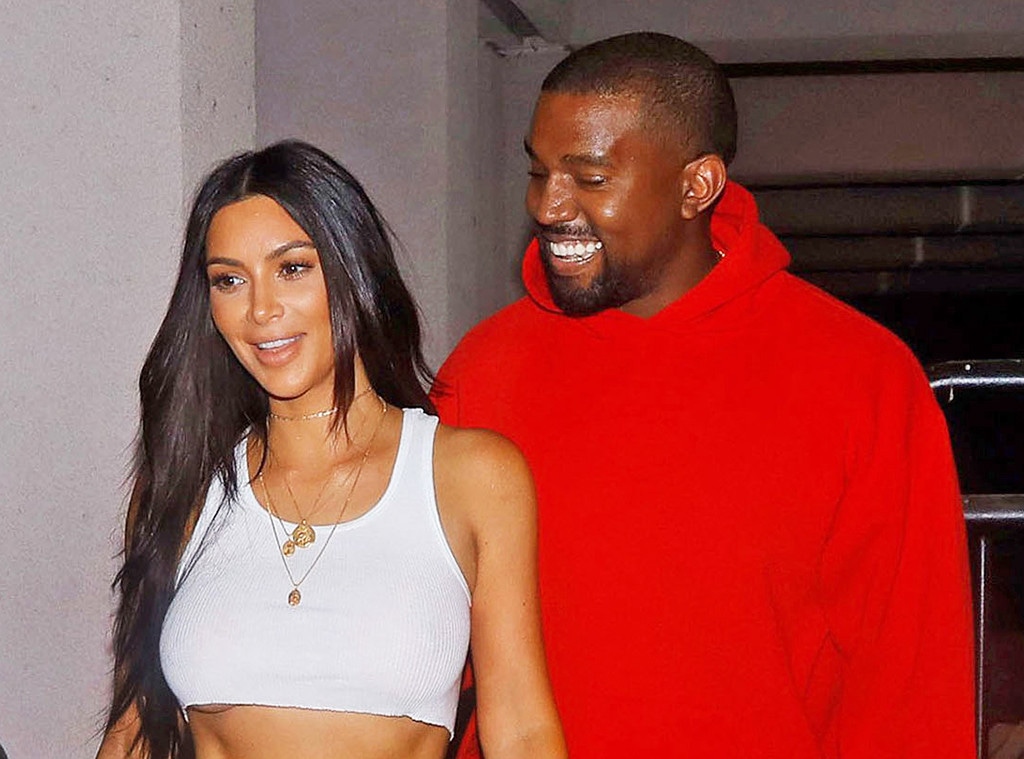 Splash News
For the last couple of years, Kim Kardashian's life has been wildly all over the place.
She reached new professional heights, expanding her brand and launching a new makeup line. She doted on daughter North and son Saint. She traveled the world. She covered Forbes and made (more) millions.
But she also experienced some deep lows, from which she had to battle back just to feel somewhat normal again. She underwent surgery on her uterus a year ago as a last-chance effort to prepare her body for the possibility of carrying another child. Kanye West worked himself to the point of mental exhaustion. She was too traumatized to converse with her fans, or even go out much, for two months after being robbed at gunpoint in Paris in October 2016.
Getting back in the groove for Kim was, as the family called it, a process.
Any of the above could've have altered the course Kim was on, which in her mind always included having another child. Instead, the E! star bounced back and congratulations are in order because she and Kanye welcomed their third child together, another baby girl, via surrogate on Monday.
"We are incredibly grateful to our surrogate who made our dreams come true with the greatest gift one could give and to our wonderful doctors and nurses for their special care," Kim announced on her app today. "North and Saint are especially thrilled to welcome their baby sister."
Name TBA, of course. So after the most tumultuous of years, Kim got what she most wanted all along, having never lost sight of her goal to have another baby.
It took months of speculation first, however, before she was ready to share the news herself.
"We're having a baby!" Kim was first seen saying in a supertease for the 14th season of Keeping Up With the Kardashians, which marked its 10th anniversary of being on E! in October.
Michael Simon/startraksphoto.com
Previously she avoided the subject, telling E! News last September, "I've definitely seen a lot of things, we've never confirmed anything. So, I think when we're ready to talk about it we will, and I think it's super invasive when people are just... So many details out there, and like I've never heard this, I've never heard this. Like, whatever. We have not confirmed it, and that's that. I'll let you know when we're ready."
But once the news was officially out there, Kim was her usual candid self.
"It is frustrating like to not be able to do it on your own," she admitted on a December episode of KUWTK. "It is a weird dynamic. Like I go to all the doctor's appointments and I try to be really present, but when you're not carrying it yourself it is such a fine balance of how much you're going to be in their lives. Of course I want to know ever last detail that's going on with my baby and that's super frustrating, but I really trust my surrogate and I don't want to be that person that's trying to control her every move. It's going to be a long hard process but I'm going to take it one day at a time and hopefully it just gets easier."
And as we know now, in an only in Kardashian-land twist of fate, we're only a third of the way done as far as new babies are concerned. Sister Khloe Kardashian, who had been very open about her desire to start a family of her own, is pregnant with her first child, and the world waits with baited breath for more direct details about Kylie Jenner's reported pregnancy as well.
Khloe waited until she was almost six months along to officially confirm that she and boyfriend Tristan Thompson were having a baby together, explaining on Ellen in January, "I just wanted to do it on my time and when I felt comfortable to do so."
Kim's first comment on the Kylie reports came in September when she tweeted back to a Harper's Bazaar story that claimed Kim wasn't happy about her little sister's pregnancy. "This sounds like a very awkward conversation," the magazine wrote in teasing its article, to which Kim fired back, "This sounds like a very fake story..." More recently, she opted to sip a sardine smoothie on the Late Late Show With James Corden rather than talk about either of her sisters' expectant status.
But Kim couldn't have been happier about her own baby on the way.
"I'm definitely leaning more towards I want to try [to find a surrogate]," Kim told Kourtney Kardashian after her surgery, as it played out on Keeping Up With the Kardashians in April. "After talking to Kanye, I think I always knew that surrogacy was an option, but I didn't think it was that realistic of an option, and now I feel like that's my reality. I feel like surrogacy really is the only other option for me."
Each of her first two pregnancies was difficult, with Kim developing preeclampsia while she was carrying North and needing to be induced.
Before she got pregnant with Saint, Kim told Ellen DeGeneres back in September 2014 the she definitely wanted a sibling for North, and while she couldn't imagine six kids, like mom Kris Jenner has, she could perhaps envision having four.
First, "I'll go for two—but then again I have so many siblings and I love it," Kim, who's the second-eldest of the six, said. "They're my best friends. I would want that for my kids. So I'm going to do two and see how it is."
Pregnancy "was not a beautiful thing with me," she admitted. "People are lying to you [about having that special pregnancy glow]. Kourtney looks so beautiful pregnant. She has the best pregnancy style. I couldn't figure it out and I'm just dreading when I have to figure it out again." Moreover, "I had a medically really tough, challenging pregnancy, but it is so worth it. I am so obsessed with my daughter. It's so worth it."
A few months later she told Elle U.K., "I want a boy and another girl; I want it to start happening straight away. I loved being part of a huge family—and I want that for North. We'd do IVF if nothing happens, but we both want to keep trying naturally. A few years ago I was told I could never get pregnant. Three different doctors told me the same thing, which is why I wanted to have my eggs frozen. I was just about to do that when I found out I was pregnant with North."
In March 2015 she joked to E! News that she and Kanye were working overtime trying for another baby and she hoped that "doing all the wrong things" would do the trick. Saint was born on Dec. 5, 2015.
More pregnancy discomfort aside, Kim, in her heart, felt that she wasn't done having children.
Five months after Saint was born she shared pics of the "not pregnant" results from a pregnancy test she took in an airplane bathroom after skipping her period. A few months later, she really was looking into having another baby, and she started to consider surrogacy for the first time.
"If the two doctors that I trust have told me it wouldn't be safe for me to get pregnant again, I have to listen to that," she said in a November 2016 episode of Keeping Up With the Kardashians. "But because I don't know anyone that has been a surrogate or used one, I didn't really think about that as an option for me." 
"That scares me for you," Kris said when Kim told her she was considering the option. "What if she gives birth and then grabs the baby and makes a run for it?"
"I don't think she can," Kim replied. "Also, the best thing is I could have a new baby and have no one know and live my life for a good year before we announce it."
But then life kinda went to hell for awhile, and the surrogate search was unintentionally on hold.
By June, however, Kim and Kanye—back on stable footing after both needed time to get over the lingering emotional effects of the robbery and Kanye's hospitalization in November—had picked a surrogate.
"The robbery only made her more determined to expand her family," a source told E! News.
Kim tearfully said on Ellen in May, speaking about Paris, "I know this sounds crazy, but I know that was meant to happen to me. I don't want to start crying, but I feel like that was so meant to happen to me. I'm such a different person."
The multiplatform maven, who has 106 million Instagram followers, stayed off of social media for two months after the robbery, during which she was tied up and ordered into the bathtub while thieves made off with roughly $11 million worth of jewelry from her and Kanye's apartment suite. Kanye was in New York and was on stage when he got the call, after which he famously left his own show mid-song.
"It was meant to happen to me," Kim continued on Ellen. "I really feel like things happen in your life to teach you things. It was probably no secret, and you see it on the show—I was being flashy and I was definitely materialistic before."
She said that ultimately she figured there wasn't anything wrong with having stuff, or of being proud of said stuff and sometimes showing it off on social media, especially to mark a happy occasion like an engagement.
"But it's just...it's not worth it," Kim added. "Like, I don't care about that stuff. I don't care to show off the way that I used to. Even though there's nothing wrong, truly—it's OK if you're proud of that and you work so hard and you get something—it's just not who I am anymore."
And while it doesn't feel as if Kim has been much less visible, what with her makeup line launching, her continuously updated app and the steady stream of party, travel, fashion and just day-to-day pics on her Instagram and Snapchat... there is a mellower vibe to it all. Less ostentatious glitz and more family tableaux (though she just can't help the ever-present dose of Kardashian-brand luxury).
And there's nothing like the excitement over a new addition (or several) to the family to remind everyone of the most important things in life—and at the end of the day, the tight-knit bonds of family are what the Kardashians are all about.
Her nearest and dearest threw Kim a "Tea for 3"-themed baby shower in November and then she and Kanye enjoyed a quiet Christmas with the kids—just the four of them for the last time—in December.
Kim said on The Real in November that North was "so excited" to have a baby sister, but she suspected son Saint might have a harder time adjusting once his new sibling arrived.
"I don't know why," she admitted. "I hope he doesn't. I tell [North] every night, 'You know, when you're coming in my room and it's now two in the morning, you know I might be in Baby Sister's room feeding her, so you can't, you know, I'm not always gonna be here.' And she's like, 'I know, Mom.' Let's see. Let's see."
Sounds like North is more than ready to be a big sister-times-two.