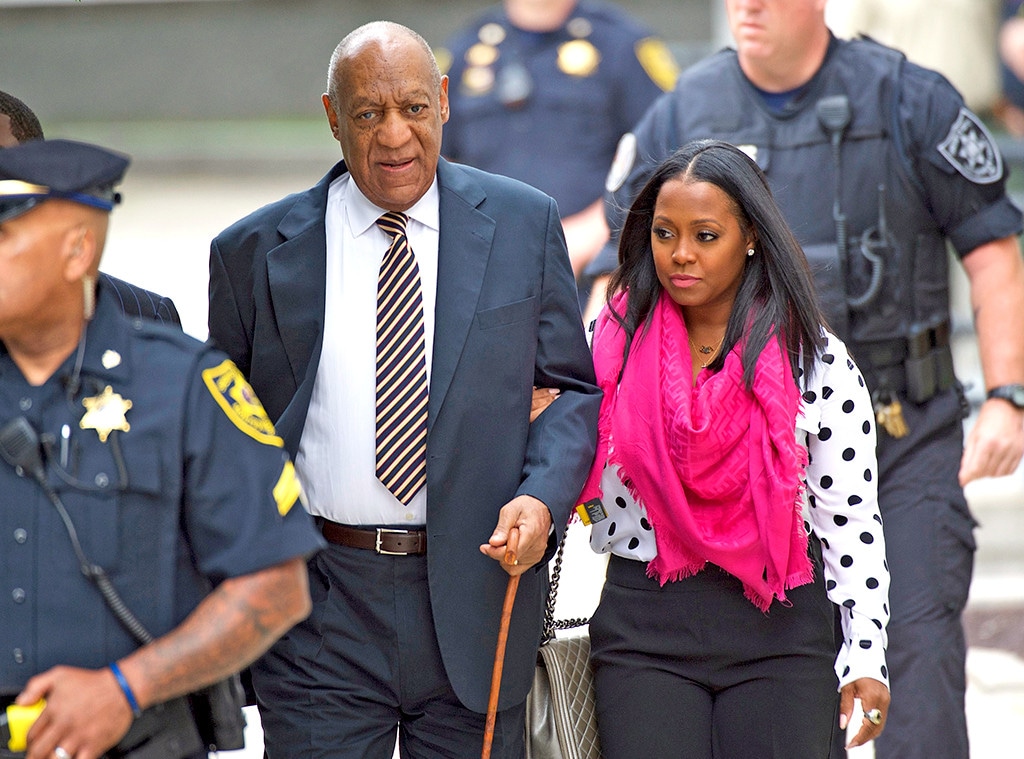 Mark Makela/Getty Images
Bill Cosby walked into court Monday for the first day of his sexual assault trial, but he wasn't alone.
Keshia Knight Pulliam walked beside the controversial comedian up to the Norristown, Penn., courthouse, showcasing her continued support for her former Cosby Show co-star.
In fact, the 38-year-old actress—who played Rudy, Cosby's daughter on the famous show—defended her decision to continue supporting him despite the many women alleging sexual assault against him.
"I came to support [Cosby] because this is where you hear the facts. This is where the truth happens," she told reporters as she left the courthouse. "Ultimately, it's easy to support someone and to be in their corner when things are great. When things are good. But...true family, friendship, integrity is how people show up and support when things aren't looking so great, when they aren't shining."
She believes the jury will make the appropriate decision, and she said she will "accept whatever verdict" is made.
"Right now, it's the jury's decision, and it's the jury's job to decide guilt and innocence. It's not mine or anyone else's," Pulliam said. "As an advocate for women and with my nonprofit the Kamp Kizzy Foundation, which is all about empowerment, self esteem for girls, I don't take these charges lightly. I don't condone sexual assault in any way shape or form."
She continued, "My truth was to be here and to be supportive, and it's not always easy to do what you feel is truthful and what you feel is right when there's so much controversy. But ultimately, that's just how I've lived my life—in terms of being very genuine and authentic to who I am. And I can't stop doing that now. I just pray for all parties involved because this isn't a great situation. No matter what side of the coin you're on."
Cosby showed his gratitude for Pulliam's support, taking to Twitter to share a photo of her with a thank you note.
In recent years, as many as 58 women have accused Cosby of sexual misconduct—including models Janice Dickinson and Beverly Johnson—stemming from 1965 all the way up to 2008.
Currently, he is battling Andrea Constand, a former Temple University employee who accused him of drugging her and sexually violating her in 2005. In December, he was charged with three counts of felony aggravated indecent sexual assault, which he will now face in trial court.
Cosby continues to deny the accusations, and in an interview with Sirius XM radio host Michael Smerconish last month, he hinted that he is the victim of racism.
"I can't say anything, but there are certain things that I look at, and I apply to the situation, and there are so many tentacles. So many different—'nefarious' is a great word," he said. "I just truly believe that some of it may very well be [racially charged]."
As for the trial, he said he doesn't plan to take the stand.
"I go back to lawyers. When you have to deal with examination, cross-examination, etc., etc., [there are] more than two sides to every story, sometimes it's four or five," he said. "And what people want to say and want you to say and how they maneuver...yes, I do have lawyers protect me."
He continued, "I just don't want to sit there and have to figure out what I believe is a truthful answer as to whether or not I'm opening a can of something that my lawyers are scrambling."
By the time the trial is over, Cosby said, "I'd like to be remembered for being the guy that they made give back all the things they rescinded...I'd like to get those things back, because the people who decided to make that decision then saw they made a mistake."