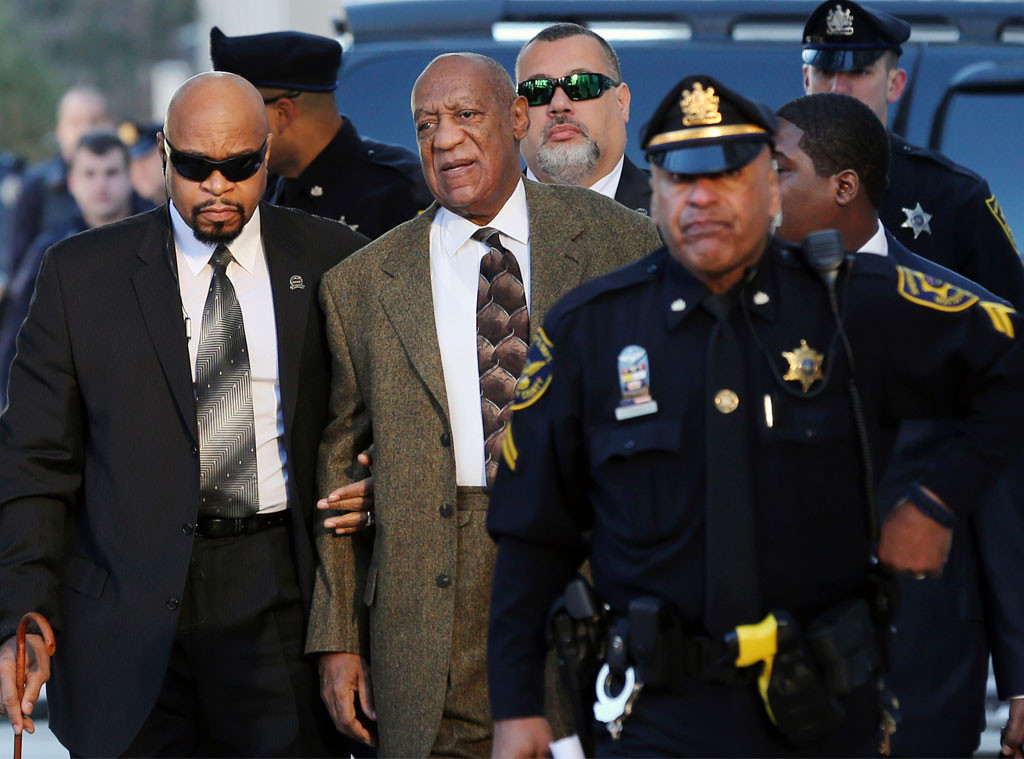 AP Photo/Mel Evans
Bill Cosby believes he's the victim of racism and revenge.
Sirius XM radio host Michael Smerconish said he interviewed Bill for 30 minutes, during which time he asked about the dozens of stories of alleged sexual misconduct on the comic's behalf, which reportedly occurred between 1965 and 2008. Preview clips were released Monday, and the full interview aired Tuesday at 10 a.m. ET. Bill repeated an argument made by his daughter, Ensa Cosby, who released a statement to The Breakfast Club Monday. "I believe that racism has played a big role in all aspects of this scandal. The accusations against my father have been one-sided from the beginning. I've witnessed my father's reputation and legendary works be dismissed without any proof," Ensa said. "...My father has been publicly lynched in the media."
"Over the last few years, my family has been forced to sit down and watch as our father has been attacked in the media. I love my father and always have and always will," Bill's daughter, Erinn Cosby, told the radio program. "I believe in his innocence and I know how he values me."
Bill tweeted about the radio segment and thanked his family for their continued support.
Michael asked Bill if he believes Ensa's "racism" theory is true. The former Cosby Show star, who stands trial June 5, replied, "Could be. Could be. I can't say anything, but there are certain things that I look at, and I apply to the situation, and there are so many tentacles. So many different—'nefarious' is a great word. I just truly believe that some of it may very well be that."
When Michael noted that Bill's accusers are both black and white, the disgraced comedian replied, "Let me put it to you this way: When you look at the power structure, and when you look at individuals, there are some people who can very well be motivated by whether or not they're going to work. Or whether or not they might be able to get back at someone. So, if it's in terms of whatever the choice is, I think that you can also examine individuals and situations and they will come out differently. So, it's not all—not every—but I do think that there's some."
Why, if the allegations against Bill are false, would so many women speak out against him? "I think that the numbers came because the numbers prior to the numbers didn't work," said the 79-year-old, who has denied all claims made against him. "The piling on, so to speak, is a way—and certainly an impressive, impressive way—to get public opinion to come to the other side."
In a motion filed last year, Bill's lawyers argued he would not get a fair trial because of his race.
In recent years, as many as 58 women have accused Bill of sexual misconduct—including models Janice Dickinson and Beverly Johnson. He will battle Andrea Constand in court in Pennsylvania next month; he faces three counts of felony aggravated indecent sexual assault.
Bill said he is not at liberty to discuss the allegations in detail, adding that he has no desire to testify against Andrea. "I go back to lawyers. When you have to deal with examination, cross-examination, etc., etc., more than two sides to every story, sometimes it's four or five. And what people want to say and want you to say and how they maneuver...and, yes, I do have lawyers protect me. 'Objection!' 'Sustained!' But I just don't want to sit there and have to figure out what I believe is a truthful answer as to whether or not I'm opening a can of something that my lawyers are scrambling." By the time the trial is over, he said, "I'd like to be remembered for being the guy that they made give back all the things they rescinded." Asked to clarify what he meant, the comedian explained, "Well...things were...rescinded. And I'd like to get those things back, because the people who decided to make that decision then saw they made a mistake."
"When people ask you what you'd like to be known for, what is your legacy, what is this and that, it has never really, really been at the front lobe," Bill said later. Since the first lawsuit was filed against him, Bill said he had realized something new about how the legal system works: "The old saying 'there's two sides to every story' unravels when you're dealing with lawyers."
SiriusXM's The Michael Smerconish Program airs weekdays from 9 a.m. to 12 p.m. ET on SiriusXM P.O.T.U.S. Channel 124.
(Originally published on Tuesday, May 16, 2017, at 6:02 a.m. PDT.)