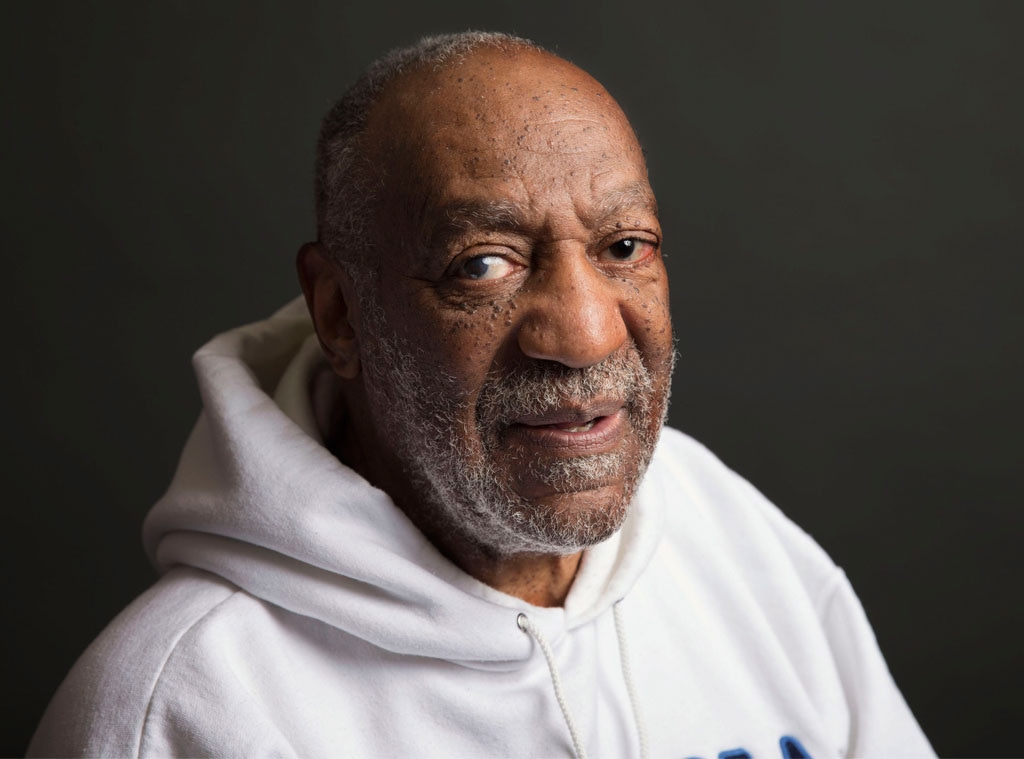 Victoria Will/Invision/AP, File
Hannibal Buress didn't really say anything about Bill Cosby that hadn't already been said and was there for the remembering with the help of a Google search.
But for whatever reason, the crack that the comedian made in October 2014, in which he referred to the revered funnyman as a rapist, was the key tremor that resulted in the avalanche of allegations, lawsuits and, now, a year and a half later, a criminal charge against Cosby.
Since then, everyone from his former costars to the biggest names in comedy to the president of the United States has weighed in, in some form or another, as the scandal became an unavoidable topic of conversation—about fame, power, silence vs. speaking out and a culture that has historically protected the rights of abusers more than their victims—over the past 18 months.
The former sitcom star had denied claims from dozens of women who came forward as alleged victims, but the growing mountain of allegations only became more damning, prompting authorities to re-investigate and the entertainment world to splinter along the lines of those who believed Cosby was innocent until proven guilty (a camp whose numbers have dwindled) and those who didn't need to wait for there to be more than 50 accusers to be convinced that something had gone horribly wrong.
Here's a rundown on most everything that's happened since Buress' fateful show:
2014
Oct. 16: It seems like only yesterday when Hannibal Buress joked-but-not-really during a show in Philadelphia about Cosby: "He gets on TV, 'Pull your pants up, black people. I was on TV in the '80s. I can talk down to you because I had a successful sitcom.' Yeah, but you raped women, Bill Cosby, so turn the crazy down a couple notches." Someone was recording and released the clip to PhillyMag.com, which posted it on Oct. 17. It took a couple of days for the "news" to go viral, but when it did...
Oct 21: In his first public comments about the firestorm he ignited, Buress said on The Howard Stern Show: "This was unexpected. I didn't want to do that [make headlines]. If I were going to do that, I would have done it on my own. It wasn't my intention to make this part of a big discussion. It was just something I was doing at that venue right then."
Oct. 30: Cosby's planned appearance on The Queen Latifah Show was canceled at his request, according to show producer Sony Pictures Television.
Nov. 6: Cosby gives an interview to the Associated Press in which he's asked about past allegations and repeatedly says he has nothing to say and there's no comment. Cosby tells the reporter he would "appreciate it" if this exchange could be "scuttled" from the transcript or broadcast.
Nov. 10: Someone on Team Cosby got the idea to make a meme generator so that fans could put funny tag lines on seemingly innocent pics of father-figure-era Cosby. Instead, captions referring to the allegations against him won the day. That's probably when articles (both old and new) recalling how Cosby's otherwise illustrious career has been shadowed by allegations that he mistreated women—plus the easily searchable story about a 2005 lawsuit filed against him by Andrea Constand that stated a number of other women who were ready to testify about their own alleged experiences—really started popping up. Constand, a student at Cosby's alma mater, Temple University, accused the entertainer of drugging and assaulting her in January 2004. A settlement notice was filed in 2008.
Nov. 13: A day after she appeared on CNN Tonight, the Washington Post published an op-ed by artist Barbara Bowman in which she alleged that Cosby drugged and raped her at his home in 1985 when she was an aspiring 17-year-old actress.
Nov. 15: Scott Simon's interview with Cosby for Weekend Edition Saturday airs on NPR. When asked about the controversy and resurfaced allegations, Cosby has nothing to say and Simon, who told the comedian it gave him "no pleasure" to have to ask such questions, tells the audience that his guest is shaking his head. Meanwhile, an appearance scheduled for Nov. 19 on The Late Show With David Letterman is canceled.
Nov. 16: Cosby attorney John P. Schmitt issues this statement: "Over the last several weeks, decade-old, discredited allegations against Mr. Cosby have resurfaced. The fact that they are being repeated does not make them true. Mr. Cosby does not intend to dignify these allegations with any comment. He would like to thank all his fans for the outpouring of support and assure them that, at age 77, he is doing his best work. There will be no further statement from Mr. Cosby or any of his representatives."
Nov. 17: Schmitt and an attorney for Constand release this addendum: "The statement released by Mr. Cosby's attorney over the weekend was not intended to refer in any way to Andrea Constand. As previously reported, differences between Mr. Cosby and Ms. Constand were resolved to the mutual satisfaction of Mr. Cosby and Ms. Constand years ago. Neither Mr. Cosby nor Ms. Constand intends to comment further on the matter."
Nov. 18: Joan Tarshis tells CNN Tonight's Don Lemon that Cosby sexually assaulted her when she was 19
• Bruce Castor, a former district attorney of Alabama's Montgomery County tells the Daily Mail that he wanted to prosecute Cosby when Constand came forward, but he didn't have the proof to have the comedian arrested.
• Entertainment Tonight airs an interview with Janice Dickinson in which the former model alleges that Cosby drugged and sexually assaulted her in 1982 and that she wanted to include the story in her 2002 autobiography but was pressured by Cosby's attorneys to leave it out. Cosby attorney Martin Singer issues a statement calling her story a "complete lie."
• Netflix announces the postponement of the launch of the planned comedy special Bill Cosby 77.
Nov. 19: NBC pulls the plug on a development deal with Cosby, who was in talks to play the patriarch in a proposed multigenerational family sitcom. TV Land pulls reruns of The Cosby Show from its schedule. Raven-Symoné, who played little Olivia on The Cosby Show, slams a hoax story that claimed Cosby molested her as "a disgusting rumor I want no part of."
Nov. 20: The aforementioned AP interview starts making the rounds, the news agency stating that the entire exchange was on the record and no agreement was made to withhold any of Cosby's comments at any time. Cosby attorney Martin Singer calls a Facebook post, in which one Linda Joy Traitz accused Cosby of trying to rape her more than 40 years ago, "the latest example of people coming out of the woodwork with unsubstantiated or fabricated stories about my client." Rumor Fix publishes allegations made by Carla Ferrigno, wife of The Incredible Hulk star Lou Ferrigno, that Cosby attacked her when she was a teenager in 1967.
• Singer slams a story given to TMZ by One Flew Over the Cuckoo's Nest actress Louisa Moritz, calling her claim—that Cosby forced his penis into her mouth while they were in the green room backstage at The Tonight Show in 1971—a new "point of absurdity."
• Cosby Show producers Tom Werner and Marcy Carsey say in a statement: "The Bill we know was a brilliant and wonderful collaborator on a show that changed the landscape of television. These recent news reports are beyond our knowledge or comprehension."
• Cosby does his standup show in the Bahamas in front of a cheering audience, jokes that he's an "evil man."

Nov. 21: Model-actress Angela Leslie becomes the eighth woman to come forward post-Hannibal Buress, telling the New York Daily News that Cosby got her drunk and made her fondle him in a Las Vegas hotel in 1992.
• Las Vegas' Treasure Island hotel announceds that a Nov. 28 Cosby performance has been canceled "by mutual agreement." The Virginia Theatre in Champaign, Ill., and the Tacoma Center in Washington state cross Cosby's scheduled appearances in April 2015 from the schedule. The Diamond Desert Casino in Tucson, Az., cancels Cosby's Feb. 15, 2015, appearance.
• The Smithsonian's National Museum of African Art states that there is no plan to cancel or alter its "Conversations" exhibit, scheduled to run until 2016, featuring a number of pieces from Cosby and his wife Camille's personal collection. (The exhibit would go on to stay open until its pre-scheduled closing date of Jan. 24, 2016. "The National Museum of African Art in no way condones Mr. Cosby's behavior," read a statement on the museum's website. "We continue to present Conversations: African and African American Artworks in Dialogue because it is fundamentally about the artworks and the artists who created them, not Mr. Cosby.")
• Before getting a standing ovation from a sold-out crowd at the King Center for the Performing Arts in Melbourne, Fla., Cosby tells Florida Today backstage, "I know people are tired of me not saying anything, but a guy doesn't have to answer to innuendos. People should fact check. People shouldn't have to go through that and shouldn't answer to innuendos." "It is long past time for this media vilification of Mr. Cosby to stop," Singer says in a statement.
Nov. 23: Frank Scotti, a former NBC employee, tells the New York Daily News that he used to stand sentry outside whenever Cosby would invite young models into his dressing room, and that he helped Cosby pay off eight women in 1989 and 1990.
Nov. 24: In an interview with Today, Scotti, 90, says he "felt like a pimp" during his days working with Cosby. Alva Chinn, one of the women who received money from Cosby during that time, tells NBC News that it was a generous gift to help pay for her son's tuition.
• People identifies Therese Seregnese as one of the Jane Does who was willing to give testimony to support Constand's lawsuit and notes that two of the other women who supported Constand, Tamara Green and Beth Ferrier, spoke out to People in 2005 and 2006. Kristina Ruehli, 71, a former secretary at Cosby's talent agency, says in the mag's cover story that he drugged and tried to assault her in 1965.
• The New York Daily News publishes the story of ex-model Jewel Allison, in which she claims that Cosby had her for dinner at his NYC home on her birthday in the late 1980s and gave her a possibly drugged glass of wine and forced her hand onto his genitals before letting her leave.
• Foxwoods Resort Casino in Connecticut says it is indefinitely postponing a Cosby appearance that was planned for January. The Capitol Theatre in Yakima, Wash., cancels Cosby's Nov. 29 show.
Dec. 1: Cosby resigns from the board of Temple University, his alma mater, saying in a statement: "I have always been proud of my association with Temple University. I have always wanted to do what would be in the best interests of the university and its students. As a result, I have tendered my resignation from the Temple University Board of Trustees." The university responded: ""The Board of Trustees accepts Dr. Cosby's resignation from the board and thanks him for his service to the university." (Cosby has been granted a couple of honorary doctorates over the years, and he apparently earned an actual Doctor of Education from the University of Massachusetts in 1977.)
Dec. 10: Tamara Green, Therese Serignese and Linda Traitz sue Cosby for defamation in Massachusetts, alleging that his continued public denial of all claims against him as caused her public ridicule, aversion  and disgrace, and has caused her to be shunned or avoided and has injured her name, character and reputation. Her lawsuit alleges that Cosby drugged and assaulted her after meeting in or around 1969. Louisa Moritz, Barbara Bowman, Joan Tarshis and Angela Leslie join the suit in early 2015.
Dec. 11: Former supermodel Beverly Johnson accuses Cosby in an essay for Vanity Fair of drugging and trying to assault her, writing that he put her in a cab and sent her home after she told him off.
Dec. 14: Cosby speaks out to the New York Post, but fails to address the specific allegations against him. "Let me say this. I only expect the black media to uphold the standards of excellence in journalism and when you do that you have to go in with a neutral mind," he shared with the publication. 
Dec. 16: The Los Angeles County District Attorney's Office announces it will not be filing charges against Cosby in connection with Judy Huth's claim that he molested her at the Playboy Mansion in 1974 when she was 15 years old, noting that the statute of limitations had passed. Huth has also filed a civil suit against Cosby; his attorney counter-alleged that she tried to extort $250,000 from Cosby before she sued.
2015
Jan. 26: The Huffington Post publishes a first-person account by former Hollywood executive Cindra Ladd, wife of Oscar-winning producer and former MGM Chair Alan Ladd Jr., in which she accuses Cosby of drugging and sexually assaulting her in 1969. "For more than 45 years I have tried to recall exactly what happened that night. To this day it remains a blur," she writes.
May 20: Janice Dickinson sues Cosby for defamation after he, according to her lawsuit, "re-victimized" and subjected her to "public ridicule" upon denying her rape allegations.
June: Cosby says in a pre-taped interview that aired on Good Morning America: I have been in this business 52 years and I've never seen anything like this. Reality is the situation and I can't speak. I really don't know about what I'm going to do tomorrow. I have a ton of ideas to put on television about people and their love for each other."
July 6: A Pennsylvania judge unseals documents in Andrea Constand's 2005 lawsuits, including a transcript of a deposition in which Cosby admitted to obtaining Quaaludes with the intent being to give them to women he planned to have sex with. "She meets me back stage. I give her Quaaludes. We then have sex," he's quoted in recounting a sexual encounter in the 1970s. His attorneys slam the release of the previously sealed documents as making a "mockery" of a confidentiality agreement.
July 14: Whoopi Goldberg, previously on the innocent-until-proven-guilty side, admits on The View that the number of allegations has become too overwhelming and wondering how it's possible that he had never been arrested.
July 15: President Barack Obama tells reporters there's no precedent for revoking a Medal of Freedom, such as the one Cosby has, but he added, "If you give a woman, or a man for that matter, without his or her knowledge, a drug—and then have sex with that person without consent—that's rape. And I think this country, any civilized country, should have no tolerance for rape."
July 22: Cosby attorney Monique Pressley says on Good Morning America, "The sheer volume or number of people who are saying a particular thing does not make it true."
July 26: New York magazine's shocking July 27-Aug. 9 cover features 35 of Cosby's accusers, including Dickinson and Johnson, making for a powerful indictment of a culture in which so many women initially preferred the "safety" of silence to the aftermath of coming forward.
August 24: Zoe Kravitz says her mom, Lisa Bonet, is as "disgusted and concerned" by the allegations as anybody but hadn't spoken out about her Cosby Show dad because she had no insight to add to the case.
Sept. 24: Fordham strips Cosby of the honorary doctorate awarded him in 2001.
Frank Carroll/NBCU Photo Bank
Dec. 21: Cosby sues Beverly Johnson for defamation in response to the claims in her Vanity Fair article.
Dec. 30: In Pennsylvania, Cosby is charged and arraigned on a felony charge of second-degree aggravated indecent assault stemming from Andrea Constand's 2004 allegations. Bail is set at $1 million. "Friends and fans, Thank You," he tweets the next day. His attorneys say in a statement: "The charge by the Montgomery County District Attorney's office came as no surprise, filed 12 years after the alleged incident and coming on the heels of a hotly contested election for this county's DA during which this case was made the focal point. Make no mistake, we intend to mount a vigorous defense against this unjustified charge and we expect that Mr. Cosby will be exonerated by a court of law."
2016
Jan. 6: The L.A. District Attorney's Office announced it would not be charging Cosby after investigating claims from two women who said the comedian assaulted them at the Playboy Mansion in 1965 and 2008, respectively. "We are satisfied that the Los Angeles DA's Office fully and fairly evaluated all the facts and evidence, and came to the right conclusion in declining to file charges against Mr. Cosby," his attorneys said.
May 24: After a preliminary hearing to determine whether there was enough evidence to move forward, a Pennsylvania judge orders Cosby to stand trial on the charge he drugged and sexually assaulted Andrea Constand in 2004. Arraigment is set for July 20.
(First published Nov. 24, 2014, at 7:53 p.m. PT)