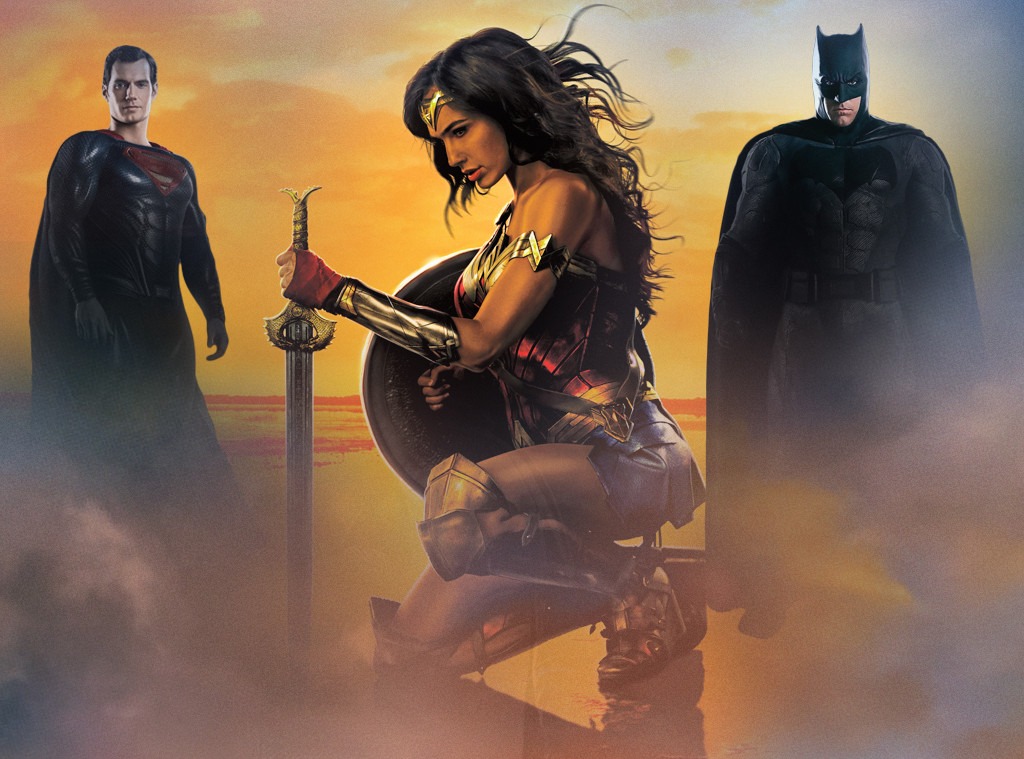 Warner Bros/E! Illustration
Putting the entire future of superhero movies on the shoulders of one character is asking a lot,  but if anyone is up to the task, it's Wonder Woman. 
The current journey of the superhero genre, and more specifically the DC Comics universe (that would be Batman, Superman and their friends) is a storied and complicated one. It's nearly impossible to follow up Christopher Nolan and The Dark Knight—after a superhero achieves the near impossible of winning an Oscar, there isn't much room to go up. But the comic book show must go on and DC gave it a go to...let's just say...varying levels of success. 
First, there was Man of Steel, starring the unarguably hunky Henry Cavill in perhaps the most downcast 2.5 hours in film's history. We're exaggerating, clearly, but it's widely agreed upon that the flick was not exactly uplifting. Then came last year's Batman v Superman: Dawn of Justice, which hit theaters to mixed reviews. Critical reception was harsh, to say the least, and it's never good when the most viral thing to come out of a movie's opening weekend is a video of its star's forlorn reaction to said reviews while Simon & Garfunkel's "The Sound of Silence" plays. 
But this back-to-back streak wasn't a total strike-out; it hasn't spelled total destruction for Batman and the residents of Gotham and Metropolis. Perhaps most importantly, Batman v Superman made a veritable boatload of money—to use the technical term. The most recent count puts the box office earnings at a casual $873 million globally, and if a movie can receive a host of negative reviews and still pull in that much cash, it's a sign of great potential. 
And then there's Ben Affleck. No harm meant to the legacy of the great Christian Bale, but we really like Ben as Batman. The guy looks great in the Bat suit, he can rock gray hair, and he gives the real-life Bruce Wayne a level of depth that can only come with age and from being a multi-dimensional, complicated person yourself. Plus, he gives great press tour—he's willing to do every last interview, viral video and fan surprise, and that can make all the difference in the promotion of a superhero movie. 
But the reason we're here today is the brightest spot in the franchise, and the aspect that is going to breathe life into the Batman world for the rest of the year: one Gal Gadot. 
The actress' brief appearance as Wonder Woman stole the show and ensured that viewers left the theaters far more satisfied than they would have otherwise been. There were rumors that the Batman v Superman team was going to use the film to tease out the next superhero star, and fans were waiting with bated breath for the first sign of Wonder Woman. What they got was Diana Prince, the character's alter ego, wholly outsmarting Bruce Wayne in a showing that was more James Bond than female comic book star (in the best way possible). 
But it was a superhero movie, so Gadot's next onscreen appearance unsurprisingly saw her in full Wonder Woman garb, fighting fiercely alongside Superman and Batman. Gadot got to show off some of her bad ass stunt work, and at no time did the character devolve into a love interest or just a pretty face in a skimpy costume. The reception, from both fans and critics alike, was overwhelmingly positive—she was the bright spot in an otherwise dim movie going experience. 
None of that should come as a surprise for those who are familiar with Gadot the actress. Before she came to Hollywood she served in the Israeli Defense Forces for two years and won the Miss Israel title. Her big screen debut put her behind the driver's wheel of a motorcycle in Fast & Furious, where she kept up with the flick's overly macho vibes like a pro. She appeared in two more Furious franchise films, as well as the cop crime action movie Triple 9 alongside Casey Affleck and Woody Harrelson.
The actress really ramped it up in 2016, with roles in the Jon Hamm spy movie Keeping Up With the Joneses and Criminal, also starring Ryan Reynolds and Kevin Costner. Her star power expanded as well, with talk show appearances and magazine covers—culminating with her appearance on the May 2017 issue of W Magazine. 
And this summer, Wonder Woman will finally hit theaters (on June 2, to be exact). To say that the studio is taking a gamble feels terrible, but it's sadly the way female-fronted movies are looked at these days. The flicks of the early aughts—like Catwoman and Elektra—were box office disappointments, and now anyone who comes afterwards has the weight of the entire genre on their shoulders. But if anyone is strong enough to carry that, it's Gal Gadot. 
We're advising DC Comics (and maybe the superhero genre in general) to put all their eggs in her basket, to put it bluntly. Wonder Woman is the first superhero character to get a standalone movie in more than a decade. It's 2017 and we still haven't had women front and center in this generation of the genre. They've been present: Scarlett Johansson's Black Witch has been hanging with the rest of the Avengers for some time now, occasionally popping in to save their butts or receive a hint of a backstory that moves her ever-so-slightly closer to a fully fleshed-out character but mostly acting as a romantic interest; and Elizabeth Olsen (as Scarlett Witch) has brought levity to the same franchise and straight-up killed the press tour. But we all know that isn't nearly enough. 
So the fact that Wonder Woman is (basically) first is important, but even more important is that it looks good. And superhero fans (of all creeds) are excited about it—far more excited than anyone is for Justice League, the follow-up to Batman v Superman. It's going to be refreshingly un-fatalist, at least in comparison to its predecessors. All we have to go on so far is the trailer, but it had last year's Comic Con audience ecstatic when it debuted. 
There was fresh, funny banter. There was a color palette that meant we didn't have to squint to see what's happening on the screen (seriously, why are all the Batman movies so dark?). There was a costume that didn't make us roll our eyes. There was, naturally, bad ass fighting. 
If everything goes as planned, Wonder Woman is going to be the new gold standard for superhero movies, and Gal Gadot is going to be the new gold standard for superheroes. You can thank her later, Batman.