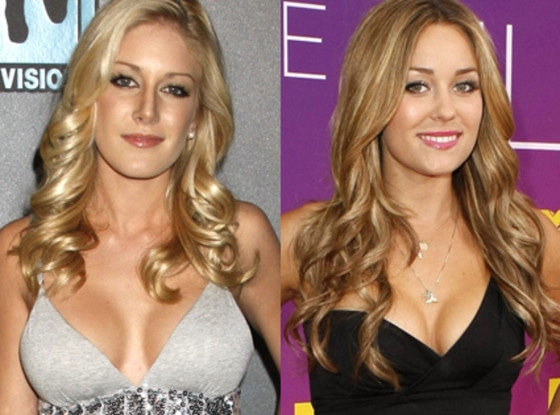 Polk Imaging/WireImage.com,Karl Larsen/INFPhoto.com
We can feel the awkward tension like it was yesterday, but it's been a full decade since Lauren Conrad and Heidi Montag went their separate ways in this world.
According to this Tumblr, on April 5, 2007, PerezHilton.com published the article that would result in the demise of the former Hills stars' relationship: a report that LC and Jason Wahler had made a sex tape.
So how exactly did that lead to Lauren and Heidi ending their friendship? Let's take a walk down memory lane...
After the the report made headlines, Lauren almost immediately took to her website to negate the whole thing.
"I am posting this note on my website regarding the reports that have circulated the internet this morning," she wrote at the time. "Jason and I would like to make it clear that we did not make a tape with us having sex. Jason and I are both shocked and hurt that people would say such horrible things about us. I can't believe that somebody would go to such great lengths to try to damage my reputation."
Jamie McCarthy/WireImage.com
The fashion mogul then gave Us Weekly an interview in which she continued denying the rumors. "Honestly, they videotape my life five days out of the week," she told the publication (per Gawker). "I don't need additional footage, you know?"
She also mentioned that one of her close friends "didn't even call or text" her after the news broke. We soon found out that "friend" was Heidi, who took it upon herself to respond in her own Us Weekly interview saying she didn't reach out because she was in the hospital while recovering from her nose and boob jobs.
However, we came to find out the real reason she didn't respond was because her now-husband Spencer Pratt was the one who started the whole thing.
Cue: "You know what you did!"
LC yelled the famous line directed at Heidi in the first episode of season 3, which aired in August 2007. From that point on, everyone assumed either Spencer or Heidi (or both!) were definitely to blame for the sex tape rumors, though they both denied it time and time again. Needless to say, from that point on, Heidi and Lauren also completely stopped being friends.
Fast forward to 2009 and Spencer finally admitted to spreading the lies.
LC led a panel for The Hills at Paley Fest in 2009 where a fan asked if she still believed Spencer and Heidi were at fault for the rumors. "We actually have it on tape," Lauren responded. "[Spencer] takes responsibility and apologizes for it. Sorry! Spoiler!"
The feud continued throughout that season, which also marked Conrad's last appearance on The Hills. In fact, her last episode was when she decided to attend Spencer and Heidi's wedding after much deliberation.
In the years to follow, Lauren often chose not to speak about Heidi (though she had plenty of opportunities to do so), and the "Speidi" drama started to die out after the show...That is until 2015, when Spencer came out and admitted to spreading the sex tape rumors all the while scrutinizing LC.
"Lauren is a cold-hearted killer," Spencer told Complex magazine at the time. "That's what people don't get. She will cut you in your sleep. She tried to destroy us. If you want to throw missiles, I'm throwing a nuke. This is how I operate."
The couple also stuck to their word that Lauren definitely has a sex tape with Jason. "Today, I would be like, 'Bitch, you know what you did,'" Heidi said in the same interview.
Obviously, they never really ironed out the kinks in their friendship...but that doesn't mean they didn't try!
In March 2016, Montag revealed to Buzzfeed that she and LC attempted to talk several years ago. "The last time I spoke to Lauren was a few years ago. Like two or so. We kind of were talking a little and then we both were kind of like, 'We're not friends.' It's kind of awkward."
Lauren has continued to stay mum on the subject of Heidi, but in February the blonde reality star took time to congratulate LC on her pregnancy news.
"It seems like 2017 is the year to get pregnant, so first and foremost, a huge congratulations to my former co-stars, Lauren Conrad and Whitney Port, who are both expecting," she told Faithwire. "I think that pregnancy and children are one of the biggest blessings that God gives us in our life."
Perhaps as these two continue on in their new avenues of life, the chapter will finally close on their feud.