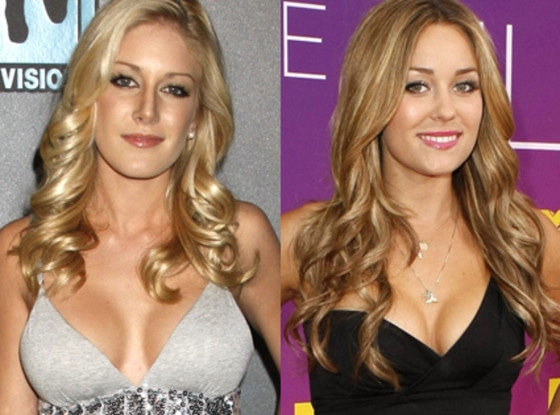 Polk Imaging/WireImage.com,Karl Larsen/INFPhoto.com
The high road may be a long and lonely road. But for Lauren Conrad, it's the only way!  
It's no secret that the former MTV star's friendship with Heidi Montag ended on not-so-good terms. In fact, millions of fans watched the drama unfold on The Hills for four glorious years.
But ever since the show bid farewell in 2010 (yes, it's been that long!), Lauren has reached new heights as a designer, lifestyle expert and wife.
As one could have guessed, however, questions about her time on The Hills get asked every so often. But instead of gossiping or spilling the tea, the former Laguna Beach star tries her best to keep it classy.
We compiled more than a few moments where Lauren could have said something oh-so-sassy or started some serious drama. But as a wise man once said: If you don't have anything nice to say, sit next to me don't say anything at all.
Michael Bezjian/WireImage
1. It's Over: Just this week, Lauren appeared on the cover of Cosmopolitan's October issue where she was asked about her time on The Hills. Instead of responding to recent comments made by Heidi, the blond beauty insisted that she wanted to move forward. "I'm not really involved in that anymore," she explained. "I don't think it has anything to do with me. You just have to focus on the good people in your life. Focusing on what you lose is only going to make you sad."
2. Holly Montag's Wedding Day: Back in September of 2014, Lauren and William Tell exchanged vows along the California coast the same day Holly Montag married fiancé Richie Wilson. But before you assume there was jealousy, we're here to tell you there was just a whole lot of love. "@LaurenConrad Hello Mrs Tell!!! Xoxoxoxo," Stephanie Pratt tweeted. Lauren replied, "Well Hello."
Jamie McCarthy/WireImage.com
3. Heidi's Boot Camp Press Tour: During her appearance on Marriage Bootcamp: Reality Stars, Heidi couldn't help but slam her "former best friend" who "tried to just ruin my life with her lies." Things only got hotter when Heidi was asked to speak to a girl acting as Lauren. "I am so mad at you for feeling like, because you put me on TV, I was indentured to you for everything," Heidi shared on WEtv. "I am so mad at you, how awful you treated me." For the record, Lauren never commented.
4. Resist the Joan Rivers Temptation: When one goes on Fashion Police, you're going to get some pretty tough questions. But when the late Joan Rivers asked if Lauren was still close with Heidi, she simply responded with a playful, "Very." Not even Joan could get a dig from L.C.!
Watch:
Spencer and Heidi Pratt With Marc Malkin
5. Say No to the B-Word: When talking to Redbook magazine, Lauren was asked how a woman can be heard among a group of big personalities. But in true L.C. fashion, it's not about upping the bitchiness factor (or sharing your past experiences with TV stars). "Over the last few years I've been able to work with several women who I really respected because they didn't take on that role of being a bitch," she explained to the publication. "They were strong, but they were kind and they didn't need to shout to be heard…We have this idea that kindness is weakness, which I don't think is true."
6. Birthday Drama: Over the years, Lauren has had plenty of mini Hills reunions for important milestones in her life. But instead of turning it into a drama-filled night, the designer always chose to have her closest friends around. After all, Lauren "Lo" Bosworth just isn't the type to throw drinks or leave a dinner in tears. Good choice, girl.
7. It's OK to Be Cordial: Through all of the headlines and spin from the media, it was Heidi herself that admitted to E! News that Lauren has tried to be friendly on more than one occasion. "I've talked to her a few times since The Hills," Mrs. Spencer Pratt shared with us. "She's been very sweet." As to what they chatted about, it was just your typical girl talk. "Just catching up and saying hi and things like that," she explained. As some would like to say, time heals all wounds.