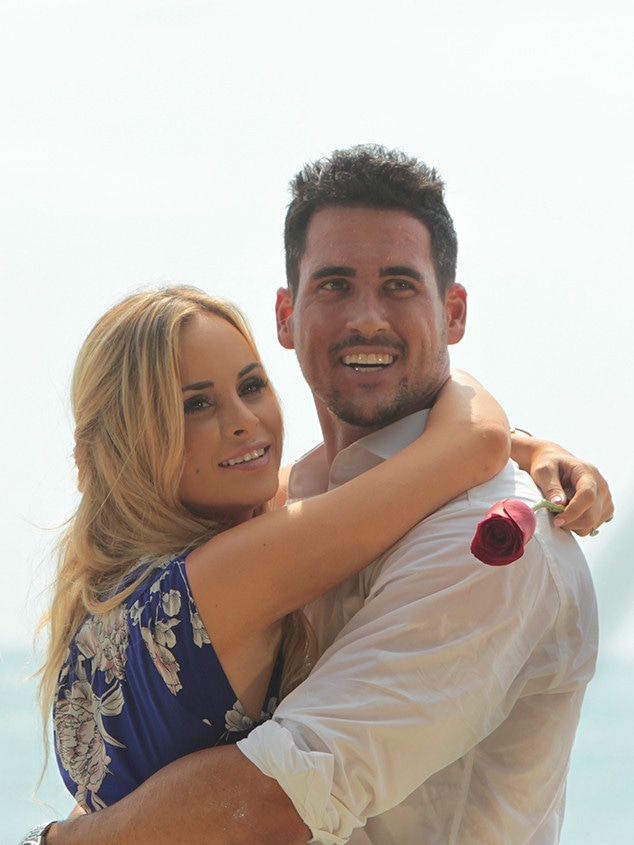 Rick Rowell/ABC
UPDATE: Josh Murray released the following statement exclusively to E! News, in which he threatens taking legal action against his former fiancée.
"I just want Amanda to stop lying about me, stop speaking to the press about me, and for Amanda and her friends to stop trying to cyber bully me," he said.
"I haven't said anything to the press or on social media about her because I moved on with my life. I've been out of the country enjoying vacation with my family. However, if Amanda or any of her friends and family continue to speak falsehoods, misrepresentations, and defame my name, I will have no choice but to move forward with legal actions as I've been advised to do, although I'm really trying not to."
"Amanda was correct in saying I want her to leave me alone, so I'm not sure why she can't just do that and not speak of me because I don't speak of her. At the end of the day, in the past few months, she still had me coming back and staying in our place in LA together, being intimate, and interacting with the kids as a family again. She even flew to Atlanta to spend time with me and stayed with me, so obviously there was interest in being with me despite all the negative and hurtful things that are being said now."
Murray continued, "I'm going on with my life and career, so I'd rather not focus on continuously speaking to the media or writing books about failed relationships."
________
Amanda Stanton has some things she wants to get off her chest when it comes to her and Josh Murray's breakup.
Stanton, a former contestant on The Bachelor and single mother of two from Southern California, and Murray, a Georgia resident and former winner of The Bachelorette who split from star Andi Dorfman, met last year on season three of Bachelor in Paradise. She accepted his proposal at the end of the show. This past January, she confirmed they had broken up.
While the two did appear to rekindle their romance briefly in February, in recent weeks, it's been drama, drama, drama. In an exclusive interview with E! News, Stanton talks about the ugly aftermath of their split, recalls the "red flags" she noticed while dating him and reveals how the breakup affected her daughters. 
"Red Flags": Stanton recalled their first date, which she said was "hands down" the best first date she had ever gone on in my life.
"It's hard for me to even talk about without crying," she said, getting emotional. "I think he knew he was going to date me, so I think he kind of pretended to be exactly what he knew I wanted."
She said that during filming and in the months following his proposal, she saw "red flags" regarding Murray and "chose to ignore them." Murray has not responded to her remarks.
Stanton told E! News that Murray seemed to care too much about "about the way that he was portrayed on the show" and that hurt her feelings. She said he appeared to have an issue with competitor Nick Viall, who she had previously dated briefly on the series.
"I guess, a red flag for me was, if he was falling for me, he should've just been happy," Stanton said. "Instead, he focused so much on Nick and what everybody else was saying."
She also said that while he did end up moving to Southern California to live with her and her daughters, he was "always was talking about how he still wanted to move to Atlanta."
Stanton also told E! News Murray was "extremely controlling" of her and did not seem keen on her spending time with her friends.
"I Almost Broke Up With Him": Stanton said she once called the executive producers of Bachelor in Paradise crying to complain about Murray's behavior towards her.
"I almost broke up with him while the show was airing and I was going to do After Paradise and be like, 'We broke up,'" she said. "I ended up, I wanted to keep trying because I kept thinking about our first date on the show and how excited I was about him and I think that's what made me keep trying."
The Breakup: Stanton said throughout their relationship, she told him a couple of times that she could not see themselves getting married and having a future together. 
"I actually broke up with him after Jingle Ball," she said. "He refused to admit it and he wanted to keep trying, and he would post Instagram pictures like, 'Happy happy happy.'"
"When I finally kicked him out, I was like, 'You have to go, I think it's best that you pack your stuff and you go back to Atlanta,'" she said.
Murray's personal assistant Hayley Watts told E! News last week that the former couple "got into a big argument" in mid-March, adding that Stanton put some his belongings from the apartment they used to share in the hallway. Stanton said she did so at his request and also because it was past midnight and her kids were asleep.
"I had put all his stuff out there very nicely like they had asked me to," she said. "In no way, shape or form did I throw his stuff in the hallway. I would've kept his stuff and he could've gotten it the next day. He had asked me to put it outside so I did."
Like many couples, Stanton and Murray also shared a car, which he bought with a loan and let her use. Watts said Murray told her to tell Stanton she could either give it back to him or get her own lender. Watts said Stanton refused both options, prompting Murray to get the police involved. An officer accompanied Watts to the home and got the keys to the car back.
Stanton told E! News Murray called her about the car, saying he wanted to meet her at the DMV to sort the matter out. She told him she was about to leave the country for a trip and offered to leave the car keys in the leasing office and clean out the vehicle, or transfer the loan to her name when she returned. She said he told her he did not want the vehicle back because he already has one and that they would settle the matter when she got home.
She was then surprised when the cops showed up.
"I was just scared," she said. "They gave my kids a sticker. It was just super embarrassing because you know, the neighbors see the cops at your house...it just felt really weird to me because I didn't even get a text message from him or Haley for that matter. Nobody just said, 'Hey Amanda can we come grab the keys?' Nobody. Nothing. Literally, just sent cops to my house. It was just weird."
"I called him and I texted him after because I was upset," she said. "I was like, 'Hey why did you do that, what's going on? Why didn't you just ask me?' And he would just respond, 'Leave me alone.'" 
Stanton said her daughters have handled her breakup with Murray well.
"I think that's kind of been the hardest part about all of this, just that the kids were involved and that he's the only person I even dated since the divorce a while ago," she said. "But they handled it really well. I was right before the holidays and I kind of told them that he was going to spend the holidays with his family."
"Ever since then, I've just been like, 'Josh went back to live with his family in Atlanta and he misses you guys,'" she said. "I feel like it been a pretty easy transition that I was really nervous about and so I'm happy it was an easy transition, but it was definitely a mistake I would not make again."
She also said she is focusing on her kids.
"This whole break up has been really, really hard on me and the aftermath has been really hard on me," she said. "I'm just trying to focus on my family. I'm working a lot on my blog and I'm writing a book, which is exciting."
Stanton has also connected with someone who may know what she is going through.
"Andi and I chatted a bit," she said, laughing. "A little bit."