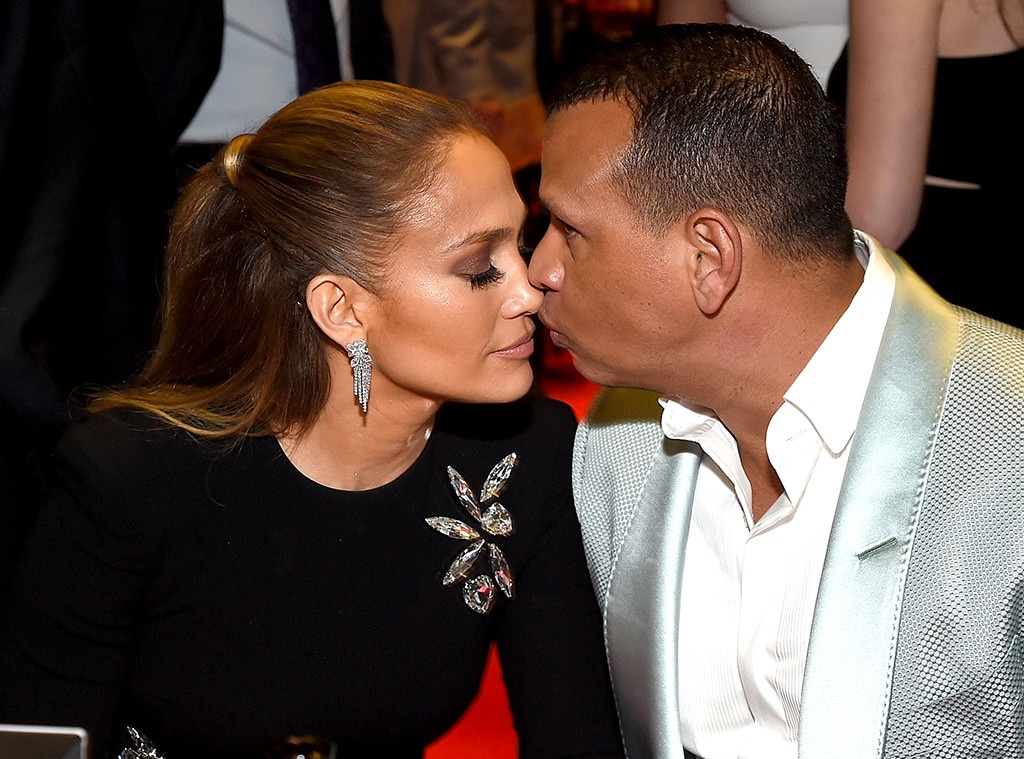 Kevin Mazur/Getty Images for Robin Hood
While celebrities dating other celebrities is about as common as it gets in the universe known as Hollywood, it's still a bit of a rarity when two full-blown supernovas collide.
But that is what has happened with Jennifer Lopez and Alex Rodriguez—she the singing, dancing, acting and business multi-threat known simply as J.Lo, and he a World Series-winning, three-time American League MVP who at one time was the highest-paid player in baseball who also has himself a jaunty nickname in A-Rod.
Seriously, where were these two hiding from each other? Aside from separate yachts?
They're both native New Yorkers, both from humble beginnings, both parents of two. They both bring to the table inimitable talents, international fame, wealth beyond belief—and very public relationship histories that are as storied, twisty-turny and tabloid-friendly as they come.
Since respectively making names for themselves in the 1990s, they've also each experienced intense professional highs and lows, while evincing similarly wavering levels of devotion and commitment over the years in their personal lives. But until two years ago, they were mostly famous ships in the night, one going through this while the other was going through that.
Now that Lopez and Rodriguez are engaged, it feels as if all roads, no matter how circuitous, were leading them to each other all along.
Rich Pilling/MLB Photos via Getty Images
1994
An 18-year-old Rodriguez makes his major league debut at shortstop with the Seattle Mariners on July 8, 1994, the youngest position player in Mariners history.
Lopez lands her first major film role, in the multigenerational family drama My Family, which hit theaters the following year. The 25-year-old former Fly Girl on In Living Color also breaks up with hometown sweetheart David Cruz after 10 years together.
1995
On June 12, Rodriguez hits the first of his 696 major league home runs.
Lopez stars in Money Train with Woody Harrelson and Wesley Snipes.
1996
Rodriguez leads the AL with a .358 batting average and at 20 years and 11 months old becomes the youngest-ever shortstop to play in the MLB All-Star Game.
Production on Selena, starring Lopez in her breakout role of slain Tejano singer Selena Quintanilla, the role she had insisted she was meant to play, gets underway.
United Archives/ullstein bild via Getty Images
In 2015, Lopez recalled filming a concert scene in front of an audience of more than 30,000 people, telling Billboard, "For me as an actress, at that moment I had learned how to really become a performer and give everything I had to the audience. That really freed me up, and it was a very ­powerful moment."
1997
A-Rod hits for the cycle on June 5 and starts in the All-Star game for the first time.
About a month before Selena comes out and launches J.Lo into a new strata of stardom (and draws more attention to her singing and performance talents), Lopez marries Cuban waiter Ojani Noa on Feb. 22. It must have seemed like a good idea at the time, but they separated just months later and divorced in January 1998.
Noa would come back to haunt Lopez years later; they wound up in court as she successfully managed to thwart his intention to release a tell-all book, which would have been a violation of the confidentiality agreement they had signed when they split up. Noa, who also claimed to have juicy video of the two shot on their honeymoon, would accuse Lopez of also being indiscreet in 2011, claiming her song "One Love" was about him.
"Took a shot, with the bad boy from the block / Picked my love right from the start / Mister wrong, he plays his part."
Sounds familiar, but bad boys are a dime a dozen in song lyrics.
1998
A-Rod joins the rarefied 40-40 club, hitting 42 home runs and stealing 46 bases. He also meets Cynthia Scurtis, a graduate student in psychology, at a Miami gym and they strike up a friendship. 
"She didn't think much of it at first," Cynthia's sister would tell the New York Post years later. "But she thought he was nice."
After her divorce from Noa, J.Lo stars in the Steven Soderbergh-directed heist thriller Out of Sight, which features her sharing close quarters (i.e. the trunk of a car) with George Clooney, who plays the bank robber her federal agent is chasing.
Writes film critic Roger Ebert, "Lopez had star quality in her first role in My Family, and in Anaconda, Selena and the underrated Blood and Wine, she has only grown; here she plays a role that could be complex or maybe just plain dumb, and brings such a rich comic understanding to it."
1999
Despite being sidelined part of the season with injuries, Rodriguez becomes the youngest player at the time to hit 100 home runs, at 23 years and 309 days old.
Lopez releases her debut single, "If You Had My Love," and while making her first album, On the 6 (which drops June 1), she meets and starts dating Sean "Puff Daddy" Combs. "Waiting for Tonight" comes out as the album's third single in November and critics consider it to this day to perhaps be her best song.
Meanwhile, on Dec. 27, Combs and Lopez are both at Club New York when gunfire broke out—they were both briefly taken into custody and Combs and rapper Shyne end up facing weapon-related charges. Combs insisted he neither carried a gun nor owned a gun.
"That was one of the worst nights of my life," Lopez said on Behind the Music in 2010. "It was devastating for me to have lived through that."
2000
Rodriguez is named Major League Player of the Year by Baseball America and becomes a free agent. On Dec. 12, he signs a 10-year deal with the Texas Rangers worth $252 million, then the most lucrative contract in sports history.
Though her most memorable support system was whatever kept the wardrobe malfunctions away in her plunging-every-which-way Versace gown, Combs is also with Lopez at the 2000 Grammys on Feb. 23.
Oh, and she also actually rebrands herself as J.Lo this year, her Grammys moment propelling her into yet another stage of her career in which she starts to melt everything she touches, so legendary becomes her hotness.
2001
Apparently A-Rod regrets signing with the Rangers, wishing he'd signed with the Mets, but he doesn't reveal that until years later. Still, he again leads the American League in home runs, with 52, and becomes the first player since 1932 with at least 50 homers and 200 hits in a season.
The unfortunate excitement of 1999 rears its head when Combs goes on trial on weapons charges in March and Lopez is asked to testify. She ultimately doesn't have to take the stand, but before the man later to be known as Diddy is found not guilty on all counts, they break up.
A couple of weeks later they show up at the same Oscars after-party and Lopez is already with dancer Cris Judd.
"She is somebody I will always love," Combs told Access Hollywood. "It is hard being a celebrity in a relationship. We will meet again some day. My heart is strong. I went to the party because I was invited and I was in town. I was looking forward to seeing her." He added, "It was a rough year and I just want her to be happy. I will always love her."
Lopez then hightails it to the altar with Judd, marrying him on Sept. 29. 
Recalling that questionable time frame 12 years later, Lopez told Vibe, "I was in this relationship with Puff where I was totally crying, crazy and going nuts, and it really took my life in a whole tailspin. Here comes Cris, and he's like an angel. So my friends are like 'Yes!' Maybe it's a little fast but they were thrilled to see me smiling."
2002
Lopez divorces Judd in June and is engaged to Ben Affleck by November, the actor popping the question with a massive pink diamond in Boston when they're in town to visit his family. 
"I had cried a lot over sadness over the years. And for the first time in my life, I cried incredible purging tears of happiness," Lopez tells ABC News' Diane Sawyer. "It was the most cleansing feeling and the most wonderful feeling I had ever had."
Gus Ruelas/LADN/WireImage.com
"I've been married twice but I haven't had a marriage yet," Lopez continues. "This is not to take anything away from Cris or Ojani, who are wonderful people and who I loved very much—but I think it more had to do with me...being in such a crazy life and needing a sense of security."
Affleck's different though, she says. "What I knew that was different this time is that I was just more scared...It was too powerful...whereas before it was almost I had control of things, so I wasn't afraid to kind of be in there, in the fire... This time it was just smothering me and—so hot, you know, that it was just like—it made me afraid."
A-Rod, meanwhile, leads all of baseball with 57 home runs and 142 RBIs, and wins his first Gold Glove—and decides he's actually ready to settle down, having spent 10 years in the majors smartly unencumbered by the responsibilities of marriage and family. (See: Derek Jeter, baseball genius who decided marriage wasn't for him until his career was over.)
Rodriguez proposes to Cynthia Scurtis over dinner on Dec. 28, her 30th birthday, after four years of lots of long-distance romance while he played in Seattle and then Texas. 
2003
Rodriguez wins his first AL MVP award at 28—and while he marries Cynthia on Nov. 2 in Dallas in a ceremony officiated by her grandfather, word gets around that he wants a divorce from the Rangers. 
Lopez and Affleck plan for a September wedding, but they postpone it at the last minute, citing the relentless media interest in their relationship. Surely the delay has nothing to do with the couple co-starring one of the most panned movies of all time, Gigli, which comes out in August and is laughed right out of theaters.
Bennifer break up in October. Lopez tells Vibe, "I have such a respect for the institution of marriage that I don't believe people should spend their lives together if they're not going to be totally happy. Do we spend time now trying to make it work and wasting precious moments of our lives, or do we remedy the situation and move on?"
She rebounds with Marc Anthony, whom she's actually known for years, but Lopez later calls her split from Ben her "first big heartbreak."
"I think different time different thing, who knows what could've happened, but there was a genuine love there," Jen said of her and Ben in an interview with People in 2016. 
She also told Huffington Post: "I would do it all over again, I think. I really would. Even the relationship part. I just feel like everything is part of your story and your journey and is meant to be and helps you grow if you're willing to look at it, and I'm willing to look."
We're not entirely sure Ben would be there for the do-over.
"If you went by what people said...I wasn't cool and I wasn't talented, and I was like the lowest rung of cool and talented that you could possibly be in the public consciousness at that time," he recalled that period of his life on HBO's Any Given Wednesday With Bill Simmons in 2016. "I had broken up with Jennifer Lopez and I had like three or four movies in a row that had bombed."
Salvatore Laporta/Getty Images
2004
Rodriguez gets traded to the New York Yankees on Feb. 15.
Asked on Today her thoughts about the hype surrounding her husband's move to New York, as well as the attention he gets overall, particularly from women, Scurtis tells Matt Lauer, laughing, "You know what, I'm flattered by that. I mean he's my husband and if people find him attractive and sexy, great! I mean, you know, it's sexy! You know? it's flattering, it's flattering to me."
Despite still being one of the best hitters in baseball, his reputation for post-season futility begins this October. Not so his post-season fertility, as he and Cynthia welcome their first child, daughter Natasha, on Nov. 18.
Lopez marries Anthony on June 5 at her Beverly Hills home, telling the guests they were invited to a garden party and surprising them with a wedding. Meanwhile, she answers her own question about whether you spend time sticking around to make it work, because she dropped a bombshell in 2016 by telling W she knew "very quickly" that something wasn't right about this union.
2005
Yankees fan J.Lo and Mets fan Anthony take a trip to the ballpark for a Subway Series game and the VIPs wind up taking pic on the field with the Yankees' All-Star third baseman.
Anthony J. Causi/ Splash News
2007
Rodriguez signs a new 10-year, $275 million contract with the Yankees, again making him the highest-paid player in baseball.
2008
Cynthia gives birth to the couple's second child, Ella, on April 21—and files for divorce on July 7, citing "emotional abandonment" of their family as well as a heck of a lot of cheating on her husband's part. A-Rod denies being unfaithful—and Madonna, one of his rumored paramours, releases a statement via her lawyer insisting she had no relationship with him and had absolutely nothing to do with the split.
The couple have a prenup, however, so the divorce is settled amicably by September. Rodriguez expresses hope that he and Cynthia will soon reach a custody agreement so the co-parenting can commence—which it happily did.
Meanwhile, Anthony and Lopez welcome twins Max and Emme on Feb. 22 (the babies make their debut on the cover of People March 20) and renew their vows in Vegas on Oct. 12.
2009
In February Rodriguez admits to using steroids between 2001 and 2003, citing the pressure he felt to rebound quickly from injuries and keep his numbers up, and dates Kate Hudson for about seven months before they split up in December.
Matrix/Flynetpictures.com
"It was a really fun summer," a giggly Hudson tells David Letterman shortly before she and A-Rod break up around the holidays. Coincidentally, she had previously dated Lance Armstrong.
In 2014, Hudson talked about both of her performance-enhancing exes. "Lance and Alex are phenomenal athletes who have made some bad choices and let a lot of people down," she told In Style. "It's a decision they made for themselves and they've got to loathe it."
2010
"Love is an endlessly fascinating subject for me," Lopez tells Access Hollywood while promoting the rom-com The Backup Plan. "I love to watch movies in bed with Marc—romantic comedies, much to his chagrin. He doesn't love them, but he puts up with it. Those are our date nights."
Rodriguez continues to play the field, taking up with Cameron Diaz in May.
George Pimentel/Getty Images for Creative Artists Agency
2011
Lopez makes her American Idol debut as a judge, the start of a major revitalization of her career. She and Anthony announce in July that they're separating after seven years of marriage.
"We have decided to end our marriage," they said in a joint statement. "This was a very difficult decision. We have come to an amicable conclusion on all matters. It is a painful time for all involved and we appreciate the respect of our privacy at this time."
In October, Lopez starts dating dancer Casper Smart. "I don't think it was [obvious] to either of us," Smart later tells Good Morning America. "It was just very natural how it happened. There was nothing before. No flirting, nothing."
A-Rod and Diaz break up in September—and it's not easy for the actress. She tells InStyle the following year, "When I was going through a bit of a heartbreak a little while ago, I said to a friend, 'Wow, this really hurts!' And he said to me, 'That just shows you what your capacity for loving is.'" Taking that into consideration, Diaz added, "I would rather have my heart broken a thousand times than never to love at all. I have so much love to give—I'm not empty of love, I'm full of love." 
All of her good points at least didn't go unnoticed.
Declining to talk about most of his relationships in an interview with The Insider, Rodriguez calls Diaz "probably one of the greatest human beings I've ever met, and just an amazing light."
2012
Anthony files for divorce from Lopez on April 9. He says in an interview in August with ABC News, "I'll tell you that it wasn't something sensationalistic happening." Rumors that respective affairs were had were "absolutely not" the case, he continues. "It was a realization on both our parts. So, you know, it wasn't shocking. These things happen. It was a decision that we made jointly."
But Lopez let loose to W in 2016, saying, "I hung in there for seven years. I knew very quickly that it wasn't the right thing."
"When my marriage ended, it was not easy to find forgiveness," she said, painting a decidedly different picture from the one Anthony painted—and the one that their ongoing friendship and amiable coparenting arrangement would indicate. "It wasn't the dream that I had hoped for, and it would have been easier to fan the flames of resentment, disappointment and anger. But Marc is the father of my children, and that's never going away. So I have to work to make things right. And that is, by far, the hardest work I do."
By the end of 2011, meanwhile, Lopez is dating dancer Casper Smart.
Rodriguez starts dating model and former WWE diva Torrie Wilson—and she apparently becomes instantly popular among his fellow Yankees, who reportedly think of her as a good influence in his life.
J.Lo, who heads out on her Dance Again World Tour, and Casper are already shooting down engagement rumors, with Lopez writing on her website, "Don't be fooled by the rocks that I got."
2013
On Jan. 16, Rodriguez undergoes arthroscopic surgery on his hip for the second time in four years and starts the season on the 60-day disabled list.
On Aug. 5, MLB suspends Rodriguez for 211 regular-season games for his role in an HGH scandal, but he continues to play into the postseason while he appeals.
Ray Mickshaw/FOX, Jeff Zelevansky/Getty Images
J.Lo is the fifth highest-earning woman in music for the year, with $45 million, thanks to Idol, her tour, her big-screen role opposite Jason Statham in Parker and various business ventures.
2014
MLB enforces Rodriguez's suspended sentence for violating the league's performance enhancing drug rules and he's out for the entire season.
Lopez and Smart split up in June, right around the time she releases her lukewarm-selling album A.K.A., with sources telling E! News that the artist was having trust issues with her beau. "We got a lot of ties," Smart tells us. "We're very close. We're friends, we're very good friends."
Jason Merritt/Getty Images
2015
A-Rod and Torrie split up in February after three years together. Page Six reports that he was a big flirt and she had trouble trusting him, and that they argued over his still close relationship with his ex-wife, Cynthia.
On Feb. 15, Rodriguez issues a letter to his teammates, fans and the sporting world apologizing for his behavior. He ends up hitting 32 home runs for the season, tying Hank Aaron with 15 30-plus home run seasons.
J.Lo and Casper get back together in May. In her HBO documentary Jennifer Lopez: Dance Again, Lopez tearfully recalls her painful third divorce, saying, "You feel like you failed. You feel like no matter how hard I tried, I couldn't make it work."
"I remember being on the set and being in my dressing room and not feeling like I could get up in the morning and there's just no pain like that."
2016
Rodriguez starts dating billionaire entrepreneur Anne Wojciki, the ex-wife of Google co-founder Sergey Brin, in March. They make their public debut as a couple at the Met Gala in May. Rodriguez, meanwhile, has become a full-time designated hitter and decides that this season, his 22nd, will be his last. On Aug. 7 he announces that his last game will be Aug. 12 at Yankee Stadium—for which the Yankees play him at 3rd for one batter, his only time playing defense this year.
In April Lopez says she's open to getting married again, telling W, "I love the movie The Notebook. A dream of mine is to grow old with someone."
Smart is not the Gosling to her McAdams, however. They break up again in August, with reports suggesting that he had stepped out on her one too many times.
In the winter J.Lo hits the studio with Drake, and so come the hot-and-heavy rumors as they post suggestive Instagrams and hang out together on New Year's Eve.
2017
On Feb. 25, Page Six reports that Anne and Alex did not ring in the New Year together, and actually split up a few months prior to the news finally making the rounds.
J.Lo tells Trevor Noah on The Daily Show in March that she's "not with Drake," so...here's hoping Drake knew that!
Sources confirm that Jennifer Lopez and Alex Rodriguez have embarked on a "very, very new fling" that has potential to be something more.
Darn straight it did.
2018
On Feb. 3, Lopez tells the audience at a concert in Minneapolis before the Super Bowl, "We've been together for one year today. I don't want to get all mushy or anything, but Baby, this song's for you. I love you."
Andrew Toth/Getty Images for TAO Group
But there were reasons to be skeptical, to hedge one's bets that just because these two seemed so perfect for each other, that it would ultimately work out.
Lopez had admitted to being a hopeless romantic, someone who was happy to audition a number of people for the leading man role of a lifetime else risk spending too much time alone.
And Rodriguez hadn't exactly proved himself yet as the good guy, in baseball or his personal life. He was a doting dad, but that never guarantees a devoted husband.
Yet for all the reasons it might not have worked, there were far more reasons why they make more sense together than peanut butter and jelly. Two larger-than-life celebrities, each with their own particular auras and fan bases, close in age and background and penchant for keeping the roller coaster going when others would have tired of the ride years ago.
"Jennifer's an amazing person...She has like 10 jobs," Rodriguez said, smiling, on Nightline in October 2017. "She loves sports, she's an athlete herself, a great mother, great daughter, great friend."
Regarding his past stumbles, personally and professionally, he said, "Sure there are some regrets along the way, but I think you don't have to be defined by those mistakes. How you come back matters too."
John Shearer/Getty Images
"It's good, it's healthy; we communicate well," Lopez told Harper's Bazaar last year about their relationship. "We understand each other's lives in a way that most other people couldn't." She added, "We both entered the public eye in our early twenties and overachieved right from the start. And that affects every dynamic in your life, from your family to your work to your relationships. We have a similar makeup."
Commonalities aside, Rodriguez, who since retiring from playing baseball has found a comfy home covering it as part of Fox Sports' broadcasting team, also remains in awe of his now-fiancée—including when it comes to business.
"She's able to see around corners and connect with the masses at a level that I've never seen anyone connect with," he told the New York Times last fall. "She innately has that DNA that understands how to land her points. That's just maybe being a great communicator."
Lopez said, appreciatively, "He just opened up [my team's] vision to other ways of doing" business, "that were not only more lucrative but gave us more freedom, gave us more control over our own image and our own ideas, instead of giving them away."
She added, "We're just solid."
And now, they're also engaged.
(Originally published March 14, 2017, at 4 a.m. PT)