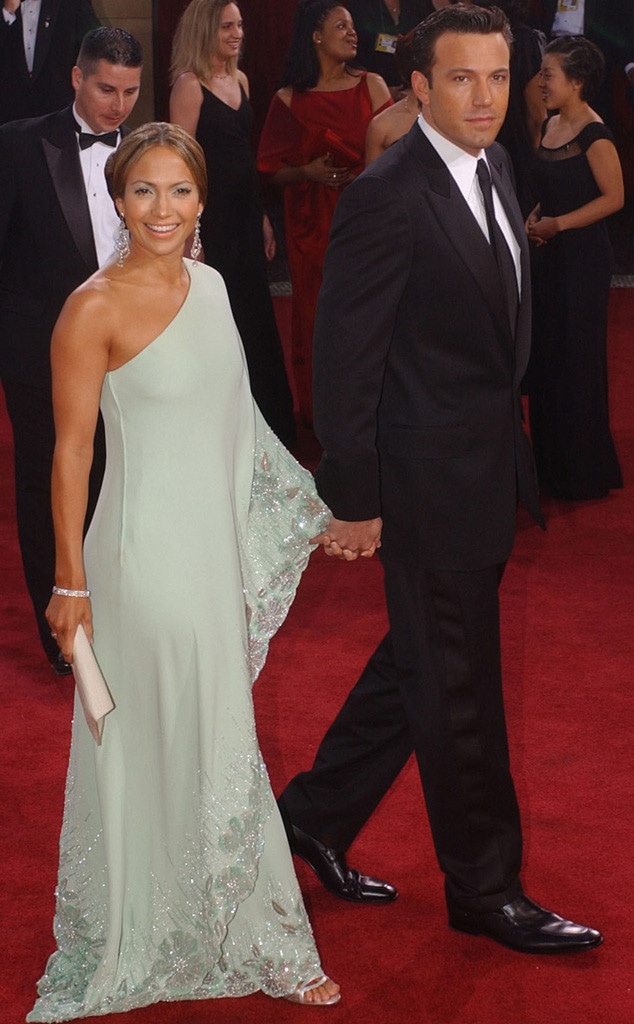 Gus Ruelas/LADN/WireImage.com
It's been more than 12 years since Jennifer Lopez and Ben Affleck broke up after being one of the most celebrated couples in the world.
In an interview with People, posted Friday, the American Idol judge, Shades of Blue actress and singer reflects again on their past relationship.
"I think different time different thing, who knows what could've happened, but there was a genuine love there," she said.
The two began dating in 2002, when they filmed famous 2002 flop Gigli. They later starred in the movie Jersey Girl and the singer's Jenny From the Block music video and got engaged.
SONY BMG MUSIC ENTERTAINMENT
SONY BMG MUSIC ENTERTAINMENT
Affleck proposed with a 6.1-carat pink diamond ring, which he reportedly bought for $1.2 million.
Their relationship made tabloid headlines, in a time when social media wasn't as popular and rarely used to share news stories, and the couple received one of the first celebrity nicknames: "Bennifer."
"We didn't try to have a public relationship," Lopez told People. "We just happened to be together at the birth of the tabloids, and it was like, 'Oh my God.' It was just a lot of pressure."
Vera Anderson/WireImage, Kevin Winter/Getty Images
Lopez and Affleck called off their engagement in early 2004, just before their wedding. Weeks later, Lopez reunited with ex Marc Anthony and the two wed after several months and later welcomed twins, Max and Emme, who are now 8. Lopez and Anthony split in 2011. That year, she started dating backup dancer Casper Smart, 28.
Affleck went on to date his Daredevil co-star Jennifer Garner. The two wed in 2005 and had three children, Violet, 10, Seraphina, 7 and Samuel, 4. The couple announced last June they planned to divorce. No papers have been filed.
In 2014, Lopez said on the Today show her and Affleck's split was probably her "first big heartbreak." In 2015, she told HuffPost Live she had "no regrets" about her time with the actor. A month after she spoke to HuffPost Live, Lopez and Affleck reunited briefly at the Oscars.
"I would do it all over again, I think. I really would. Even the relationship part," she told the outlet. "I just feel like everything is part of your story and your journey and is meant to be and helps you grow if you're willing to look at it, and I'm willing to look."
Affleck told The Hollywood Reporter in 2012 he keeps in touch Lopez, as well as other ex-girlfriend Gwyneth Paltrow and his high school sweetheart, Cheyenne Rothman.
"We don't have the kind of relationship where she relies on me for advice," he said about Lopez, "but we do have the kind of relationship where there'll be an e-mail saying, 'Oh, your movie looks great.' I remember when she got American Idol. I said, 'This was really smart. Good luck.'"
"I touch base," he said. "I respect her. I like her. She's put up with some stuff that was unfair in her life, and I'm really pleased to see her successful."