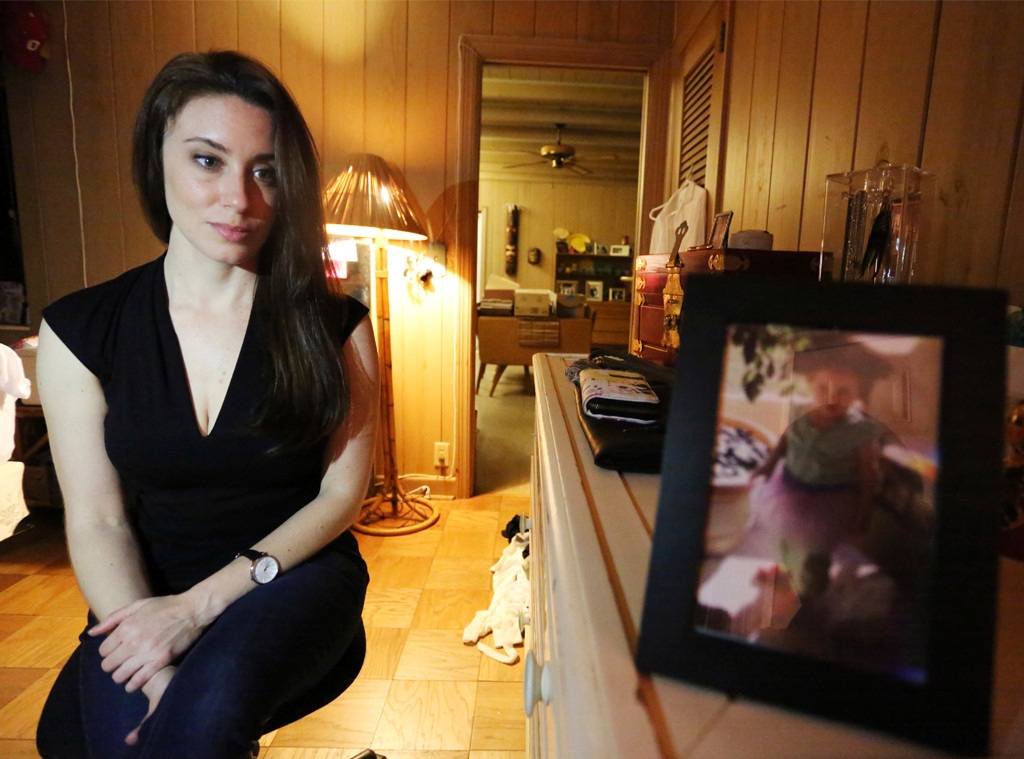 AP Photo/Joshua Replogle
Nine years after the death of her 2-year-old daughter, Casey Anthony has given a rare interview in which she again denied knowing much about how Caylee Anthony passed away.
Casey knows that many people still believe she killed Caylee, despite her acquittal in 2011. "Caylee would be 12 right now and would be a total badass," the Florida resident said. "I would like to think she'd be listening to classic rock and playing sports and not taking s--t from anybody."
The Associated Press conducted a series of interviews with Casey, though it's unclear why she agreed to speak with the news agency. Afterward, she texted the reporter, asking to kill the story. "During the course of my bankruptcy, the rights to my story were purchased by a third party company for $25,000 to protect my interests," she said. "Without written authorization from the controlling members of this company, I am prohibited from speaking publicly about my case at any time."
Casey said she remains under subpoena and is subject to deposition in her bankruptcy case. In addition, Casey said she violated a confidentiality agreement with her employer.
(On Jan. 25, 2013, Casey filed for Chapter 7 bankruptcy protection in a federal court.)
Casey's request came after she participated in five on-the-record interviews over a one-week period, many of which were audiotaped; the Associated Press published her interview Tuesday.
Caylee was last seen on June 16, 2008, but Casey didn't report her daughter was missing until July 15, 2008. When Casey was arrested on charges of child neglect a day later, she told police Caylee had vanished with a babysitter, Zenaida Fernandez-Gonzalez. On Oct. 14, 2008, police charged Casey with first-degree murder; she pleaded not guilty. On Dec. 11, 2008, a utility worker found skeletal remains in a wooded area near Casey's home; they were determined to be Caylee's. The case made headlines around the world, and the trial began on May 24, 2011.
Casey could not account for a month in which her daughter was missing, and her defense involved an accidental drowning for which there was no eyewitness testimony. "I'm still not even certain as I stand here today about what happened," Casey told The Associated Press (via NBC News) during one of the five interviews. "Based off what was in the media, I understand the reasons people feel about me. I understand why people have the opinions that they do."
Casey added, "My sentence was doled out long before there was a verdict. Sentence first, verdict afterward. People found me guilty long before I had my day in court."
Prosecutors could not establish how Caylee died, nor could they find Casey's DNA on the duct tape they believed had been used to suffocate her. After a month and a half of testimony, the jury took 10 hours and 40 minutes to find Casey not guilty of first-degree murder, aggravated manslaughter and aggravated child abuse. She was convicted of four counts of lying to police (two of which were later dropped), and served about three years in prison while awaiting trial.
Eleven months later, while in prison, Casey spoke to CNN's Piers Morgan via telephone and maintained her innocence amid public scrutiny. "I've never been a party girl. I don't drink now. I've probably had a handful of beers since I've been on probation," she told Piers at the time. Casey later added, "The caricature of me that is out there, it couldn't be further from the truth."
Speaking to The Associated Press in 2016, Casey admitted that she had indeed lied to police when they were investigating Caylee's death. "Even if I would've told them everything that I told to the psychologist, I hate to say this, but I firmly believe I would have been in the same place. Because cops believe other cops. Cops tend to victimize the victims," Casey claimed. "I understand now...I see why I was treated the way I was even had I been completely truthful."
"Cops lie to people every day," she said. "I'm just one of the unfortunate idiots who admitted they lied."
After a pause, she added, "My dad was a cop. You can read into that what you want to."
During the trial, lead defense attorney Jose Baez suggested Caylee had drowned and that Casey's father, George Anthony, helped cover it up—and sexually abused his daughter; her father has denied the accusations. "Everyone has their theories. I don't know," she said of the drowning theory. "As I stand here today I can't tell you one way or another. The last time I saw my daughter I believed she was alive and was going to be OK, and that's what was told to me."
Casey now lives with private detective Patrick McKenna, who was the lead investigator on her defense team. She does social media searches and investigative work for Patrick, who was also the lead investigator for O.J. Simpson. Casey sees "a lot of parallels" between herself and the NFL player, who was acquitted of killing Nicole Brown Simpson and Ronald Goldman in 1995.
"I can empathize with his situation," Casey said.
Why share her story now?
As Casey herself told The Associated Press, "I don't give a s--t about what anyone thinks about me. I don't care about that. I never will. I'm OK with myself. I sleep pretty good at night."
Shortly after telling her side of the story, Orlando attorney Mark Lippman issued the following statement on behalf of Casey's father:
"After years of silence, Casey Anthony has decided to complete an interview and has once again pointed to George Anthony, her father, as a suspect in the disappearance and death of  his granddaughter, Caylee Anthony. George, who has continued to try and move forward from this tragedy and who was vindicated on multiple occasions, is once again forced to relive the hints, rumors, lies and allegations that are being made by Casey Anthony.  He has specifically stated that "his heart hurts even more now".