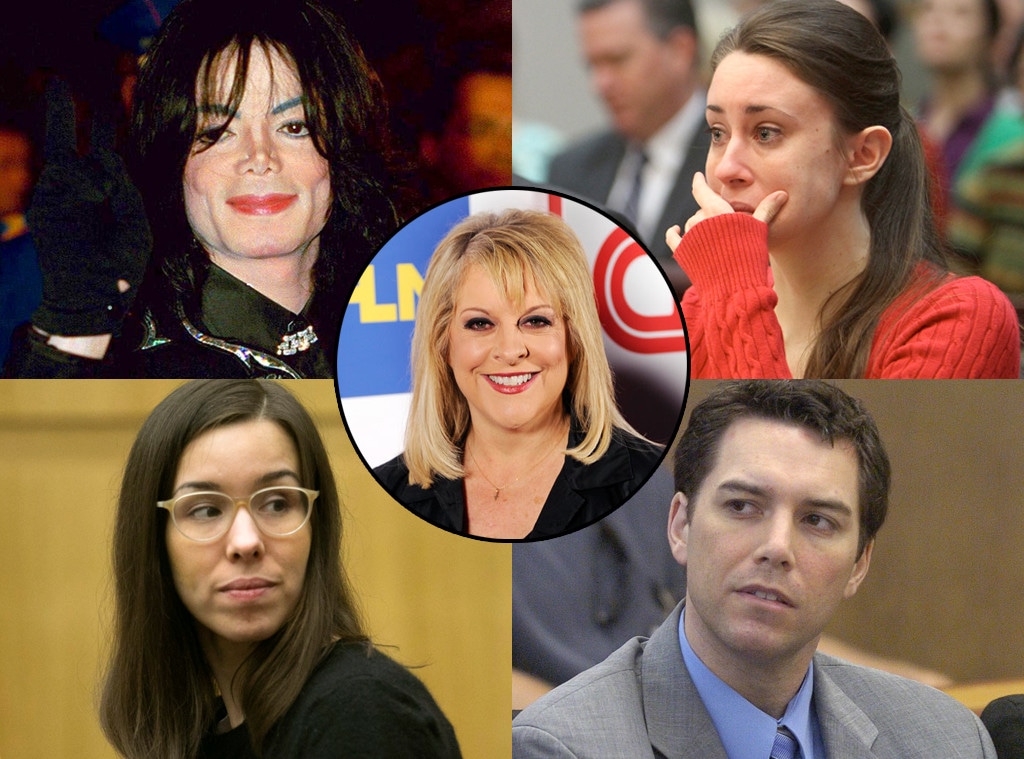 Getty Images; AP Photo
Bombshell tonight! Nancy Grace and her audience continue to want justice.
Ever since Nancy Grace premiered on HLN back in 2005, the former Atlanta prosecutor has followed countless trials, fought to fine missing children and even got into a fierce argument with 2 Chainz about legalizing pot. Yes, we're still not sure what to make of that discussion.
Along the way, the prime-time host has given courtroom reporters including Emmy-winning journalist Rita Cosby, Jane Velez-Mitchell, Jean Casarez and Diane Dimond a huge platform to report the news and show off their investigative skills.
In between unleashing the lawyers, updating fans on her twins and getting into a few verbal smack downs, Nancy has maintained the same goal throughout every verdict or unsolved crime. "It has been about the stories that we tell and the people we talk about and the mysteries we try to solve and the children we try to bring home," she once shared.
In honor of True Crimes week at E! News, we're looking back on the faces who Nancy covered for weeks and even months. Whether demanding justice be served or helping bring missing individuals home, Nancy truly kept fans glued to their screens night after night. 
Scott Peterson: When pregnant Laci Peterson went missing around Christmas, Nancy immediately began following the case. And when Scott didn't publicly plea for his wife's safe return, red flags began to rise for the former prosecutor. "Many people thought Scott Peterson was handsome and attractive…He had everything," Nancy once shared. "I have learned the hard way that murderers come in all shapes and sizes and colors and with all sorts of college degrees or not and all that matters is just the facts." When Scott was found guilty, Nancy remembers the cheers from those following the case outside the courtroom. "Laci was everybody's sister," she explained. "That was the connection so many people had with Laci Peterson."
Jodi Arias: When Jodi's trial played out in 2013, many eyes were on Nancy and her team of reporters including Rita who followed the case from the beginning. "Jodi's staggering 18 days of testimony, televised for the world to see, was undeniably riveting, and also heartbreaking as we watched the emotional reactions from Travis Alexander's family in court," Rita shared with E! News. "The psychological battles between Jodi and the state's 'bulldog' lead prosecutor were visibly tense and the explicit details of her intimate relationship with Travis, which she seemed to comfortably discuss at length on the stand, made seasoned reporters like me, who thought they've heard it all, blush." Jodi was convicted of first-degree murder and sentenced to life in state prison, but not before captivating the country. "Her case rivaled any Hollywood murder mystery and proves that truth is stranger than fiction… and often is much more shocking," Rita added.
AP Photo/Pablo Martinez Monsivais
Natalee Holloway: During her high school graduation trip to Aruba, Natalie traveled to Carlos'n Charlie's with her classmates before meeting Joran van der Sloot and brothers Deepak and Satish Kalpoe. When questioned by police, the three men said they dropped Natalee off at her hotel without any problems. For months, Nancy kept her viewers informed with every development and even alleged that Aruba botched the investigation. In addition, Natalee's family including her parents Beth Holloway and Dave Holloway became regular guests on her show.
Casey Anthony: If you're ever wondering how the term "Tot Mom" became a household saying, look no further than Nancy. The HLN host traveled to Florida for daily coverage of the court proceedings. "It's hard to look at tot mom and reconcile what you see with what you know to be the truth," Nancy once shared. "The single most shocking thing in the tot mom trial was when the verdict was announced…I think tot mom knows very well exactly what happened." And when that non guilty verdict was ready, many viewers will never forget Nancy's reaction: "The devil is dancing tonight."
Justin Sullivan/Pool/Wireimage
Michael Jackson: When the King of Pop was put on trial (and later found not guilty) for child molestation charges, Nancy was very critical of the singer. Whether it was the evidence gathered by investigators or Michael showing up to court in pajamas because of an allegedly spider bite, Nancy stands by her perception of the case. "Frankly, when it comes to Mr. Jackson, I believe I was right," she once shared with CBS News. "And if you take a look at the jury who is now writing a book about how guilty Mr. Jackson is, they agree with me, although they didn't have the guts to say it in verdict form." As for Michael's attorney, he thought Nancy's coverage "was a disgrace." "She tried to spin a verdict through a lot of emotional innuendo that was just buffoonery as far as I am concerned," Tom Mesereau shared. "I thought she was the bottom of the barrel."
Chandra Levy: In 2001, the Washington D.C. FBI intern vanished without a trace. After the police investigation revealed that she was having an affair with Congressman Gary Condit, much speculation began to surround the politician as to whether or not he was involved with the disappearance. Ultimately, police arrested Ingmar Guandique for the murder of Chandra. While he was convicted in 2010, a new trial was granted in 2015 with prosecutors ultimately deciding not to proceed with the case. "The fact that the death of Chandra Levy was almost an anonymous one by an unknown, unconnected thug who attacked female joggers so random was hard for many people to digest," Nancy shared.
Madeleine McCann: While on a family vacation at luxury resort in Portugal, the three-year-old vanished from her parent's apartment. According to investigators, Madeline's parents Gerry and Kate McCann left their daughter and her twin siblings alone in a bedroom around 8:30 p.m. as they joined several friends at the resort's restaurant just two minutes away. Unfortunately, they didn't lock the doors and around 10 p.m. that night, Kate went to check the apartment and found a bedroom window wide open. Madeline hasn't been seen since then.
Kyron Horman: On June 4, 2010, Kyron's stepmother dropped him off at Skyline Elementary School in Northwest Portland. According to the Nancy Grace Show, Terri Horman said she took him to a school science fair that morning and watched Kyron walk toward his second grade classroom. Ultimately, he was reported missing when he failed to return home on his school bus. The case remains one of the biggest mysteries in Oregon.
Sandra Cantu: When 8-year-old Sandra came home from school in Tracy, Calif., she kissed her mother and left to play with a friend who lived a couple of houses down. When she did not return for dinner, the family called the police. Sadly, her body was discovered several days later in a nearby irrigation pond. Police would later arrest Sandra's neighbor Melissa Huckaby. She pleaded guilty and was sentenced to life without the possibility of parole.
George Smith: After George and his wife set sail on a dream honeymoon aboard a Royal Caribbean cruise ship, tragedy struck when the groom vanished in the middle of the night. Many suspect that he fell overboard, but a body has never been found. Was it a tragic accident or was he a victim of foul play? The one thing Nancy knows is you must be careful the next time you board any cruise.
Nancy Grace airs Monday-Thursday on HLN. Her new book Murder in the Courthouse: A Hailey Dean Mystery will be released on Oct. 11.
Watch:
Nancy Grace Gives Rapid Fire Answers on True Crime Cases