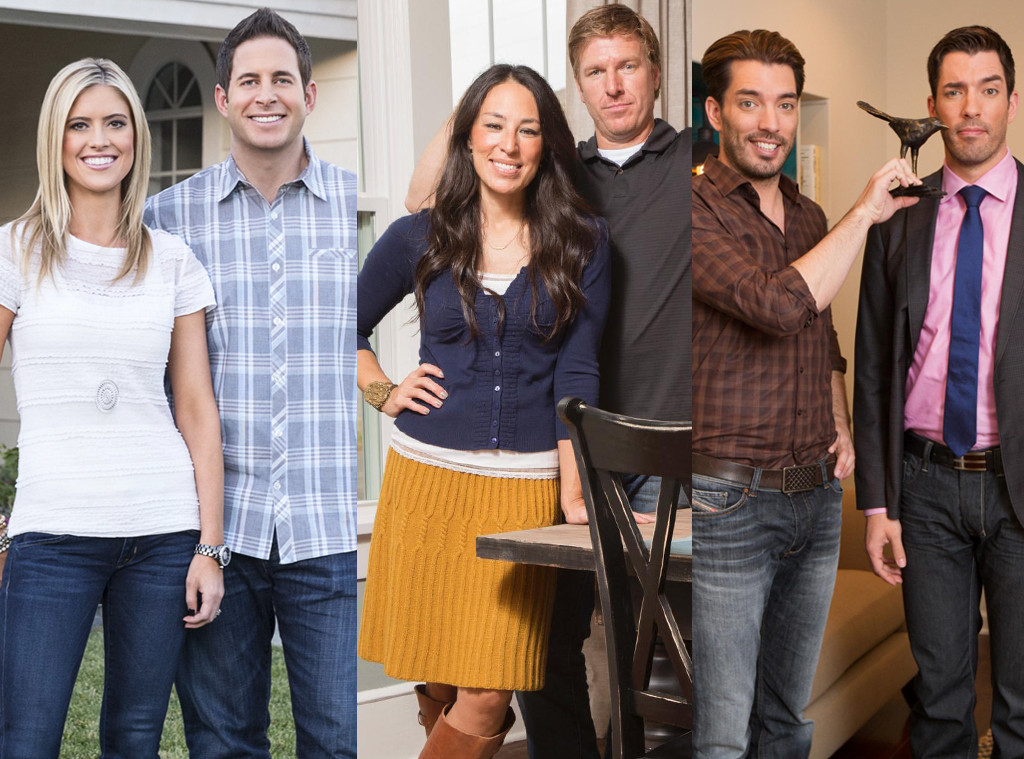 HGTV
It was only a matter of time.
Any cable network that butters its bread with reality TV, from A&E to MTV to TLC, is going to end up courting controversy at some point. Whether it's a show's star getting arrested, or the married couple at the heart of a series getting divorced, or an entire show shutting down because advertisers decide they want nothing to do with rampant hypocrisy anymore...
Real people have real problems. And even if real life never visibly intervenes onscreen, once they're TV stars, their lives are open to 24/7 scrutiny, even when the cameras aren't rolling. 
And HGTV—the cheerful aunt of sunny, escapist networks that serves as a safe haven for so many amid a cable lineup jam-packed with bad news and intense, dream-haunting drama—has proved to be no exception.
The producers of Love It or List It were sued in April by a couple who claimed the show left them with a "disastrous" renovation. Staged to Perfection's Meridith Baer was sued by a dissatisfied client in September who claimed that the quality of the furniture he ended up with didn't match the high fee Baer charged for her services. (Baer's company said it stood by the work.)
The stars of Kitchen Cousins filed for bankruptcy protection last year after an arbitration went against them over a botched reno in New Jersey.
But the issues aren't limited to problems with the product, which have always been a fly in the ointment when it comes to just how real these glorious home-buying/selling/renovating/decorating shows on any network are.
The latest cloud to roll in is the news that Tarek and Christina El Moussa, the married stars of Flip or Flop, have separated—and that more than six months ago, Christina called the cops after Tarek stuffed a gun in his backpack and charged into the woods near their home in Chino Hills, Calif. 
Per the Orange County Sheriff's Department incident report, Christina told deputies that Tarek didn't threaten her or indicate in any way that he wanted to hurt himself or anyone else; Tarek said that he needed to "blow off some steam" and took the gun as protection against rattlesnakes and mountain lions. Still, authorities chose to temporarily remove five firearms that were in the house for safe-keeping; Tarek voluntarily agreed.
But back to the breakup after seven years of marriage. The real estate agents and parents of daughter Taylor and son Brayden seemed like the perfect couple. However, even though the show may have been a god-send in one way (a Flip or Flop viewer who was a nurse emailed producers about a lump she noticed in Tarek's neck, and it turned out to be thyroid cancer), the El Moussas were ultimately just as vulnerable to the strains of starring on a successful TV show as any other couple who suffered a similar fate.
"Like many couples, we have had challenges in our marriage," they said in a joint statement Monday. "We had an unfortunate misunderstanding about six months ago and the police were called to our house in an abundance of caution. There was no violence and no charges were filed.
"We chose to get counseling to sort out our relationship. Together, we have decided to separate while we reevaluate the future of our marriage. During this process, we are committed to our kids and being the best parents we can be. We will continue to work through this process civilly and cooperatively, and plan to continue our professional life together."
So they could get back together.
But a source told E! News today that there had been rumors of trouble in their marriage for a few months now, and they needed to be kept away from each other during filming breaks because they were bickering too much.
HGTV said in a statement to E! News, "We admire and appreciated Tarek and Christina's great work on Flip or Flop. When it comes to matters related to their own family, we respect their privacy and honor any decision that works best for them and their children. HGTV is currently airing episodes of Flip or Flop and the series will continue production as scheduled."
What's next? Chip and Joanna Gaines splitting up?
Perish the thought and slap my typing fingers. But the Fixer Upper stars, who like the El Moussas debuted on HGTV in 2013 but whose brand has really exploded over the past year, have also gotten a recent taste of the consequences of becoming famous just for being your charming ol' self.
Chip and Joanna, who live and shoot their show in Waco, Texas (the couple's days at Baylor University are a frequent topic of conversation), recently came under fire when Buzzfeed took pains to point out that they have associated with a church whose evangelical pastor preaches against same-sex marriage and is a proponent of conversion therapy.
The report didn't claim that the Gaineses, who are Christian, agreed with the pastor or shared those discriminatory values, but you can bet that plenty of people were stricken to find out that the shiplap-loving duo associated with such a person. Critics demanded that the Gaineses speak out and clarify their beliefs. 
HGTV—which is owned by Scripps Networks Interactive and counts Food Network and Cooking Channel among its sister stations—has already proved itself to at least care about what the talent themselves get up to. The network sent twins Jason and David Benham packing in 2014 ahead of the premiere of their show Flip It Forward after Right Wing Watch unearthed past anti-gay and anti-abortion comments made by David, who claimed HGTV knew what he had said all along.
"Our show had nothing to do with anything of the things that are now the controversy," David said on Nightline in May 2014. "But I also understand that HGTV when they called us and shut the show down, they said they had to make a business decision."
However, when network execs questioned the brothers when David's comments came to light during the vetting process, David recalled, "We explained it to them and we gave the proper context for my statements. And they looked behind our eyes and said, 'They don't have any hate in their hearts for anyone, so we are going to give them a show.' And then they made us an offer."
Added Jason: "We let them know that we love Jesus, that we love people and we love real estate and we are good at what we do. And they saw that there was no hatred inside of us, for any people, any individual, any human being, and they knew we would be a great fit for the network."
HGTV didn't comment at the time beyond confirming the cancellation. But perhaps the network would have said more if that had happened today.
"We don't discriminate against members of the LGBT community in any of our shows. HGTV is proud to have a crystal clear, consistent record of including people from all walks of life in its series," the network told Huffington Post in response to the uproar over Chip and Joanna's pastor.
Buzzfeed's story popped up Nov. 29. On Dec. 3, Chip tweeted, "Regardless of our decision to make a statement about all this craziness, or not, I ask that people please! respect @KateAurthur & @ginamei," referring to the author of the Buzzfeed piece and a Cosmopolitan.com editor who also picked up the story—both of whom were targeted by conservatives who thought the original story was an anti-religion, liberal smear piece.
On Dec. 4, Chip added, "In times of trouble.. you'll find the gaines family at church."
But could there be a more slippery slope? If you unequivocally disagree with that pastor, do you need to stop watching Fixer Upper? It's not as if Chip and Joanna singlehandedly fund his ministry or something. And since they have never expressed any viewpoints on the show or in interviews that indicate they agree...is it unfair to demand they publicly denounce the pastor? 
Ultimately, people can continue to watch or not watch, however many degrees of separation there are or not between the church and the Gaineses' own beliefs and treatment of others. If we tried to break into the thoughts of all of our favorite TV personalities, surely we'd be disappointed at more turns than we might suspect.
Perhaps the most heartening takeaway just has to be that so many people were upset by the pastor's viewpoints. Because the homosexuality-is-a-sin thing is archaic and disturbing. Unequivocally.
Meanwhile, as HGTV noted, it is a network that has embraced the LGBT community. House Hunters (which was created by a lesbian couple) and Property Brothers, for instance, have featured a number of same-sex couples in the market to buy a home together. Being reluctant to renovate and yet ultimately being thrilled with the outcome knows no race, religion or sexual preference!
But speaking of the Scott twins, who marked the 100th episode of their flagship show this year and have had four spin-off series and counting on HGTV—even those golden boys aren't perfect.
It made nary a ripple in their jam-packed schedule of HGTV taping, appearances, travel and social media activity, but Jonathan Scott got swept up in a bar brawl in Fargo, N.D., back in April--while in town with brother Drew Scott to speak at the Eco Chic Design Conference. Not exactly a magnet for troublemakers.
No charges were filed, with the city attorney saying he found no damning evidence of simple assault or disorderly conduct. The 6-foot-5 contractor had reportedly gotten in between a couple of people having an argument and a bouncer put him in a headlock. After the incidence, Jonathan simply posted on Instagram, "Don't let the bad things in life determine your outlook. Stay positive."
Which is all that anyone trying to live life while also making a living that hinges on being an appealing presence on television can try to do. Even on a network like HGTV, where 100 percent of the programming is of the feel-good variety, the stars are only human.